Yelich's Cardinal Deconstruction: Can they come up with a better plan?
In case you hadn't yet heard, Christian Yelich of the Milwaukee Brewers has hit 8 home runs in 32 plate appearances against the St. Louis Cardinals this year. He's literally homered more than once per game and once every 4 plate appearances this year against our club. He is basically deconstructing our pitching staff. I think he has more of a read on this #timetofly hashtag than the Cardinals do.
*all stats at this point are prior to the home series vs. the Brewers unless otherwise noted.
His line against the Cardinals, Yelich has a .500/.625/1.542/2.167 line. As I pointed out on twitter, the Cardinals could have intentionally walked him every single time this year and his OPS would only be 46% of what it is right now. Absolutely ridiculous. Also, we play him again 3 times next week - although this time in the less hitter friendly confines of Busch Stadium III rather than (not) Miller Park.
I wanted to take a look at each and every one of those 8 plate appearances ending with home runs (pitch by pitch) to see how the Cardinals have been pitching him in 2019. While I look at these, I'm going to talk about what zones the Cardinals are attacking. Here are the zones to which I will refer (thanks for the graphic Baseball Savant):
Attack Zones per Baseball Savant
Home Run #1 - 3/28/19 v. Miles MIkolas
After getting Yelich to ground out in his first at bat of the season, on a 94 mph four-seam fastball in zone 22, chasing the pitch on a 1-2 count, Mikolas allowed a homer in a one-pitch at bat. Miles threw a 91.6 mph two-seam fastball in zone 6. That's the heart of the plate. He got walked twice after that, did Yelich.
Home Run #2 - 3/29/19 v. Andrew Miller
Jack Flaherty got Yelich to fly out on a 3-1 four-seam fastball that was 94.9 mph in zone 6. He really got away with one, thankfully. Flaherty walked him in the second PA, then in the third gave up a single to Yelich on a much better 95.7 mph four-seam fastball in either zone 14 or 17. Yelich was definitely protecting on a 2-2 count in which he'd already fouled a pitch off. That was the last time Yelich faced Flaherty. Andrew Miller was the first lefty that Christian Yelich faced in 2019 and on a 1-2 count, Miller threw him a 92.7 mph four-seam fastball. It was on the inside corner again, in zone 6 again. The Cardinals challenged him with the same pitch in the same zone and he did the same thing to it.
Home Run #3 - 3/30/19 v. Dakota Hudson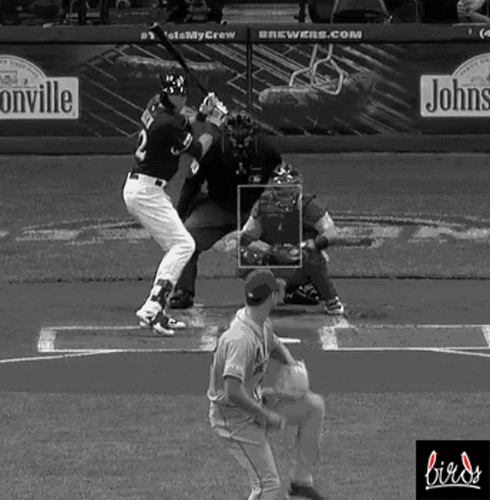 Dakota Hudson didn't last long before Yelich homered off of him. Yelich was the 2nd batter Hudson faced this year. Hudson threw him a 94.1 mph sinker in either zone 18 or 19. Good pitch, Yelich took it. He followed that up with another low sinker (94.3 mph this time), but it caught more of the plate - in zone 8. Another low, hard fastball - again in the heart of the plate. Yelich destroyed it.
Home Run #4 - 3/31/19 v. Michael Wacha
Michael Wacha also gave up a home run on his first PA facing Yelich this year. It's okay, bud. You were the third Cardinal to which that happened. Wacha threw two pitches to Yelich. The first was a chase pitch (a very high curve ball) in zone 22 and the second was a four seam fastball at 92.3 mph as a shadow pitch in Zone 12. Yelich attacked it, all the way out of the yard.
Home Run #5 - 4/15/19 v. Dakota Hudson
The first Cardinals pitcher victimized twice by Yelich was Dakota Hudson. Remember, Hudson threw him two sinkers in his first PA to Yelich when he went yard 16 days prior. Hudson threw an 86.5 mph waste pitch slider in zone 39 at Yelich's feet and then pumped a 1-0 sinker down the middle at 92.8 mph. It ended up in zone 5. Same pitch he'd seen from Hudson before and driven out of the yard - just more right down the middle than before. He wasn't done that day...
Home Run #6 - 4/15/19 v. Mike Mayers
Mayers tried to get Yelich to chase a high slider in Zone 22. He didn't. On a 1-0 count, Mayers pumped a 92 mph four-seam fastball into zone 12 and Yelich man-handled it for his second home run of the game. He wasn't done that day...still...
Home Run #7 - 4/15/19 v. John Brebbia
Brebbia hasn't had many mishaps this year, but this was one of them. He threw back-to-back sliders to Yelich. One was just out of the strike zone in either the top half of zone 12 or the bottom half of zone 22. He then followed that up with an identical 84.4 mph slider, but in zone 5. Heart of the plate. Again. These are just bad pitches, guys.
Home Run #8 - 4/16/19 v. Ryan Helsley
Ryan Helsley was brought up from Memphis earlier in the day and was brought in from the pen to face none other than Christian "Babe Ruth" Yelich with 2 men on base. Helsley is known to have a four-seam fastball that has a high spin rate and blows it by people in the zone. He started Yelich off with four cut fastballs that sat between 89.4 and 91.5 mph. All of them were labeled for the inside corner, two of them missed off the plate (one in, one low) and one of them caught zone 9 and Helsley was lucky enough to have Yelich foul it off. Pitch number 5 was a doozy as he threw a 98.8 mph four-seam fastball that Yelich got a piece of to foul off. Helsley went back to the cutter on pitch #6 and left it directly down the middle in zone 5. Yelich hit it a country mile. While Helsley would strike out four of his next seven men faced, three of them on three pitches, he fell victim to Yelich first - the 7th Cardinal this year already to do so.
I have a couple of takeaways from this information.
The first is that, as you can hopefully see by this point, the Cardinals pitchers just haven't had good command against Yelich and he's absolutely capitalizing on pitches that are down the heart of the plate against him. 23 of the 105 pitches that Yelich faced in the first 6 games against the Cardinals were in the "heart" of the plate as defined by the zone above. His SLG on those "heart" pitches is 2.250. That means he's averaged more than a double per plate appearance when he has faced pitches in the "heart" of the plate against the Cardinals this year. For reference, league average SLG against "heart" of the plate* pitches this year in all of baseball is .560. League average SLG against the Cardinals pitches in the "heart" of the plate* this year is .705. I would be willing to wager that the difference between the league average and the Cardinals is Christian Yelich's subtotal, at this point.
*prior to Tuesday's final game in Milwaukee on 4/16/19
The second is that Yelich was the league MVP last year. He led the NL with a 1.000 OPS. However, he was even hotter than that after the All-Star Break. Post-ASB, he hit .367/.449/.770/1.219 last year. He had 25 of his 36 homers in the 294 (of his 651 total) plate appearances post-ASB. He also had 23 of his other 41 xbh during that time!
The left/right side images are heat maps of Yelich's batting average and slugging Post-ASB in 2018 in the strike zone. Notice how he likes the ball a little bit down in the zone - at least to end last year, when his ridiculously good power output occurred.
The Cardinals have attacked him low in the zone on many of the home runs that they have allowed to him this year. That is not the best way to attack Yelich, as he has shown.
Dude has been a monster.
What will the Cardinals do the rest of this year against Yelich? How will they combat this information that they have gathered (unfortunately) over this seven game stretch? We have 3 more games to see if the Cardinals can crack that case - the case of stopping Yelich from being better than peak Barry Bonds.
Can they come up with a better plan? Is that plan simply to get him out of Milwaukee? We shall see.