The Dirty Thirty-Five: Prospect #32
Updated: May 2, 2019




THIS IS A COUNTDOWN!!!!! Over the next forty-something days starting on February 12th and ending on March 28th, I will be rolling out my Top 35 prospects in the Cardinals organization. We call it "The Dirty Thirty-Five" because it's marketable, I think. Also, we call it that because my write-ups and evaluations are a little different. I'm kind of quirky and goofy guy and the evaluations fit that personality. I've already written about the four players that graduated off the list. I've also written about the guys that just missed the list. You should check those out because you're going to have questions about my sanity afterwards. The article about the guys that didn't make the D35 is really freaking good. This list is my own. It's terrible. I'm fine with it. Remember, have fun with these lists. Ranking prospects is a joke, but it's fun so treat all of the prospect ranking accordingly.
Justin Williams - Outfielder
Acquired in 2018 from TB as part of the Tommy Pham trade
AAA Memphis, BUT ON THE IL BECAUSE HE BROKE HIS HAND
Age 23
STATS ARE REFLECTIVE OF 2018 BECAUSE HE'S BEEN HURT
STORY TIME
Once upon a time (the 2018 trade deadline), the Cardinals traded one of their best players for three prospects from the Tampa Bay Rays. One of the prospects was a flame-throwing but somewhat irrelevant reliever (Roel Ramirez). one of the other prospects (and you'll hear more about this guy in about three weeks) was a very gifted and underrated left-handed starter that will make a major league impact in 2019 (Genesis Cabrera).
The other prospect was Justin Williams.
Entering the 2018 season, Williams appeared to be a potential breakout prospect in the Rays' system. He was coming off of a very good 2017 as a 22-year-old in Double-A. There, he hit 301/364/489 with 14 home runs and 21 doubles in 409 plate appearances while striking out a modest 16.9% of the time and walking 9% of the time. Those stats indicate a strong understanding of the strike zone and the potential for power as his 6'2", 215 pound frame continued to fill out. His hitting mechanics were solid, as well. Sure, he needed to work on keeping his hips closed. But that was about it.
Which brings us to the next part of our story. This is the part of the story where I tell you where it all went wrong.
At some point during the 2018 season, Williams' hitting mechanics took a turn for the worse. I say that it happened at some point during the season, but the truth is that I don't know exactly when it happened. The player that I watched at Memphis looked robotic and awful. Usually, I'll spend a lot of time zoning in on a hitter's feel for the strike zone. However, with Williams, I couldn't help but focus on his hitting mechanics during every at-bat that I watched. Now, look at this swing in early April while he was with Durham. It isn't great, but it's a lot less painful to watch than the .gif that you'll stumble upon a little bit later. You can live with these mechanics:
I can truthfully say that everything needs work when it comes to every aspect of the hitting mechanic that Williams' showed as a member of the Cardinals' organization in 2018. His swing was flat. His hips open up WAY too early and exaggeratedly. His hands were slow and his swing was long. Not one aspect of his swing was working rhythmically with another aspect of his swing. He hit a ton of groundballs and it seemed like he was trying a little too hard to pull the baseball. What I often say about Williams is that he is a lot like the bad version of Jason Heyward but with a pick-up-and-put-down front foot mechanic. That's the easiest way to describe what it looks like to watch Williams in Memphis. Feel free to compare the swing mechanics below to the swing mechanics above. They look pretty different, to me. His timing is all off below. The change that happened to this, for the worst I might add, happened in the time span of four months.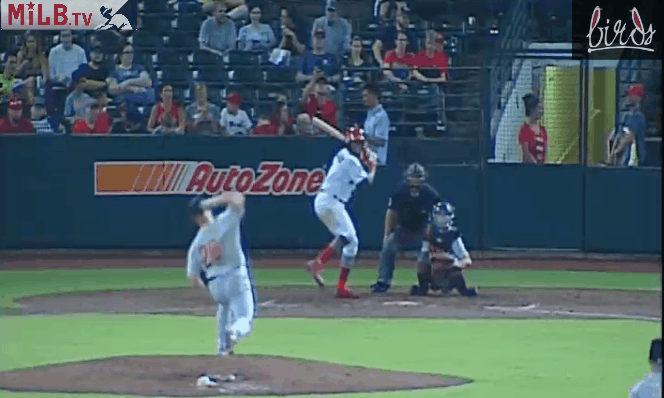 The one area of hitting that impressed me about Williams was his ability to pull pitches on the outside upper-half. It's an interesting thing to watch. Two of the three home runs that he hit with Memphis were on fastballs up and away during pitcher-favored counts. Both of those home runs were serious jacks that went to the pull-side. To me, that says that there is more power to unlock with proper tweaking of mechanics. Think about it this way: If you are a hitter that opens his hips up way to quickly with a flat swing-plane and drowsy hands then your best chance to hit for power will be to do something with that pitch up and away because it stops you from being beat by your own mechanics.
Now that I'm done trashing on this poor young man, I would also like to say that I can see why others are higher on him than I am. If he gets himself closer to the 2017 version of himself then the Cardinals will have themselves something. Also, he's still young enough with enough developing to be had that he could very well tap into his ceiling more than I'm leading on. One positive is his defense. He's a pretty average and rangy defensive right fielder with an arm that's well above average. Now, this .gif below might seem annoying at first, but I picked it specifically for a couple of reasons.. First, Williams isn't even the picture to start. He has to range all of the way to the gap to get the ball. Second, that's Ronald Acuna busting it out of the box. Third, it gives you a great idea of how good his arm strength is. I recommend watching the .gif below a couple of times:
Those tools are definitely there and they are well defined with even more potential. Those are all positives. I've come to really appreciate the defender that Williams is.
THE BOTTOM LINE
Mr. Williams is a very athletic and potentially gifted outfielder with a big problems in regards to his swing mechanics. I wouldn't be surprised if he made his Cardinals' debut in 2019 (especially because he's on the 40-man roster) but I don't think that it moves the needle unless drastic improvements are made. The key will be if the Cardinals can find a way to improve the swing that he displayed in early April while helping him forget the swing that he showed in August. I believe that he is going to need to be impressive during spring training to maintain his spot on the at-capacity 40-man of the St. Louis Cardinals.
MAY 1st UPDATE
There's nothing to update because Williams has been on the IL since the start of the season because he punched a TV in a fit of anger or love or arousal or something. I don't know. Anyway, what a huge set back for him. Hopefully he comes back soon, and ready to hammer the ball when he does.
Thank you to FanGraphs for being an amazing website and providing the stats.
Thanks For Reading!!