Organizational Rankings: The Top 10 Starting Pitching Prospects
**Welcome to the Organizational position rankings!! This is the preface. What I aim to do with this list is to show you what the organization looks like beyond the obvious names at the top. As a result, aside from a brief mention at the beginning, players like Patrick Wisdom, Daniel Ponce de Leon, and Giovanni Gallegos will not show up on the list. As a matter of fact, any player that has made a major league debut will not show up on the organizational position rankings. This is purposefully designed to be a quick glance of what's going on outside of what you see everyday, so it might seem light on details as compared to what you'll find on the Dirty 35. You'll get more in-depth analysis on these players come February when we do the preseason Dirty 35 rerankings.
You might being asking "how did you get to these rankings?" Well, THAT'S NONE OF YOUR DAMN BUSINESS JUST ENJOY THE RIDE. But know that I put a premium on proximity to the majors when doing these organizational rankings.
So, without further ado, Birds On The Black Presents...
THE TOP 10 STARING PITCHING PROSPECTS
Editors note: Kyle dives deeper into his Top 10 Starting Pitching Prospects with this podcast, available on soundcloud and iTunes!
SIDENOTE: Daniel Ponce de Leon, Dakota Hudson, Austin Gomber, and Alex Reyes will not appear on this list because they've all spent enough time with the major league club for me to forget that they exist, from a prospect standpoint. I'm kidding of course, but they definitely aren't the prospects that I want to tell you about. They're major leaguers. You know about them. Let's talk about the next wave, shall we?!
Prospect #1: RHP Ryan Helsley - 24 Years Old - AA & AAA
Make no mistake, the only thing that stopped Helsley from making both a major league debut and a major league impact during the 2018 was shoulder fatigue that cost him half of the season following an abbreviated start in early June. After resting, Helsley attempted one rehab start on August 8th. He was on a pitch count for that game and he didn't make it through the third. After that start, his ability to bounce back didn't happen at the same pace that it had up to that point in his minor league career.
So, yes, health is a concern at this point and it needs to be monitored very closely.
BUT, everything else is wonderful when he is healthy. Mr. Helsley throws four pitches, all of which are above average and play well together. The one area that he needs to improve on, and we've been talking about this for a few seasons now, is putting away hitters. He often gets ahead of hitters before attempting to get too cute with his offspeed pitches. A smarter man would be able to do the ground work, but I'd bet that 25% of his issued walks come after he goes up on a hitter.
That's a shame, too, because his stuff is really good. This is a 3-2 count and the batter is sitting on this pitch. He never stood a chance. Executing this is what separates Helsley from Dakota Hudson, in my opinion.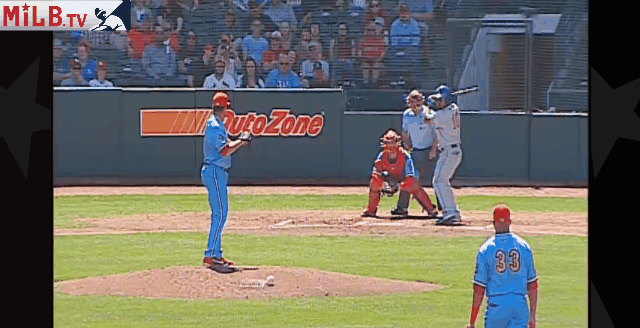 He trusts his stuff, for sure. Now, he just needs to work on not caring about giving up contact. If healthy in 2019, he'll play a big role in the major league clubs success, whether it be as a reserve starter or an eventually back-end of the bullpen piece.
I'll say it until the cows come home; when healthy, he's a better prospect with a higher ceiling than Dakota Hudson. Thanks to THIS TREMENDOUS ARTICLE by the one-and-only Rob Rains, we know that Helsley appears headed for a happy and healthy 2019 season. Over the last three plus years I've probably written 10,000 plus words over various outlets talking about Helsley. So, I'm going to leave it here instead of going on and on.
#2: LHP Genesis Cabrera - 22 Years Old - AA & AAA
Coming at you straight from "The Department of Stats Can Be Deceptive" is Genesis Cabrera. You'll look at that box stat-line above and, more than likely, think "this is the second best pitching prospect in the organization? YIKES."
Well, first, suck it.
Second, as far as raw and pure stuff goes, Cabrera is all alone at the top of the list. He possess at least three pitches that CAN BE well above average in a slider, fastball, and change up and all three of those pitches come from the same-ish release point. He's worked extremely hard over the last two years to get his arm slot at the same angle for all of his pitches and you could really see that by the end of the season. He over-throws his change some times and loses command of it. Also, sometimes he reaches back just a wee bit too much to throw his fastball. You'll see some of that here in this pitch-mix .gif:
Cabrera also throws a curve, but when you watch the games on the minor league feed it's hard to tell how often he throws it. It doesn't seem like he throws it that often anymore. Instead, it just seems like his slider gets loopy. Either way, it's a below average pitch that he didn't seem to go to all that often late in the season.
Speaking of which, what really impresses me about Mr. Cabrera is his ability to match top-talent. He was really good for Memphis in the AAA playoffs. He's one of those pitches that has stuff that is so good that sometimes it fools a lesser umpire. In my time watching the Cardinals minor league affiliates, the only pitchers that I can remember doing that as frequently as he does were Alex Reyes, Carlos Martinez, Jack Flaherty, Ryan Helsley, and Jaime Garcia.