Organizational Rankings: The Top 10 Starting Pitching Prospects
**Welcome to the Organizational position rankings!! This is the preface. What I aim to do with this list is to show you what the organization looks like beyond the obvious names at the top. As a result, aside from a brief mention at the beginning, players like Patrick Wisdom, Daniel Ponce de Leon, and Giovanni Gallegos will not show up on the list. As a matter of fact, any player that has made a major league debut will not show up on the organizational position rankings. This is purposefully designed to be a quick glance of what's going on outside of what you see everyday, so it might seem light on details as compared to what you'll find on the Dirty 35. You'll get more in-depth analysis on these players come February when we do the preseason Dirty 35 rerankings.
You might being asking "how did you get to these rankings?" Well, THAT'S NONE OF YOUR DAMN BUSINESS JUST ENJOY THE RIDE. But know that I put a premium on proximity to the majors when doing these organizational rankings.
So, without further ado, Birds On The Black Presents...
THE TOP 10 STARING PITCHING PROSPECTS
Editors note: Kyle dives deeper into his Top 10 Starting Pitching Prospects with this podcast, available on soundcloud and iTunes!
SIDENOTE: Daniel Ponce de Leon, Dakota Hudson, Austin Gomber, and Alex Reyes will not appear on this list because they've all spent enough time with the major league club for me to forget that they exist, from a prospect standpoint. I'm kidding of course, but they definitely aren't the prospects that I want to tell you about. They're major leaguers. You know about them. Let's talk about the next wave, shall we?!
Prospect #1: RHP Ryan Helsley - 24 Years Old - AA & AAA
Make no mistake, the only thing that stopped Helsley from making both a major league debut and a major league impact during the 2018 was shoulder fatigue that cost him half of the season following an abbreviated start in early June. After resting, Helsley attempted one rehab start on August 8th. He was on a pitch count for that game and he didn't make it through the third. After that start, his ability to bounce back didn't happen at the same pace that it had up to that point in his minor league career.
So, yes, health is a concern at this point and it needs to be monitored very closely.
BUT, everything else is wonderful when he is healthy. Mr. Helsley throws four pitches, all of which are above average and play well together. The one area that he needs to improve on, and we've been talking about this for a few seasons now, is putting away hitters. He often gets ahead of hitters before attempting to get too cute with his offspeed pitches. A smarter man would be able to do the ground work, but I'd bet that 25% of his issued walks come after he goes up on a hitter.
That's a shame, too, because his stuff is really good. This is a 3-2 count and the batter is sitting on this pitch. He never stood a chance. Executing this is what separates Helsley from Dakota Hudson, in my opinion.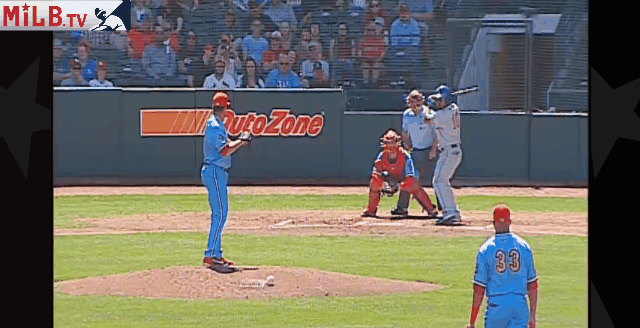 He trusts his stuff, for sure. Now, he just needs to work on not caring about giving up contact. If healthy in 2019, he'll play a big role in the major league clubs success, whether it be as a reserve starter or an eventually back-end of the bullpen piece.
I'll say it until the cows come home; when healthy, he's a better prospect with a higher ceiling than Dakota Hudson. Thanks to THIS TREMENDOUS ARTICLE by the one-and-only Rob Rains, we know that Helsley appears headed for a happy and healthy 2019 season. Over the last three plus years I've probably written 10,000 plus words over various outlets talking about Helsley. So, I'm going to leave it here instead of going on and on.
#2: LHP Genesis Cabrera - 22 Years Old - AA & AAA
Coming at you straight from "The Department of Stats Can Be Deceptive" is Genesis Cabrera. You'll look at that box stat-line above and, more than likely, think "this is the second best pitching prospect in the organization? YIKES."
Well, first, suck it.
Second, as far as raw and pure stuff goes, Cabrera is all alone at the top of the list. He possess at least three pitches that CAN BE well above average in a slider, fastball, and change up and all three of those pitches come from the same-ish release point. He's worked extremely hard over the last two years to get his arm slot at the same angle for all of his pitches and you could really see that by the end of the season. He over-throws his change some times and loses command of it. Also, sometimes he reaches back just a wee bit too much to throw his fastball. You'll see some of that here in this pitch-mix .gif:
Cabrera also throws a curve, but when you watch the games on the minor league feed it's hard to tell how often he throws it. It doesn't seem like he throws it that often anymore. Instead, it just seems like his slider gets loopy. Either way, it's a below average pitch that he didn't seem to go to all that often late in the season.
Speaking of which, what really impresses me about Mr. Cabrera is his ability to match top-talent. He was really good for Memphis in the AAA playoffs. He's one of those pitches that has stuff that is so good that sometimes it fools a lesser umpire. In my time watching the Cardinals minor league affiliates, the only pitchers that I can remember doing that as frequently as he does were Alex Reyes, Carlos Martinez, Jack Flaherty, Ryan Helsley, and Jaime Garcia.
Getting back to the mechanics, Cabrera had to do a lot of work mechanically over the last two years to really repeat his delivery and he's finally at the point where it looks natural and real. I believe that is part of the reason that his command issues come up; because of these relatively new mechanics. I believe that the walk numbers will decrease as the 2019 season progresses and as those mechanics become more second nature.
The inverse of this is that, sometimes, he has that "disinterested" appearance that fans appear to think Carlos Martinez has. Personally, I believe that it's a symptom of frustration from not having "a feel" for pitching that day. I'd still like to see him have a consistent and amped-up energy throughout the 2019 season. Just like with CMart, Cabrera works extremely fast when he is dealing and it's a frantic pace that only a watcher of Prospects after Dark can appreciate.
#3: RHP Jake Woodford - 22 Years Old - AA & AAA
There isn't much about Jake Woodford that I understand, honestly. There are times when he is really good and there are times when he looks absolutely terrible. He did spent a good portion of his 2018 season as a 21 year old pitching in advanced leagues without really embarrassing himself and he looked really good at points during the end of the season, so that probably has something to do with it.
Woodford will start 2019 at AAA Memphis and will be an important reserve option for the Cardinals. There were times towards the end of the 2018 season where you could see why the Cardinals used a first round selection on him and that has me really excited. The interesting thing with Woodford is that his struggles never seem to be command-related. Instead, his struggles seem to come from a lack of bite on his pitches. Of course that's a concern, but he shows signs of life often enough with all of his pitches to think that he'll be able to put it all together soon enough.
Woodford does allow wayyyyyy too much contract and he'll need to increase the amount of bats that he misses to be a legitimate major league starting option moving forward. One thing that I do love about Woodford (and one of the main reasons that I'm putting him this high on the list other than that he's ticketed for Memphis at such a young age) is that he keeps all of his pitches low in the zone. I was surprised by how good his command of the lower-half of the strike zone is. I do love some of the steps forward that his curve showed during the 2018 season, as you'll see here: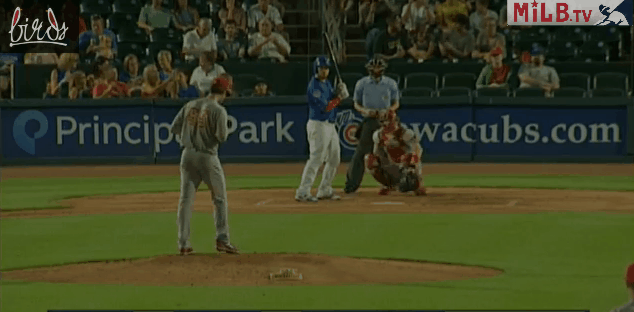 The good news in regards to Woodford is that he could stall out in 2019 and still have time to be a really good pitcher. Unlike with many prospects in general, time is definitely on Mr. Woodford's side. As I've stated on more than one occasion, I'm not really a fan of how aggressive the Cardinals have been with promoting him. I think that he would have done well to have started the year in Palm Beach instead of Springfield, but what do I know? Ultimately, I think that Woodford's best role would probably be in the bullpen, but I'm not willing to call it just yet.
#4 RHP Griffin Roberts - 22 Years Old - GCL & A-Advanced
As you can tell from the statline above, there isn't much to go on in regards to Mr. Roberts and a professional sample. As you know, it's also very unlike me to put a player with such a small and insignificant sample so high on any list. However, Roberts is different.
As both a starter and reliever for Wake Forrest, Roberts showed consistent signs of dominance that few pitchers show at the collegiate level. He does this by commanding a truly devastating slider. It's wiffle ball-esque and easily one of the best pitches in the organization. When he throws it out of the bullpen it'll make you laugh much like Adam Ottavino's does and Luke Gregerson's various sliders used to a couple of years ago. He does some fun stuff with it, too. Like backing it up on a righty (looks like a curve, right? Well, it's just one of the many ways that he manipulates his slider. CRAZY stuff):
Of course, it's not as good as Mr. Ottavino's is, but it's as close to a "Lite" version of it as you'll find in the minors.
Of course, there are some mechanical issues to work out. Doctor Roberts has a tendency to fly open on the front side, especially when he is throwing his offspeed pitches. He also uses a pretty violent delivery at times that I'm sure will have people smarter than myself worried about his long-term health and sustainability. Rumor has it that the Cardinals are already working with Roberts on it. That's good news. There's a lot to unlock with this young man.
His chance to stay as a starter will depend on how his changeup command and development comes along. What I know for sure is, his fastball/slider combo is good enough to be close to major league ready by the end of the 2019 season. During the draft, there were a lot of people that were worried about his low-90's fastball not being enough for the major league level, but I've watched him blow it by too many hitters to write it off just yet. I'm willing to bet that it gains velocity as the Cardinals work to smooth out his mechanics, as well. So, for me at this point, my only concern is with the development of a third pitch.
Much like the Cardinals I'm sure, I'm banking heavily on this projectable right-hander.
#5 LHP Evan Kruczynski - 23 Years Old - A-Advanced & AA
As I said in his Dirty 35 write up, I was largely dismissive of the East Carolina product after he was drafted by the Cardinals in 2017. He just seemed "fine" to me. Maybe I was right at the time, but I was probably wrong. What I know for a fact is, the 2018 version of this stud is substantially more than "fine". Rather, he's bordering on "leGit."
He's also the most underrated pitching prospect in the organization now. A designation I once gave to Austin Gomber three years ago and Ryan Helsley two years ago.
Early in the year I watched one of his starts for Palm Beach against Bradenton and the Bradenton lineup didn't stand much of a chance against him. It was the way that he worked against the right-handed hitters that really stuck out. Immediately, you could tell that his above average curveball and changeup paired extremely well with a low 90's and well-commanded fastball. He has the ability to work in on righties that few lefties in the minors have ability to do.
The two issues throughout the season that I noticed with Mr. Kruczynski were, first, that his curveball command was spotty, at times. Moving forward, that's what I'll be keeping the closest eye on. The second thing that I noticed is that it takes him a little time to get a feel for all of his pitches in a start. Often times, you'd see him fighting his stuff in that first inning only to settle down by the time that the second inning rolled around. This was especially true in the AFL. It just seems like he needs to calm down his nerves a little bit before he takes the mound. If he has the feel early on in a start, he'll finish deadly.
I can watch this pitch combo every fifth day and lived a #blessed life. Take note of how well Kruczynski hides the ball, as well:
Kruczynski finished the year at AA on a very solid note and he pitched as well as any starting pitcher in the Arizona Fall League. With lower body action that's reminiscent of Mark Mulder but much quicker with his upper body, Kruczynski is the next prospects that you haven't heard of that you'll be hearing a lot more about.
#6 RHP Johan Oviedo - 21 Years Old - Full Season-A
Oviedo is the one pitching prospect that I can't wait to talk about a little more when we dive back into the Dirty 35.
If you've been following me for a while, you'll know that Oviedo is a beast that stands 6'6" with a strong frame that holds about 225 pounds. You'll know that he can dial it up into the mid-90's but has struggled to maintain his velocity both from start to start and as the season goes along. You'll also know that he has two offspeed offerings in a change up and a curve and that both could be above the major league average in time.
I'm sure that you've looked at his stats and thought "man, this kid is the sixth best pitching prospect in the organization? What's happening down there? First, that lefty is second and now this guy is sixth?"
Well, Oviedo is the tale of two halves. He was terrible in the first half of the season. He really struggled with command and confidence during his first taste of full season baseball at Peoria. He also struggled in the early season because of the cold weather.
Over his last 13 starts of the 2018 season, Oviedo held batters to a batting average of .212 and an OPS of .610 while posting a 3.06 ERA and striking out 68 in 70.2 innings pitched. Peoria is a tough assignment for a pitcher as young and inexperienced as Oviedo was/is, and I'm willing to bet that his second half was just a stepping stone towards better things for the young man. He still needs to clean up the command, though, as he walked 40 batters over those last 70.2 innings.
Age and time are on his side and the Florida State League should help to settle some of those very young nerves. I think that he's going to need to slow down his pace on the mound and clean up the action on his plant leg to really command all of his pitches. With just a little tweaking and discipline, Oviedo could be a force.
#7 RHP Angel Rondon - 20 Years Old - Short & Full Season-A
Sometimes, often times to my embarrassment actually, I am dismissive of players at the lowest levels of the minors. The trek to the majors is long and laborious, and, often times, even the players that put up good numbers don't make it out of the "A" level of the minors. However, major league baseball is changing and teams are becoming more aggressive with these players. It's time to take note of these performances on a scale that I am not necessarily comfortable with.
That's where the soon to be 21-year-old Rondon comes in. This is an aggressive ranking for him. Probably the most aggressive that you'll see. But I love his raw stuff and his up-side and I'm kind of banking on it.
Truth be told, I hadn't seen a ton of Rondon before he was promoted to Peoria for the July 13th game against Lake County. But Rendon impressed immediately. Rendon hides the ball extremely well from hitters and he has a little quirk in his motion during the wind up where he brings his glove into his body while tilting his left arm downward before exploding towards the hitter. It's a little like what Jordan Hicks does with his hands but way more pronounced. I specifically decided to use the word "exploded" because you can tell that the fastball has a ton of life. All indications are that it sits in the low-mid 90's during starts but I've been told that the kid can really dial it in there when need-be.
Rondon throws his breaking pitch, which flattens out like a cutter when it isn't working properly, with enough command that I have confidence that it'll stay average, at least. I worry that it doesn't deceive lefties enough and that'll be something worth keeping an eye on in 2019. You'll notice from the above .gif that it can be filthy and even filthy against lefties. I love the swing that that the poor southpaw-swinger shows.
What I know for sure is that you usually have a major league caliber pitcher when a 20 year old keeps his strikeouts high and his walks low during his first taste of full-season baseball. Rondon might be the most interesting pitcher to keep an eye on in 2019. More than likely, this is a long term bullpen option, but he's been too effective so far to be dismissive of.
#8 RHP Casey Meisner - 23 Years Old - A-Advanced & AA
The big knock on Meisner (as the 6'7" right-hander entered the organization via the trade with the ATHLETICS that sent Josh Lucas westward) was that he really struggled to repeat his motion. Understand, this is nothing new for taller pitchers. It's something that Oviedo struggles with at times, too. That's a lot of body to stay in control of. This is a common, and almost-always warranted, complaint/concern with all tall pitchers.
Well, one of the joys of the 2018 season was watching Meisner work extremely hard to straighten out those problems. He still has a few hiccups here and there, but he's done a tremendous job of fixing most of those mechanical issues. Better than you might expect, too.
I really like Meisner's fastball, change, curve, slider mix. He doesn't throw with a ton of velocity and he over-throws his slider when he does throw it, but his stuff is pretty good. In particular, I love his curve. Because of his arm action and throwing motion, both his fastball and his curve move in motion with his swinging arm.
Couple that arm action and movement with the fact that he's extremely tall and you have a pitcher that is throwing two pitches, at least, that are on top of a hitter before they know it because of the shortened response time created by Meisner's size and extension, thus allowing those pitches to play up
I really liked what I saw out of Meisner as he ended the season with Springfield. I imagine that's where the big righty will start the 2019 if he isn't traded or taken in the Rule Five Draft. Meisner certainly appears to have big league potential.
#9 RHP Jake Walsh - 23 Years Old - Full Season-A & A-Advanced
Jake Walsh is just one of those guys. I'll be honest, I'm not sure if his stuff is good enough, but his command/control has been good enough and he mixes his pitches well enough that he just might be able to surprise everyone. Maybe he's Matt Pearce or maybe he's Matt Bowman. Either way, Walsh is really fun to watch pitch.
I must confess, Mr. Walsh was one of the pitchers that I targeted for a 2018 breakout following the 2017 draft and that has a little to do with why he was on the list. This gentleman came through for me and made me look substantially smarter than I am. Don't let that take away from the fact that he had a great season. That he was even better by some measurements at the A-Advanced level than he was at Peoria shows just how good he is capable of being.
Above, you'll notice that Walsh throws a four seam fastball that, while not high in velocity, has enough on it to put it past A-level hitters with frequency. He's gotten away with throwing it up in the zone so far, but we'll just have to wait to see if he can get away with it at the upper levels. He also throws a curve that can be very sharp and 12-6 when it's above average, and his change works as an average pitch when he's mixing it well. There are differing opinions on which one of his offspeed pitches is better. In my opinion, I think that the curve is just a kick better. His body type reminds me of Ryan Helsley, too. He throws the ball with a little more violence than Helsley does and that's a concern, but I think that sometimes we over-worry about the violence of a delivery. He doesn't appear to over pronate and I'm more concerned about that.
I've also heard some say that his command is below average, but I have to tell you that I don't see it that way. He has the exact type of command that you'd expect out of this type of pitcher. Is it pinpoint? No, not at all. But it's good. "Minor league good", at least. My major concern is what happened to his strikeout rate after the promotion to Palm Beach. That tells you that he just wasn't fooling enough hitters at that level and that should definitely be a concern.
Walsh might not check all of the boxes that you'd want a top prospect to check as far as size and stuff, but he more than makes up for it in just being effective.
#10 LHP Austin Warner - 25 Years Old - A-Advanced, AA, & AAA
When you get to #10 on a ten-part countdown, you can get a little cute with your selection. That's exactly what I'm doing here. Truthfully, probably, there are pitchers in the organization more talented than Warner. That's not to dog him. It's just a fact.
But Warner is one step away from the majors as a lefty and that means that he's one injured lefty in the pen from making a major league debut.
From a "fan" perspective, Warner is the type of player that you root for. Like John Brebbia before him, Warner is a step away from the majors via Independent League baseball. That means that Warner was left for dead as a prospect, only to be discovered by the Cardinals. From there, Mr. Warner has maximized his skills and turned himself into a very solid minor league pitcher with really great minor league command. He basically lacks anything that might otherwise be categorized as "above average" but he's just good enough to probably deserve a major league debut. At the very least, I could see his breaking pitch being a bit above average:
You'll notice that Warner does a very good job of finishing that breaking pitch and I really appreciate that he doesn't ever over-throw anything. He's steady and he's emotionally up for any challenge. He definitely has the big-league posture even if most would questions the ability of his repertoire. All of that is moot for me, personally, because....
The deal here with our #10 prospect is ROOT FOR THIS MAN! He's another example of potential Cardinals devil magic and we, as Cardinals' fans, should all be rooting for this "rags to riches" story. It seems like these are they type of left-handed reliever that one season worth of post season dreams are built upon.
THE NEXT NAME UP
There are two pitchers that I didn't include on the above list that need extra coverage. Both are indeed top 10 starting pitching prospects in the organization, but I decided that I wanted to write about Walsh who I really like and Warner who I want you to root for instead.
First, You'll no doubt notice that I have omitted Connor Jones from the list. In reality, he should be "The Next Man Up." Heck, he should probably be in the top eight or so on the list. However, I've never been the biggest fan of the big man who induces a truly impressive amount of groundballs. One of my main issues with Jones during the season was that his mechanics seemed to change from game to game. That statement could be said especially when throwing his breaking pitch. Often times, he'd throw it more up-and-down in his delivery while slowing down the upper half after planting his leg but before releasing the ball. You'll get a feel for that here:
Jones is the kind of player that has to go on a top prospect ranking because he's so close to the majors, he was an early-round selection, he commands a hard sinker and a curve ball at times, and he will eventually make a major league debut. I think he'll be a fine bullpen piece in the majors, but that bores me. It has been interesting to watch him add velocity to his sinker. During the Arizona Fall League he was pumping it in at 98 MPH regularly with movement like Dakota Hudson's. If he can keep it up then he'll be a truly fun and viable pen arm in the near future.
The second pitcher that I omitted from the list unfairly is Alex Fagalde. Fagalde had an incredible 2018 season and he probably deserves to be on the list ahead of both Warner and Walsh. Fagalde also throws a two seam fastball that is very very good with good movement. He also throws a curve ball that gets flat sometimes, but can be mean when he's commanding it low in the zone. This is a four pitch mix. Two sinkers, two curves:
The reason that I decided to go with Walsh and Warner instead of Fagalde (other than personal preference) is command. In nearly every start that I watched he had the catcher chasing his pitches, with the exception of high-cheese. He goes through phases where he is pinpoint or close enough to pinpoint, but he's getting away with his stuff and I worry about that moving forward. Command, bias, and personal preference is all that kept him of of the top 10. Don't be surprised if he finds his way onto the Dirty 35, though.
Aside from those two, Jacob Schlesener is a lefty that could end up being a big time player in the organization. Schlesener, while devastating and dominant at times, has a control/command issue that needs big-time improvement. It took some big-time steps in 2018, though, and that's a good trend that I hope he follows. Michael Baird and Chris Holba are two interesting 2018 draftees that have a chance to have a place on this list by next season. Baird, in particular. Julio Puello and Hector Soto dominated a less advanced league in the DSL, but they're just too far away to talk about right now. Anthony Shew, Mike O'Reilly, Matt Pearce, Evan Guillory, and Ian Oxnevad have put up interesting numbers over the last couple of years and at different times, but are mostly command pitchers with limited abilities. Oxnevad just might end up being a really good LOOGY in the long run, though. Finally, a big shout out to Chris Ellis and Kevin Herget for being organizational soldiers that might have a chance to pitch out of the Cardinals bullpen if things get weird. But, instead, I've decided to go with...
RHP Alvaro Seijas - 20 Years Old - Full Season-A
Seijas has been on and off of my Dirty 30/35 rankings pretty well since he enter the organization. He throws the ball with good deception and a repeatable motion, and he also throws a lively fastball with a curve that could be very good when it finds consistency. But, right now, he just didn't miss enough bats during his first go-round with a full season club.
He's still so young and his stuff is potentially good and undeniably projectable, but he needs to put it all together. More than likely, he'll get the promotion to Palm Beach and the Florida State League to start the 2019 season. In that pitchers league, we should get a clearer idea of where his stuff really is and what he needs to improve on. For a pitcher as young as he is, the stats should skew properly and not illusory. I expect Seijas to be back in the Dirty 35 by the midseason rankings.
This .gif will give you an idea of how good his curve can be. Often times, he tries a little too hard to bury it but I expect that he'll get over that in time. Obviously, he's going to need to.
There are times when Seijas really struggles to locate his stuff and you can see him lose his composure on the. Usually when this happens, he is constantly walking around the mound while shaking his head. This isn't uncommon for a 20-year-old, but it's something that he is going to have to learn to get over. The best pitchers learn how to pitch when they don't have their stuff. Seijas has to learn that he has to be able to pitch without his stuff before can execute his game plan.
Also, a special shout out goes to the Cardinals 4th round pick in the 2018, LHP Steve Gingery who is recovering from Tommy John surgery. Gingery possessed one of the best changeups in the draft and he surely would have made it on to the list if it weren't for the TJ recovery.
Thanks to Fangraphs for the stats.
Thanks For Reading!!