Midseason Dirty Thirty Five: Prospects 35-31
The countdown begins!!!
How this works is, these are very general write up of each prospect. Just a little something to chew on. Tomorrow, the official write up on each prospect in this group will go live. There you will find what the player does well, what the player struggles with, and who they might look like in the future if everything goes as correctly as possible. Remember, there's a 20% chance of that happening at best.
Our first group of prospects is the youngest collection of five prospects on our countdown. None of these players are older than 20-years-old and there isn't a pitcher in this group.
There's a lot of helium in this group and their individual stock could go either way.
Prospect #35: Catcher, Carlos Soto
Previously Unranked
Johnson City Cardinals
International Signing in 2016
19-years-old
I am not the type of evaluator to get too excited about a player at Johnson City or a nineteen year old that has only been state side for such a short period of time. However, I wanted to use the thirty fifth spot on the countdown to highlight a player that might be a lottery ticket. A deep sleeper. That's Carlos Soto (and I picked him over Ivan Herrera) because I think that there's something exciting about Soto's approach.
The big-bodied catcher checks all of the boxes that you'd hope a young hitter would check. At the plate, his low K rate to start the season is a big sign of promise and the modest-but-encouraging power that he's shown is a great development. Soto is walking an incredible amount, as well. With rates like that and flashes of power, his bat seems like it's on the correct path.
Thanks to Yadi's Strobe Light on Twitter for the Video
As of right now, there isn't much footage of Soto. What we do know is that he was one of the Cardinals prizes during the 2016 International Signing Period so there's reason to believe that this level of success is sustainable. Soto is big and a bit sloppy, physically. He would do well for himself to clean that up a little bit. I've heard conflicting reports about his ability as a back stop, but all indications are that he has games of brilliance and games where he is daft. Cleaning up his body physically would help the talented-catching version of Soto shine more frequently.
Like with all teenagers in the organization, the questions about how he will continue to develop will go unanswered for at least the remainder of this season. One thing is for sure; Soto has gotten off to a great start. Along with GCL catcher Ivan Herrera, Soto could be at the forefront of the next catcher revolution in the system.
Prospect #34: OF Wadye Ynfante
Previously Ranked 24th
State College Spikes
International Signing in 2014
20-years-old
At first glance it might seem Wadye's stock has fallen since this preseason when he was ranked among the top 25 prospects in the organization. However, that isn't exactly the case.
His skid down the list is a result of uncertainty for me. His 2017 season was ended early because of injury to his lower body. Then, this season, the Cardinals have been cautious with the toolsy outfielder. He was jumped in the organization by Chase Pinder and Jonathan Machado for an advanced promotion to start the season. Then when Machado faltered and was sent to extended spring training from Peoria a month into the season, Scott Hurst was given the Peoria assignment while Wadye stayed at EST.
So, instead of looking at it as if his stock has fallen, look at it as if his stock stayed the same while the stock of others around him rose. By and large this is a good sign for the organization. However, with a little regrouping I'm sure he'll be fine.
Ynfante got off to a hot start for State College but has since cooled down. He's become the victim of advanced breaking pitches and his K rate is climbing and climbing. His aggressive nature displayed so far this season is really working against him. It just seems like a bit of a timing and guessing issue to me because Ynfante has a very quick bat.
Ynfante's best tool right now is probably his speed. he flies around the base paths. He flies around the outfield. He's a good and smart base runner and I could easily see him being a 15 stolen base guy with a good success rate if he ever makes the majors. Ynfante is an athletic outfielder with great range that gets an average read off of the bat in the outfield.
Prospect #33: OF Bryce Denton
Previously Unranked
Peoria Chiefs
Drafted in the 2nd round of the 2015 draft
20-year-old
There are only two prospects in the organization that are more polarizing among the fan base than Denton and those two are Nick Plummer and Delvin Perez. You know what all three have in common? They were all drafted as raw, teen-aged talents early in drafts and were unfairly hyped from the start.
Like Plummer and Perez, Denton has struggled since being drafted, for the most part. He showed well at the end of the 2016 season for Johnson City and that warranted a promotion to Peoria to start the 2017 season. However, Denton's start was delayed because of appendicitis and an appendectomy. After that, he never quite regained the strength that he sowed at the end of the 2016 season.
Denton got off to a tough start at the beginning of the 2018 season while pressing a bit at the plate. Recently, since he's settled in and is now visibly comfortable,
Denton has been treating balls they like owe him money. He's hammering everything and it seems like everything is going for extra bases.
He would do well to increase his walk total (which is a cop out evaluation because who couldn't, really?), but you can't complain at all when a 20-year-old kid that has struggled with strength in the past is brutalizing the baseball.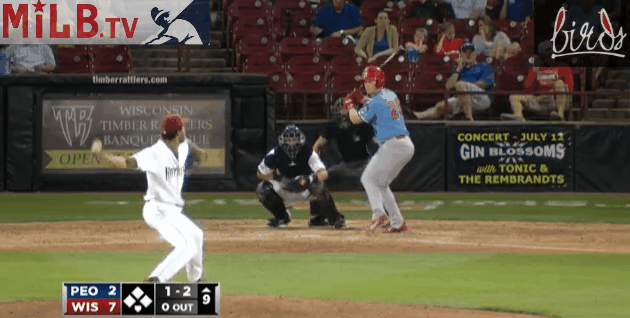 Denton's stock is rising. While it might not be exactly where we all hoped it would be on draft day 2016, there's no reason to think that it won't be by the end of the season.
Prospect #32: 1B Juan Yepez
Previously Unranked
Palm Beach Cardinals
Acquired via trade for Matt Adams
20-years-old
The fourth most polarizing prospect in the organization in Juan Yepez. For the 2017 season, Yepez was the butt of every joke by members of the fan base that wanted to hit the Cardinals front office with an insult. That was especially true after Matt Adams was raking for Atlanta while Yepez was floundering at Peoria. It was rough for Yepez at the beginning of his tenure with the Cardinals.
But then Yepez underwent a position change, from third to first, and things really started to click for the then-19-year-old Yepez.
Yepez started the 2018 back with Peoria and the Midwest League couldn't contain him. in 25 games he hit 415/462/596/1.058. That earned him a promotion to Palm Beach. There, Yepez really struggled before needing a DL stint. It looked like Yepez' early season production might have just been a product of his third turn in the Midwest League.
However, Yepez has been doing a better job of handling Advanced-A pitching for the Beach Birds since coming off of the DL, even if the stats say that he isn't hitting. His approach against better pitching is what is getting better. The main issue with Yepez is that he doesn't show any of the power that you'd want out of a first baseman and he really doesn't have the potential to play a position that would allow his power to play. Needless to say at this point, developing power is the most important thing to keep an eye on with Yepez moving forward.
Prospect #31: 1B, Brady Whalen
Previously Unranked
<