Mid-Season Dirty Thirty-Five: Prospects 14-8
THE PREFACE
This is a completely half-assed list!!!!
OK, so hear me out: I'm breaking the Dirty Thirty-Five into five subsets of seven players for our mid-season report. Why am I doing this? Because that's literally all of the free time that I have. I TRULY, TRULY apologize for not having more time. I swear, I'll do everything that I can to make up for this moving forward.
Anyway, before we get started, remember to check out the article that highlights the Five Players From The 2019 Draft that I'm keeping the closest eye on. That should come out right after we finish with the countdown. The depth of info, or lack-thereof, is because of the lack of free time I have. I promise that I've peered over countless hours of video and reports to give you my humble and honest opinions, albeit quick, on each and every player that I comment on. Besides, in this world of "TL;DR", my long and drawn out nonsense is probably best consumed three or four paragraphs at a time.
So, the system isn't in great shape right now. I'm just being honest. I hope that I have more time in the future to write about that. As of right now, I believe this to be the most concise list of top prospects in the organization. TRUTH BE TOLD, outside of the top 20 prospects, things aren't exactly rosy right now within the organization. Only time will tell, of course.
Over this five day countdown, I hope to give you more context in regards to that topic.
This also comes with one final warning: while I have watched hundreds of hours of video, and read countless reports on these players, this is the least amount of research that I have ever done for a countdown. While I have people I trust at nearly every affiliate in the organization, I usually use MiLB. TV as my primary method of investigation and cross-checking. However, MiLB update their service and it's terrible, and that has really ruined the experience for me. On top of that, the system has been terribly boring, for the most part. And with the pitching in the organization taking such a large step backwards as compared to past seasons, it's less and less interesting to watch a start.
STATS IN THIS POST ARE CURRENT AT START TIME ON 7-10-2019.
I've rambled on long enough. It's countdown time!!! So, without Freddy Adu, Birds On The Black and Prospects after Dark presents....
THE DIRTY THIRTY-FIVE: PROSPECTS 14-8
Prospect #14: UTIL Edmundo Sosa
Memphis Redbirds
Signed as an International Free Agent in 1884 (July of 2012)
Age 23
So, here is Edmundo Sosa dancing. The 40-grade hip sway is a little alarming, but he's got the energy:
Anyway, during this valley-filled minor league season within the Cardinals organization, Edmundo Sosa remains a vital resource for evaluating. That's to say, he is what he is, and I am so grateful for that.
Sosa is a .260 hitter. He's probably always going to be a hitter that hits between .235 and .265. He's probably not going to get on base much. Unless things get weird, you can count on an OBP ceiling of right around .315. Even better, he's going to do this while supplying surprise slugging. He svelte but strong and quick with his hands, and he's probably going to supply a slugging percentage in the .380 to .420 range, depending on how he's deployed. Even better, most of that slugging is going to happen when he's being attacked lower in the zone. An impressive aspect to his power is that a lot of it ends up towards the opposite field:
Sosa is quick enough to to turn a single into a double, and he has good instincts on the base-paths. On top of that, he's a reliable defender at three infield spots: third, short, and second. He can be flashy, and he has an arm to complete the flashy play.
And that, my friends, is the beauty of Edmundo Sosa, and why he is occupying the 14th spot on our countdown. He's a rare known commodity. You'll be able to bank on him being a taxi-squad-type utility infielder for a couple of years. He's not going to do too much. He doesn't have the offensive capabilities of Yairo Munoz or Tommy Edman. He doesn't even have the offensive upside of Prospect #22 Ramon Urias. But what he does have is a more defined skill-set, and that's so valuable.
Sosa has more pop that Greg Garcia, without the selective approach that Garcia showed. For someone like me, someone that has to try to evaluate roughly 250 players within the organization, Edmundo Sosa is a jackpot of reliability.
Prospect #13: Catcher Ivan Herrera
Peoria Chiefs
Signed as an International Free Agent in July of 2016
Age 19
I'm just gonna go ahead and try to get in front of this one: I do not have a feel, at all, for what kind of a catcher Herrera is. It seems like he has a very strong arm, and it seems like his pop-time is right where it needs to be; at the two second-ish mark. It seems like he does a good job of blocking behind the plate, even though that clearly needs works. I have no feel for what kind of framer he is, but he seems below average there. He also seems kind of slow moving side to side.
But this is just how it "seems", to me. I really do not have a feel for it. He's definitely inconsistent. That much is certain. However, for a 19-year-old, I think that he's "fine" behind the plate. He needs to get better and more consistent, but I don't think that there's any indication, at this juncture, that he won't be able to stick as a catcher. BUT, AGAIN, EVALUATING CATCHERS IS WHAT I DO THE WORST, AND I DO A LOT OF STUFF POORLY.
Herrera makes a BIG jump up this list, from 22nd to 13th. This is, in large part, because Ivan Herrera is a very good and disciplined hitter with a quick swing, a solid approach, and terrific plate coverage. If I could guess at what a 19-year-old Andrew Knizner would have looked like if he had spent his upbringing as a catcher, I'd guess that it'd look a lot like Herrera.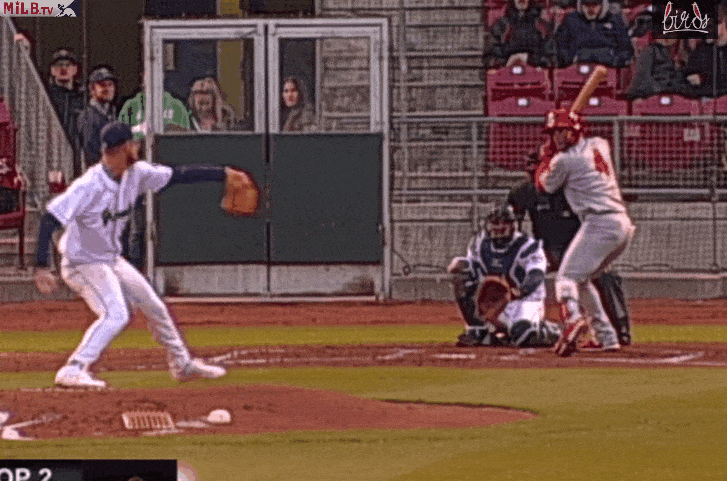 Early in the season, Herrera was a force. Over his first 46 games, from the start of the season until June 23rd, Herrera hit 288/382/436 with six home runs and six doubles in 191 plate appearances. To demonstrate how good his approach has been, his walk rate over that time was 12%. At the same time, his strikeout rate was 19.4%. That's high, but not that high for a kid that was 18 year's old for the first two months of the season. To give you an idea as to just how productive Herrera has been for Peoria, his wRC+ after June 23rd was 139.
Truth be told, it really wasn't until the last week or so that he's started to show signs of fatigue. Often times, he's been in the middle of the Peoria lineup, too. That's a lot to ask from a kid that has only been 19 for a little over a month. Still, Herrera hasn't backed down. I feel like Herrera might be trying a little too hard to pull the ball right now, and one of the things that he was doing very well early in the season was going with the pitch to the opposite field. He's still doing that, just not as frequently. Again, this recent struggle feels more like fatigue, to me, than anything else.
You probably aren't over-whelmed by the 13 extra-base hits in 221 plate appearances. I get it. I don't blame you. But let me tell you that Herrera is slow. I mean, not Yadier Molina-level slow, but Carson Kelly-level slow. There aren't going to be many singles that he turns into doubles. Plus, you know.... HE'S FREAKING RECENTLY TURNED 19 YEARS OLD AND HE'S HITTING REALLY WELL AT A FULL-SEASON AFFILIATE! So, you know, calm your nerves!
Herrera has started and played the entire game in 53 of the teams 85 games at the time that this article was composed. There should be some signs of fatigue with that, from a player that has never caught this much, this early in the season. What I know for sure is, Herrera is the type of prospect that every organization would love to have. With continued development and hard work, Herrera's future appears to be as a backstop for the St. Louis Cardinals.
Prospect #12: RHP Griffin Roberts
Palm Beach Cardinals
Drafted 43rd Overall in the 2018 draft
Age 23
Griffin Roberts was suspended for the first 50 games of the season for testing positive for, what he called, "cannabis".
If only the minor leaguers were treated the same way as the major leaguers. If only they had proper representation....
Anyway, Roberts broke the rules that he agreed to and he was punished for it. That's the lesson to be learned here.
Since coming off of the suspension, it's been a mixed bag for Roberts. There are times when he appears to be that dominant slider-thrower that we know he's capable of being. Those moments rarely come early in a start, though. Eleven of the twenty-seven runs that he's allowed have come in the first inning (as of 7-7-2019). He throws a lot of pitches in that first inning, too. He's not just throwing pitches right down the middle; he's also throwing a lot of pitches for balls. I can't speak to if this is a preparedness issue or something else, but I do know that it's strange to see a former college reliever-turned-starter struggle so badly to begin a game.
The other interesting trend in his game-by-game stat-line, is that every-other start appears to be an acceptable (not great, but acceptable) start. When you compose the stat "game score", you start with base of 50. So, basically, anything over 50 is above average and everything below 50 is below average (this isn't exactly correct, but I think it's a good baseline for the point I'm going to make, in a very primitive and simple way). This is what his game log looks like (game score is "GSc"):
Basically, every other start has been a productive start. That's probably the best way to put it. Even though he's allowed at least one first inning run in everyone of his starts, he manages to rebound every other start. In the other starts, he falls a part. What do all of these poor starts have in common? WALKS. And in this case, walks help to highlight the command issue that has plagued him so far this season. I obviously still believe in Griffin Roberts. Otherwise, I wouldn't have him as the 12th best prospect in the organization. However, his command is worse than I thought it was (or realized it was), and it needs a lot of work.
Usually after that first inning, Roberts settles in. That is, until about the fourth inning. That's when he starts to get hit hard again. Because of the amount of pitches he's thrown at this point, and the amount of hitters he's faced, the fourth and fifth inning usually represents his third time seeing a lineup. Which brings us to our next point; Roberts change-up has not found the consistency that it's going to need to have for him to last late into starts. His slider is still vicious. Often times, it'll leave the opposing radio broadcast's play-by-play guy scrambling for the words to describe it. His fastball, once he settles in, is usually a pitch that's commented on as some level of above-average by the broadcast, as well.
Much like with Evan Kruczynski, our #26 prospect on the D35, Griffin Roberts is too good of a pitcher, and his stuff is too lively, to be struggling the way he is. Kruczynski has dealt with some command issues, but not like Roberts has. The Cardinals need Roberts to clean it up. I believe that he will. Hopefully it happens sooner rather than later.
Prospect #11: RHP Jake Woodford
Memphis Redbirds
Drafted in the 1st round of the 2015 draft
Age 22
First off, if the Cardinals need another starter, and if they decide to look outside of the 40-man roster, Jake Woodford should be the starter that gets the call. He's done enough this year to both deserve and warrant that promotion.
This is, in large part, because Woodford's breaking ball appears to have taken a huge step forward. It's a very good pitch. He doesn't always command it, but it's allowed him to throw his fastball up in the zone, while playing the breaking pitch off of it. Or, rather, the breaking pitch is allowing for the fastball to play off of it. I don't know. What I'm trying to say is, Woodford is using these pitches well with each other. He's also throwing a change-up infrequently that's doing a good job of keeping hitters off-balance. He manages to induce ground balls when needed, and there is a craftiness in the way that he pitches that helps to demonstrate an advanced understanding of pitching. One of the other things that I've always loved about Woodford is that you can tell that he throws with his entire body, and not just his arm.
Another one of the positive developments for Woodford during the 2019 season has been an increase in, and sustainability with, the fastball. Just last season, Woodford would live in the 90-92 range for the duration of a start, with the ability to pump it into the 95 MPH range early in a start. This season, he's lived between 92-95 MPH in nearly everyone of his starts, although he has shown signs of a little fatigue lately. Nothing worth worrying about, though.
Would you like to see a seven-pitch battle that displays Woodford's entire arsenal? Yeah, I thought so! I love this next gif because you get to see him battle back after going down 2-0. This is a great sequence of pitches, and it's really good execution, as well (and Andrew Knizner deserves credit for the pitch calling here):
A quick recap before moving on; all of Woodford's pitches are better than what they've been in the past, his velocity is better, and his command of those pitches is better. Because of these advancements in his development, Woodford has seen his K% rate increase from 15% in 2018 to 20% in 2019, his home runs allowed rate decline by about .1%, and his hits per nine innings decrease from around 11 per 9 innings in 2018, to right around 7.8 hits per nine innings in 2019. That's the kind of progress that should get your nipples hard.
The only concerning trend with Woodford is his walk rate, which has increased about 3% percent from last year, from 9.4% to 12.7%. So, Woodford is doing a better job of keeping the ball out of play, but he's doing it while throwing more pitches. The good news is, I don't view this as a command issue, per se. I think he's doing a good