Game 4 Recap vs Brewers:
Cardinals Spoil Opening Day in Milwaukee
All eyes were on Miles Mikolas today, as the Cardinals started a three-game series in Milwaukee. Oh, and Dexter Fowler too, he DID get a hit but we'll get to that later.
What a show Mikolas put on today at Miller Park.
He was sharp in my honest opinion, painting the corners, a ton of movement on breaking pitches and his FB velocity is where we want to see it.
Mikolas did allow three HR's (Piña, Cain, & Thames) but really just made one BAD mistake and that was the hanger to Cain.
I think we all can agree we liked what we saw from him today.
The 6th inning, 2 out, meltdown was scary, but he was exhausted at that point.
Wouldn't you be if you hit a laser beam 2-run HR and haven't ran around the bases in years?
I'm only kidding, of course. But he did unload on that ball, 106mph off the bat in fact.
Mikolas wasn't the only contributor today, as the bats were rolling again, collecting 13 hits.
The Cardinals struck back to reclaim an early Brewers 1-0 deficit with a 2 run 3rd inning.
Jedd Gyorko continued his success against Brewers starter, Zach Davies when he hit an RBI double to LF scoring DeJong. Gyorko later advanced to third base on an errant pickoff into the outfield.






Dexter Fowler then collected his first base hit of the season, an excuse me swing, but still an RBI single scoring Gyorko.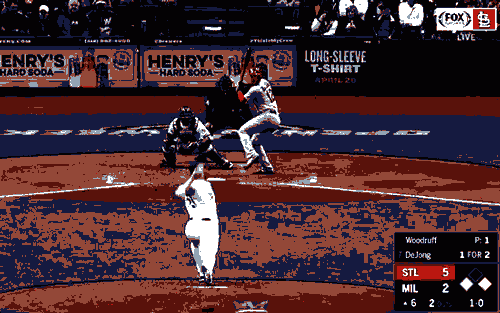 Paul DeJong kept his bat hot as well, collecting three hits and an RBI total to match it, he finished the day going (3-4 w/ the 3 run tater)
The Bullpen:


They get their own praise. Norris, Lyons, & Hicks combined today: 3.1 innings, 1hit, 0 runs, 1 walk, & 4 strikeouts)
Norris collected his first hold coming in to clean up the 6th inning mess, striking out Arcia. Norris has been a pleasant surprise thus far coming out the bullpen.
But the real story out of the pen has to be the young buck, Jordan Hicks.
I feel like I write about him every game recap.
He just makes pitching look so easy, almost too easy. Coming in with 2 outs in the bottom of the 8th after Lyons gave up a double to Eric Thames, Hicks carved up Manny Piña. Hicks came back out on the mound in the 9th inning and made quick work, retiring Villar on one pitch.
He followed that with a walk to Arcia and the Cardinals bullpen started stirring.
But in the end, the bullpen wouldn't be called upon again. Hicks finished the Brewers off when pinch-hitter, Jesús Aguilar, weakly grounded into a double play as the Cardinals held on to win 8-4.
The Cardinals hand the ball to Jack Flaherty tomorrow as he faces off against the Brewers ace, Chase Anderson.
Thanks for reading , Cheers!
Stew // @StewStilez
- - -
Stew's scorebook for the game today. I typically ruin his art, so I wanted to show it in its original form. And a shout out to Nicholas (@nchill17) for cooking up the gifs today.- cgifs