Cardinals Blow Five Run Lead, Spoil Mikolas Quality Start, Drop Game One To Buc's In Extras 6-5
The Cardinals found themselves playing in extra innings for the second night in-a-row. This time against division foe, the Pittsburgh Pirates.

Miles Mikolas was excellent for his third straight start of pitching at least 7 innings.
Lizard King Pt. 1:
Mikolas would toe the rubber for the first game this season vs the Pirates, having them in flux throughout his entire outing.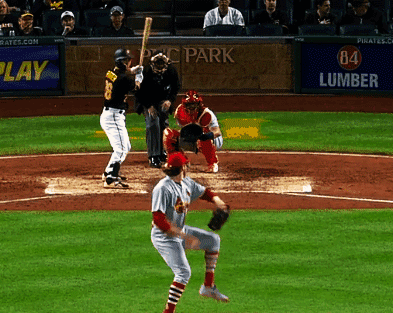 Chopped & Screwed remix of the Mikolas Curveball
Mikolas continued to do Mikolas things, it's becoming a natural occurrence start after start.
Mikolas was pounding the strikezone all night, not walking any batters for his second consecutive start.
Mikolas first inning he induced three ground balls, two were grounded back to him. A quick, 11 pitch inning, efficiency at its finest.
The Lizard King would find his back against the wall in the 2nd, eventually stranding the bases loaded.
After forcing Josh Bell to ground out to Cafecíto, Mikolas would allow back-to-back singles to RF to Dickerson and Cervelli before hitting Moran with a fastball up and in.
Mikolas would dance his way out of trouble, getting Mercer to pop out in foul territory to Cafecíto bringing up his opposition, Steven Brault, who can handle his own with the bat.
Mikolas would get Brault to ground out back to him, Mikolas third put out in just two innings.
3rd, 4th, & 5th Inning Runs:
3rd Inning:
The Cardinals lineup wouldn't produce a hit or baserunner until the 3rd inning.
Jedd going solo
Jedd "Trap House" Gyorko opened his trap house for business, unloading on fastball in his wheelhouse to LF for his odd, solo HR ritual.
Kolten Wong would walk, getting moved over on a sac-bunt from Mikolas.
Pham + therapeutic do-rag make a great team. They bring Wong on this long double.
Tommy Pham kept his bat red hot, scorching a ball off the chain linked fence in RF for an RBI-double, scoring Wong.
Ozuna got them quick hands.
With two outs and two runs scored, Cafecíto would draw a walk, bringing up Swags Ozuna.
Ozuna (3-5, double, 2 RBI's) is starting to break out, the Cardinals gold glove/silver slugger LF would use his quick hands to drive an RBI single to LF, scoring Pham, giving the Cardinals a 3-0 after two and a half.
4th Inning:
The Cardinals would extend their 3-0 lead, plating another run in the 4th, without getting a hit.
Paul DeJong reached first leading off the inning, thanks to a Moran error down at third.
Gyorko followed with a walk, Brault's third free pass in only three innings.
With Wong batting, Brault would throw a wild pitch, advancing DeJong and Gyorko to third and second.
Wong would bring in DeJong on a sac-fly to LF for his 5th RBI on the season.
5th Inning:
With one out, Cafecíto kicked the inning off smoking (109 mph) a line drive off the LF wall for a double, barely missing a HR by a matter of feet.
Swags Ozuna kept his batting average on the rise, hitting his second RBI-single of the day into CF, making it 5-0 Cardinals.
And this is where it all went downhill, the Cardinals would only total two more hits the rest of the day. They would also commit two errors down the stretch, and make things interesting at PNC.
Lizard King Pt. 2:
Let's finish talking about Mikolas' last 5 innings.
Mikolas would work a 1-2-3 3rd inning, striking out the last two (Polanco & Marte) on 97mph heaters. The fastball was the strikeout pitch today. In fact, his next two k's on the day would come on 97 mph heaters as well. This time setting down Bell & Mercer.
Gregory Polanco would take Mikolas deep to start the bottom of the 6th, sending a ball deep to RCF, almost clearing the stadium to the back concourse.
Marte and Bell would follow, collecting back-to-back infield singles to but two runners on, still with nobody out.
Dickerson would drive in Marte on a sac-fly to LF, Cardinals still leading 5-2.
Mikolas finished the inning off in fashion, inducing a huge 5-4-3 double play of Cervelli.
Mikolas went back out for the 7th inning, throwing 15 pitches (10 strikes) and striking out two (Moran & Moroff), seven total on the night.
Mikolas final line: (7 innings, 6 hits, 2r/2er, 0 bb, 7 k's, 65 game score) 102 pitches (72 strikes) (71% strikes)
Bullpen (Troubles) & Extras:
Bud Norris was the pitcher of choice for Matheny in the 8th, looking to set up Greg Holland for the save situation.
Norris would be a perfect bridge to the 9th, as he would snag his second hold of the season.
Norris would induce two infield pop outs, a single and a fielder's choice.
Then, Holland would come in to try and secure his first save in a Cardinals uniform. This outing wasn't like his first outing in which he had no command and walked batter after batter, but instead he couldn't miss any bats.
Holland's slider just hasn't found its niche yet.
Dickerson started the 9th inning rally by hitting a double to RF and advancing to third base on a Cervelli single, putting runners on the corners with nobody out.
Moran would step to the plate as the tying run.
Moran would ground a ball to Cafecíto at first that looked to be a sure double-play, to find it sneak under his glove into RF, bringing in Dickerson, making it 5-3 Cardinals.
Still with no outs and runners on the corners. Jordy Mercer would deliver the biggest blow of the game, taking Holland deep to CF for a game tying double, missing Pham's glove by inches. Cervelli scored with ease and Moran would score on the play, following a Pham misplay picking up the ball in CF.
With nobody out and the winning run on third base, the Cardinals would perform a Houdini act, stranding Mercer at third.
After the Mercer double, Matheny went with Leone, Lyons*, & Bowman to get out of the inning, each reliever responsible for an out (0.1).
Leone would get a shallow, weak, fly ball to Pham off the bat of Moroff and the intentionally walk pinch-hitter, David Freese.
With Polanco coming up, Matheny went to his only lefty out of the 'pen.
Lyons looked the sharpest he has all season, making Polanco look silly on a filthy breaking pitch down and away.
Matt Bowman was called in to get the final out on Starling Marte.
Bowman would succeed, striking out Marte on a slider on the outer half.
The Cardinals bats were silent in extra frames, going (0-5, bb, k, double-play) against Vázquez & Kontos.
Gyorko would walk with one out in the 11th and be lifted for pinch-runner, Harrison Bader.
With Wong batting, Bader would take off with the pitch and find himself doubled off first on the line drive to RF, Polanco.
With three relievers left in the bullpen, one being a fresh recalled Mike Mayers, Matheny went with the young flamethrower, Jordan Hicks.
Hicks BB/9 (7.2) hasn't necessarily been pretty, but he's been inducing quick groundouts and hasn't given up many runs either, only 1 ER coming into Friday's appearance.
Hicks started the inning off striking out Max Moroff, making him look silly on a 100 mph sinker down and outside.
Ex-Cardinal, David Freese, would draw a one out walk, bringing up Polanco.
With Polanco batting, Hicks would throw a wild pitch, moving Freese up 90 feet into scoring position.
Hicks throws so damn hard and has so much lively movement on his pitches that he fools not only the batter, but Yadi and the umpire as well. The wild pitch being an example.
Hicks would bounce back and get Polanco to groundout to Wong, moving Freese to third base.
Marte would step to the dish with a chance to send Pirate fans home happy. And with a 2-2 pitch, he'd do it.
Instead of throwing a hard sinker down and in on the hands, Hicks and Yadi would stick to the slider on the outer half. Marte was expecting it, hitting a walk-off single to CF for a 6-5 Pirates win.
It's never easy blowing a 5 run lead to a division opponent, especially after the way Mikolas threw the ball tonight.
The Cardinals are now (2-3) in extra innings and (3-5) in one run games.
Flaherty (0-0, 1.80) is making his second start of the season and will go to battle against Trevor Williams (3-1, 2.15).
The Cardinals will have to make another roster move before tonight's game for starter, Jack Flaherty.
First pitch 6:05 c/t.
Thanks for reading, cheers!




Game 25 is "in the book" - by Stew Stilez