Game 1 Recap - Pirates vs Cardinals
Well, well, well. It's been way too long and I cannot begin to put into words how happy I am to be back to my normal routine, BASEBALL!!
Anyways, missed this and all of you...here we go.
Jack Flaherty, need I say more? He picked up right where he left off in 2019, absolutely picking apart the Pirates lineup throughout his start tonight. Flaherty would cruise through his 7 innings of work, throwing just 89 pitches, striking out 6.
Flaherty would rack up five, 1-2-3 innings out of his seven pitched, and didn't need more than 12 pitches to escape an inning until his final in the 7th.
Tyler O'Neill, Dexter Fowler, and Pauly Deez each contributed bombs to power the offense to victory, DeJong's being the nail in the coffin in the bottom of the 8th, a two-run shot off Richard Rodríguez to give the Cardinals a 5-2 lead heading into the 9th.
Kwang-Hyun Kim would come in for the save, working after Helsley put up a scoreless, 1-2-3 8th inning against the top of the Pirates lineup. Kim looked to have nothing in his tank after pitching in Wednesday's exhibition game vs the Royals, allowing the first three Pirates batters on base (Bell reaching on an Edman fielding error, Moran double, and Osuna two-run single). After that, Kim was able to get Heredia to fly out to Thomas in RF, taking over for Dex in the 9th. Stallings then grounded into the first induced double play from Cardinals pitching to end the game, grounding into a 4-6-3 to end the game for a 5-4 Cardinals Opening Day victory.
Uncle Charlie takes the ball tomorrow afternoon in game two, taking on Trevor Williams. First pitch from Busch Stadium is 1:15pm c/t.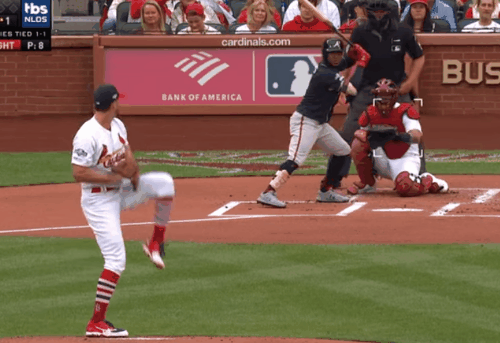 Cheers, Stew