Cardinals Minor League Rankings: The Utility Players
THE LEAD-IN
Welcome to the offseason!!
The offseason means that we have nothing better to do with our time than to make and read both dumb and subjective lists!! Hooray!
And who does dumb and subjective lists (with no bearing in reality) better than anyone? That's right, it's Bleacher Report!! I'm somewhere down on that list, but I'm going to do it anyway because I'm tired of letting Cardinalsgifs down, and I hate being the guy that isn't doing anything for Birds On The Black.
As you might have guessed, I'm going to be doing these rankings my way. There will be some rookie-eligible players that are omitted from the list. I'll talk about those "GRADUATES" before we get into each individual listing. With some of these lists, I will throw a couple of extra players into the fray just for the hell of it.
Also, the lists are going to be a little different. The Cardinals have gone out of their way to turn individualized infielders into utility infielders. SO, instead of ranking the second basemen and shortstops separately, I'm going to group that unit into one. There might be a 3B or two sprinkled into that mix, as well.
Also, I truthfully didn't know what do with the 300 pitchers that the Cardinals drafted during the 2019 draft. So, instead of including them into the SP or RP pitching rankings, I'm going to break them off into their own category.
"It's my world, my world, and those ancient people are dead."
Remember, these rankings are mine and mine alone. They are very subjective, and they will be brief. The re-ranked Dirty Thirty-Five will be just a few months away. When we get to that, we'll go back to being as objective and in-depth as possible.
Until then, let's have some fun! Discourse is both welcomed and encouraged. And remember, just like with my own opinions, your opinions are worthless!!
LET'S GET TO THE LIST!!




A REMINDER: One more time, I just wanted to say that I've decided to combine all of the infielders and utility players into this list. There will be players on here that are full-time shortstops or second basemen. I've decided to do this for a few reasons.
First (and maybe most important), the Cardinals have gone out of the way to make minor leaguers more versatile. Just because a player is a great shortstop that'll stick there if given a chance, it doesn't mean that they'll be given an opportunity.
Second, it gives me a real opportunity to write about more players.
Third, there are less viable candidates at just shortstop or second worth writing about than in recent years.
With all of this in mind, it just seemed to make a ton of sense to group them all into one grouping.
THE UTILITY... FIELDERS (?)
The Graduate: Edmundo Sosa – Age 23 - Memphis And St. Louis
It's Edmundo Sosa, ya know? I don't really know what I'm supposed to say anymore. He's been a prospect for longer than I've been a writer, and I'm not sure that there's anything else to say about him.
When I think of Edmundo Sosa, I think of Breyvic Valera. Not because they are alike, but because I have to believe that Sosa has a few years as a utility infielder in the major leagues in him if Valera has been able to stick around that long. Sosa has more pop, and he's a better fielder, and I foresee him being a very serviceable major league utility player for a couple of seasons if given a chance.
Sosa is carried by his surprise pop to all fields and his ability to do damage to pitches low in the zone. He's capable of doing this because of how quickly his hands get through the zone. Sosa can drive the ball, but he often produces a somewhat inside-out swing. He's aggressive at the plate, and that hurts him a lot, but it's something that I like to see. Mainly because it's something that the major league team doesn't do enough.
Defensively, Sosa is a flashy shortstop, but he's pretty sure-handed all around the infield. He has good speed, too, and while he's somewhat clunky around the bases, he's still a good baserunner.
Sosa is fine, ya know? He's the exact kind of infielder that teams have done well to have on their bench for years. I believe that he is better suited for the last infield bench spot than Yairo Muñoz because of his true defensive value. To tie this all back together, he's better than the Donovan Solano/Breyvic Valera types, at least.
ALRIGHT. LET'S LIST!!
#1: Ramon Urias – Age 25 - Memphis, Springfield, & Palm Beach - SS/2B/3B
As well as I feel like I know Edmundo Sosa, I still don't feel like I know Ramon Urias. It's so hard to evaluate prospects that are as old and as seasoned as he is. By all accounts, Urias should have performed as well as he did at the AA level. He was an accomplished hitter in the Mexican League, and the talent there is roughly the same as a league between AA and AAA.
What's been interesting to watch is the trouble that Urias seems to have adjusting to a league. For being as advanced and as seasoned as he is, it's crazy to watch him throw away at-bat after at-bat being overzealous with the bat. Urias is already prone to struggling with the high heat/low breaking combo, and he allows pitchers to take advantage of him when he's swinging at everything.
But this is only part of his story.
The other part of his story involves a severe amount of comfort and success when he does finally settle in at a level. You'll look at Urias' season totals and be less than impressed. He had an OK season, but it was definitely a step backward for a player with a major league debut in his future.
What you won't see, unless you break down the numbers, is just how good Urias was during the second half of the season. Urias missed nearly all of June because of injury. When he returned from the IL, he was placed on Palm Beach roster for a little five-game rehab. He only spent two games on Springfield's roster, and then finished the year on the Memphis roster. From July 13th (his first game back in AA) until the end of the season, Urias hit 310/391/532 with 7 home runs and 14 doubles in 184 plate appearances. You could tell he was feeling it because he was also walking 10.9% of the time during this period. His K rate was high (20.7%), but it was an acceptable number for the type of production that Urias was putting out.
Defensively, he's fine. He's fine in the way that Paul DeJong was fine before he made his major league debut. Now, DeJong worked tirelessly to become a Gold Glove contender at the most demanding defensive position this side of catcher. Urias has that capability because of his athleticism, but he isn't nearly good enough at reading the ball off of the bat, and he isn't quick enough getting to his spot. He has a good backhand and a strong arm, but Urias is best suited at second base because of how he uses his tools.
The second half production out of Urias, along with his track record in other leagues, is enough to dream on. As a second baseman, he could be an exciting player if given a chance. That's if he continues to demonstrate the type of hitter that he is capable of being. In my mind, Urias is a lot like the infielder version of Randy Arozarena: more than likely, a tooled-up and extremely useful bench bat that could really help a team.
#2: Brendan Donovan – Age 22 - Peoria and a taste of Memphis - 2B/3B
Brendan Donovan can flat out hit. If you had to pick a player from the 2018 draft that profiles as a major league bat in the same vein as Paul DeJong, Andy Young, Tommy Edman, or Andrew Knizner, it'd be Donovan and Donovan alone.
Maybe what I mean by that is, all four are players that were drafted beyond the top three rounds that are flying/flew below the radar until they were on the cusp of the majors. That's kind of what Donovan feels like, to me.
Donovan is an all-fields hitter, and he can use his modest power to all fields, as well. He hit 8 home runs, and 29 additional extra-base hits in 480 plate appearances during the 2019 season in the Midwest League. The eight home runs might seem like a modest amount, and it is, but there's substantially more raw power in both his frame and his swing.
In 482 plate appearances, Donovan hit 268/380/409. This was hurt greatly by a month of May in which he hit 182/270/293 in 111 plate appearances. I know it's very selective, but this only tells part of the story. Donovan suffered an awful three week stretch in which he hit 154/247/231 over an 18 game and 73 plate appearance stretch between May 1st and May 20th. This three week stretch absolutely killed his season averages, and his season averages weren't even bad!
Then, from May 21st until the end of the season, a span of 335 plate appearances, Donovan hit 299/412/460 with six home runs, 21 doubles, and three triples. In the prior three weeks, his strikeout rate was about 34%. From May 21st until the end of the season, it was 17.3%, and that goes along with a walk rate of 14.9%. His wRC+? That'd be 155. And this includes the month of August in which the Midwest League really adjusted to him, especially in regards to the shift. He remedied this by beating the shift and staying selective at the plate, but it did cost him some slug.
Speaking of Donovan's swing, I LOVE his swing. It's quick through the zone, and it stays in the zone for a long time. He tailors his approach to match the count, and he won't be beaten by breaking pitches from like-handed pitchers. Donovan also doesn't back down in an at-bat.
While Donovan played second base almost exclusively during the 2019 season, he's more than capable of playing third. Hell, I think that he's athletic enough to handle shortstop if given a chance. The only big knock I have in regards to Donovan is that he seems kinda slow. Not, like, Molina or Carpenter slow, but average-speed, at best.
Donovan has quickly become one of my favorite prospects in the organization. As most of you know, I had a love affair with former Cardinals' prospect Andy Young, along with the love affair that I still have with Randy Arozarena, Ryan Helsley, and Andrew Knizner. Brendan Donovan is the leader in the clubhouse for the next wave of my personal favorite prospects. All that he has to do is keep doing what he did at the end of 2019.
#3: Mateo Gil – Age 19 - Johnson City - Shortstop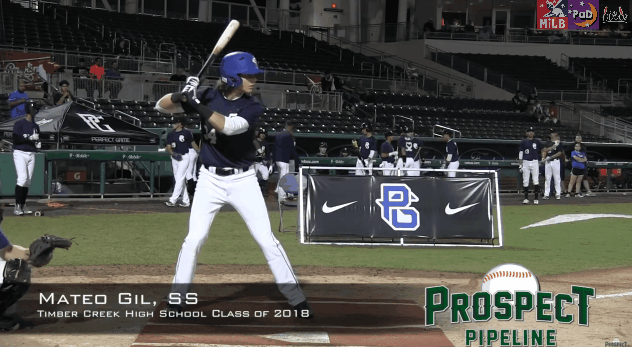 (These gifs of Gil are old and I am sorry about that. I promise that I'll have better gifs when we get to The Dirty Thirty-Five. He's put on a great deal of muscle and cut that shag since)
There is a good chance that Gil might just be the player that we all wanted/hoped/thought that Delvin Perez would be. This is very good and very important for the organization.
Gil is bigger and stronger than Perez was/is. Because he's stouter, he's able to leverage his body and his swing into more extra-base hits than Perez could ever dream of. Gil is a pretty good hitter, too, but he is a super-pull hitter. This type of hitter usually has a tendency to fade as the rise through the ranks, but I believe that Gil has a strong enough understanding of hitting that he'll adjust as he rises. It is always tough with this kind of kid, ya know? You can see all of the raw talent and potential. You can see the tweaks that are needed to help them profile more positively at the next level. But you don't want to try to change that player too much. I'm guessing that Gil will always be a heavy pull hitter, and I think that's the best thing for him. I don't like the idea of changing his swing or his approach too much because I feel that both have a good enough foundation to build upon.
All indications are that Gil is also an outstanding defensive shortstop. When he was drafted, some wondered if he'd be a pitcher long term or an infielder. So, this should give you some indication of how good his arm is. As you'd suspect with an 18-year-old shortstop, Gil is still very raw. From what I've heard from the people that I've talked too, there's no reason to believe that Gil won't stick at short. He might eventually have to move to third, but I don't think that we are remotely near making that decision yet.
It's really great to see a shortstop prospect with a high ceiling perform well in the Cardinals system. The Appy League is good for hitters, and Gil took advantage of that. I'm anxious to get my own eyes on him at Peoria. Hopefully, that happens during the 2020 season.
*FROM HERE ON IT'S A CLUSTER*


#4: Yariel Gonzalez – Age 25 - Palm Beach, Springfield, & Memphis - EVERYWHERE BUT C & CF
Yariel Gonzalez is just a lot of fun. He's a fun player and a fun story, and his position versatility is a lot of fun, too.
Gonzalez has truly become the definition of super-utility within the organization. Over the last two seasons, Gonzalez has played every position on the diamond except for catcher, pitcher, and center field. What's even more impressive is that Gonzalez doesn't look out of place at any of these positions. Sure, he wasn't tested that much while playing short, but he didn't look awkward there. So, that's cool!
As an undrafted free agent, it's been fun to watch this former JuCo standout have a successful minor league career thus far. When Gonzalez was first promoted to Springfield, you couldn't get him out. He had a pleasant, five-game taste of AA before a brief promotion to AAA, but Yariel was a bit of a slugger from his return to AA on June 27th through July. Over those 31 games and 127 plate appearances, Gonzalez hit 325/380/564 with four doubles and eight home runs. The switch-hitting Gonzalez also only struck out 11.6% of the time over this period, while walking 7.8% of the time. All of this put his wRC+ at 160. While August was tough on Gonzalez, especially because his season was ended a week or so early, it should be noted that this was an impressive season from Gonzalez.
Most of Gonzalez's power comes from the right side of the plate, but that's also where he is more aggressive and to a fault. I'd like to see him continue to show signs of improvement there. He does a tremendous job of taking great at-bats as a left-handed swinger, and he just needs to keep that up.
Another good young man within the organization, it's going to be fun to watch this 25-year-old at Memphis next season. It'd be a lot of fun to see him play every position in a singular game. Other than that, there isn't much to say about Gonzalez!


#5: Irving Lopez

- Age 24 - Springfield and Memphis - 2B/SS/OF
Irving Lopez is the pride of Mexico, and this gives me a chance to give a shout out to one of my favorite Cardinals' Twitter follows Alex Carrión Velo. Alex is proudly Mexican, and I love watching him get fired up when Lopez does something good.
Lopez did a lot of good things to get Alex fired up during the 2019 season, too.
In 408 plate appearances, the super-utility infielder hit a respectable 262/340/436 with 18 doubles, 6 triples, and 11 home runs. Lopez was a consistent run producer at both the AA and AAA levels, too, posting a wRC+ of 113 at AA and a wRC+ of 110 at AAA (small sample). He's doesn't strikeout too much, and he walks just enough. He's truly the definition of a great organizational depth piece. Lopez doesn't ever take a play off, either, as demonstrated by the 6 triples on the season and countless high-effort plays in the field. Lopez is always looking to take the extra base if it's being given to him, too. He's got that surprise speed in his game.
While Lopez played second base primarily during the 2019 season, I've watched him do well at both third and short in the past. He's got a little Tommy Edman ability in the outfield, too. If I had to gamble, I'd say that Lopez is one of the better defensive second baseman in the Cardinals' minor league system.
Lopez is a talented spark plug within the Cardinals' system. The pride of Hermosillo, Sonora, Mexico, as well as Florida International University, this 24-year-old and former 19th round selection is a lovely little diamond in the rough!
#6: Juan Yepez

– Age 21 - Peoria, Palm Beach, & Springfield - 1B/3B/OF
DON'T GIVE UP ON JUAN YEPEZ JUST YET.
I think what I find most striking about Yepez is how young he still is. He'll be a 22-year-old for all of 2020, and he's done a tremendous job of adding muscle to his frame. Beyond Mateo Gil and Delvin Perez, Yepez is the youngest player on this list. After starting 2019 back in extended spring training when camp broke, Yepez obviously dedicated himself to getting in better playing shape, and it showed.
You'll see in the stats above that it didn't take Yepez long to show that he was too talented to repeat the Midwest League. He crushed that league in 2018, so using that as a springboard to the Florida State League had to be a bit of a sobering experience. What was encouraging, in particular, was,that Yepez was owned by the Florida State League in 2018. So, to see him light that league on fire in 2019 to a tune of a 131 wRC+, while adding four doubles and four home runs over 115 plate appearances was awesome. His slash line of 275/351/431 might not be the most impressive, but that should go to show you just how difficult it is to impress offensively in the Florida State League.
That takes us to his time in Springfield, where he kinda struggled over a tiny sample of 59 plate appearances. He did hit two home runs and two doubles in that small sample, and he kept his walk rate above 8%, too, but his K rate went up to 23.7% from 18.3% at Palm Beach. However, NONE OF THIS BUGGED ME AT ALL. What I saw was Yepez stinging EVERYTHING. On top of that, you could tell that his approach had improved tremendously and that he was more comfortable in the box. I believe that I saw Yepez hit one of the furthest home runs during the 2019 season for a Cardinals minor leaguer while at Springfield. I was told that the Statcast data had the exit velo at 116 MPH. It's beautiful, and I'm glad that you get to see underneath his name above, too.
What the 2020 season has in store for Yepez is going to be something to watch. Yepez comes from a great family, and he's a great kid. It's great to see this type of person start to have success in the minors. This is especially true because of how hard he is working scholastically at the same time. While it still appears that Yepez's future is at first base long term, it's nice to hear and see positive returns from his work at both third base and in the outfield during the 2019 season.
#7: Chandler Redmond - Age 22 - Johnson City - 1B/2B/3B
Chandler Redmond is the 2019 draft's winner of the Matt Adams award. That's to say, a late-round pick with a big body that kinda came out of nowhere, and he just might have a major league debut in his future.
While Gardner-Webb University isn't exactly Slippery Rock, it still constitutes coming out of nowhere in regards to other baseball programs. Only one player from Gardner-Webb has ever made a major league debut. As a 32nd round draft pick, it's easy to see how the chips might be stacked against this young man.
Redmond is a big boy. He's every bit of 230 on top of a 6'1" frame. There isn't much in the way of wasted weight, either. He isn't sloppy, and you can tell that he works to keep himself in shape. He just looks STRONG. What's most surprising about his size is that he manages to play a really solid second base! I've heard nothing but positives about the way that he plays third and first, as well, so it's going to be interesting to see where his development will take him.
Redmond was old for the Appy League, but that shouldn't take away from just how great he was in that league. The wRC+ of 151 that he put up should help to demonstrate that he was Johnson City's most consistent and productive hitter on a daily basis. In 212 plate appearances, Redmond hit 12 home runs and 12 doubles to go along with a walk rate of 11.8% and a strikeout rate of 25.9%. The strikeout rate is high, especially for a player in a league that he's over a year older than, but the walk rate and production are enough to see how it could all come together for him in no time.
Redmond is going to be a fun prospect to follow. I'd love to see him start the season in Peoria, and I think that he's more than earned that. It won't do the Cardinals any good to have this kind of left-handed, 23-year-old bat sitting in extended spring training and waiting for the short season affiliates to fire up in 2020. I have it on good authority that Redmond also has some deep Cardinals' rooting roots within him, so what do you say we just go ahead and fast-track this kid!!?!!
#8 Kramer Robertson

- Age 25 - Springfield & Memphis - SS/2B/3B/OF
Robertson had a relatively great 2019 season!!!! Good for him!! He was one of the few players at the higher levels of the minors within the organization that took a huge step forward last year. And you're right!!! I definitely don't want to put him at the 5 spot on this list!!! But I'm doing it anyway because I'm WEAK I TELL YOU. DUMB AND WEAK.
JOKES ON YOU I'VE MOVED HIM TO 8TH ON THE LIST. MAN, WHAT A ROLLERCOASTER.
Robertson is a quick-twitch athlete, and he's a pleasure to watch in the field. He's limited by his average arm, but he's a show-stopper in the field. Ultimately, Robertson is going to have to stick at second because of his arm. However, if that thing can continue to improve, then you're talking about the best defensive shortstop in the organization. I imagine that it is done developing, but he has made small gains in the arm strength department during each of his seasons in the organization.
Robertson is also a terrific baserunner. He's not going to be the type to steal a ton of bases, but he is going to go first to home lightning quick. I don't have his Statcast speed data, but he's every bit as fast as Yairo Muñoz is running the bases. Just like with Tommy Edman, Robertson just has a natural feel for what to do while on the bases. He has a high baseball IQ, no doubt.
Robertson has a quick swing, and one of the most significant head-size-to-body-size ratios in all of baseball.
Getting back to his bat, he hit most of his 11 home runs during the season because he did a tremendous job of recognizing breaking pitches on the inside quarter of the plate and turning on those pitches. Robertson has very good pull-power down the line, but not really anywhere else. He's a patient hitter, too, as demonstrated by his incredible 14.5% walk rate on the season.
The issue with Robertson is that he is limited offensively. He was really good at AA, and there was a lot to both get excited about and build upon. This goes double for how good he looked early on in the season. The issue is that Robertson isn't strong enough to do enough with the high number of balls that he puts in the air. When teams started to adjust to his success with inner-half pitching, they really victimized him on the outer half of the plate, and especially with heat. I firmly believe that the 11 home runs that he hit during the 2019 season are misleading in regards to his long term power potential. As a matter of fact, I'd recommend that Robertson adjust his approach to be more of a groundball hitter, intent on using his speed and approach to better help his long term potential.
Robertson is a fun player to watch. He's the kind of player that this fanbase would really get behind rooting for. I really should have kept him at the five spot, but I just couldn't do it.


#9: Rayder Ascanio

- Age 23 - Palm Beach and Springfield - SS/3B/2B/OF
There are few players on the farm that play with the same type of aggressive flare as Ascanio does. He's most certainly a fierce competitor, but sometimes it borders being too aggressive for his own good. It can be a lot to watch, but it's also a ton of fun to watch. You never know what you are going to see next. If you had to pick a player in the system that is most likely to get into a barroom fight after a play on the field, it'd be Ascanio.
On the field, Ascanio is pretty impressive. He definitely impressed me when I watched him in Springfield. He was better built than I thought he'd be, as well. I've always thought of him more as the throw-in prospect to "even out" the Mike Leake trade. I have definitely been underestimating him. He's not massive or anything, but he is more stout, and a little bigger than his listed 5'5" 155-pound frame might otherwise indicate.
That intensity that I mentioned a second ago is a distinct edge that he takes onto the field with him every game. Ascanio is a full-effort athlete on every play and in every at-bat. As far as shortstops in the organization go, you'd be hard-pressed to find one that is as talented as he is. He has a strong arm that can make a play from anywhere on the left side of the infield. He's really rangy, and it's evident that he loves to get dirty to make a play. What I might find most surprising about Ascanio as a fielder is that he's not as fast as he appears. He's actually an average runner. He just gets such good reads on the ball off of the bat that he seems to be flying to the ball. The bottom line with Ascanio as a fielder is that he is a very good and a ton of fun to watch.
Ascanio put up his most impressive offensive season in 2019, and that's a definite positive. He has more pop off of the bat than I would have expected, and I think that the doubles have real staying power. If we were talking about the old baseball, I'd tell you that Ascanio has no chance of repeating his six home run effort, but there's no telling anymore. Then again, things really did start to come together for Ascanio when he began to ditch hitting from the left side of the plate. Maybe this adjustment/change was just enough to bring out the best in him.
#10: Delvin Perez

– Age 21 - Peoria - Shortstop
I swear, I promised myself that I wouldn't write about Delvin Perez. I was just going to make this list and move on and hope that no one would ask or wonder.
But I can't do it. I'm not strong enough. Perez is like a planet, and all prospects writers are always in his orbit. It's impossible to resist the pull.
Here's the thing about Perez: if you remove the stats and the hype, and if you remove the expectations as well, then you have a player that just turned 21 years old that has gotten better each year since his down second season in the organization. Now, those gains seem small. And, truthfully, they probably are. But they are still gains, and in a positive developmental direction from a player that couldn't purchase booze a week ago.
Over the past two seasons, it's become clear that the two areas in which Perez has worked hard to become very good at are base-running and defense at short. It still gets a little clunky with Perez in the form of his plant-and-throw, but he does more than you would expect defensively at short. He's good there, he's going to stick there, and he's going to impress you while doing it. Don't let the defensive stats available to you for minor leaguers fool you.
The same can be said about his base running. Perez is fast and quick around the bases, but it was nice to see him start to understand how to steal bases during the 2019 season. He was terrible at it in the past, and he was still bad at it during the beginning of the season, but you could see that he worked hard to get better at it as the season went on. The play below shows Delvin scoring from second on a fly-out to the RCF gap:
The issue with Perez will always be that he doesn't have any meat on his frame. He's listed at 6'3", 175 pounds, and that might be true, but I'll take the under. He does a great job of keeping himself in shape, but he needs to add a little bit of weight to his gangly frame. Otherwise, he's always going to have a hitter's ceiling of Magneuris Sierra. 21 total extra-base hits in 506 plate appearances aren't going to cut it, and that was a nice little increase for him. He does an excellent job of utilizing his speed at the plate, but there's more in his tank from a slugging perspective, and it's time to see him tap into it. This was about the time in Oscar Mercado's development that it started to happen for him. I'm not giving up on Delvin, and I have a feeling that we are going to see a modest power increase during the 2020 season. Unless he's in the Florida State League, where he won't get an extra-base hit at all (I KID).
There are two things that I'd also like to bring up with Perez. The first thing is that Perez is best suited at the top of the lineup. He becomes a more patient hitter when they have him leading off. I've been trying to crunch the numbers, but I've done it three different times, and I get different results every time because I'm stupid. But the one thing that is true each time is that his walk rate goes up and his strikeout rate goes down.
The other thing worth bringing up, and the thing that I'll leave you with, is that Perez ended the season very strong. It was his first year at a full season affiliate, and I was concerned about his weight and conditioning over an entire season. From July 6th until the end of the season, a span of 193 plate appearances, Perez hit 301/353/409 with 12 of his 17 doubles, two of his three triples, and his lone home run. Even with this success over this period, his OPS was still only .762. This was the best that Perez has looked in the minors.
Perez increased his prospect stock during the 2019 season. I'm hopeful that he can continue to do so in 2020.
HONORABLE MENTIONS (In No Particular Order)
Max Schrock

- Age 25 - Memphis - 2B/3B
Sometimes, it feels like you are saying the same things over and over about the same guys, over and over.
That's the case with Schrock.
For the second straight season, Schrock will go unprotected in the Rule 5 draft. This is because his most potent tool, his ability to make contact, works against him often. You see, because he can make contact with anything, you end up seeing Schrock chase a lot of stuff. When he tries to get aggressive early in counts, he just ends up chasing bad pitches and creating weak contact. When he tries to work a count, he gets defensive and puts a defensive swing on the ball for soft contact. I don't have the slightest idea of how to remedy it, and it sucks that this is how it works for him.
There are two big positives with Schrock. First, he's done an admirable job of turning himself into a versatile fielder. He entered the Cardinals' system with questions about his abilities at second base. He's put those questions to rest, luckily. The Cardinals then challenged him with work at third base and the outfield, and Schrock handled both of those challenges well. This is all to say that Schrock is a hard worker. This is evident in the way that he's dealt with defensive adversity.
The other noteworthy positive with Schrock is how he ended the 2019 season. After a stint on the IL between June 8th and June 26th, Schrock came back to Memphis to light the Pacific Coast League ablaze. Over his last 145 plate appearances, Schrock hit 318/393/457 with two home runs and an additional 11 extra-base hits. In this period, Schrock walked 10.3% of the time while only striking out 9.6% of the time. This was the first time that the Cardinals got to see the player that they traded for in the Stephen Piscotty deal.
As I mentioned above, Schrock will be exposed to the Rule 5 draft for the second straight season. Unlike last season, there's a chance that someone just might select Schrock, especially now that he has a little position versatility in his arsenal. Things haven't gone the way that we all hoped or thought it would for Schrock as a member of the Cardinals organization, but here' s to hoping that he makes it through one more Rule 5 with the chance to make a major league debut with the Cardinals during the 2020 season.
Imeldo Diaz

- Age 22 - State College, Peoria, & Palm Beach - 3rd/SS/2B
At about the same time that the Cardinals were giving the Toronto Blue Jays International signing funds for Lane Thomas, they were also providing funds to the Boston Red Sox for Diaz. Actually, at the time of the trades, Diaz was the more impressive of the two. Thomas was hurt for the majority of 2017 after the trade, but Diaz was impressive.
Then 2018 happened. Diaz took a step back at the plate. He put on a little bit of weight (not that noticeable), and everything about his game seemed slower than it did in 2017. There was a lot of choppy contact out of Diaz during this time. He spent the entire 2018 with State College, and his swing look engineered for defensive and soft contact. Diaz was playing shortstop exclusively, and his average athleticism allowed him to play an average short.
It was easy to lose faith in Diaz after that 2018 season. Speaking frankly, I know that I did.
It was early on at State College during the 2019 season that it became evident that Diaz had taken a step forward. Often times during 2018, you'd see him out in front of breaking pitches. His timing at the plate was off during 2018, and he made a slight adjustment with his hands (raising them and getting them closer to his body) that really helped his timing in 2019. Suddenly, Diaz was making consistent and better contact. In the past, Diaz had a lot of success pulling the baseball, and it seemed like going back to this approach really helped him after spending 2018 trying to poke the ball to the opposite field.
At only 22 years old, there are many reasons to be excited by Imeldo's future. With an advanced assignment to Springfield, I could see Diaz performing similarly to how Irving Lopez did during the 2019 season. Diaz isn't as much of a deep sleeper as this list might indicate, and I am hopeful that he continues to progress during a successful 2020 season.
Liam Sabino

- Age 23 - Johnson City & State College - 1B/2B/3B
If you are looking for an older minor leaguer that had great success playing against players that were a lot younger than he is (on average), Sabino is your guy!
The former 35th round selection is a pretty athletic guy. An organizational depth piece to the letter, Sabino put up a rather robust wRC+ of 137 while playing in a league that he was 2.6 years older than. He hit a shiny 282/385/471 with 19 XBH and a pleasing walk rate of 12.2%. Sabino was also playing admirably at three different infield positions. It was a really great year for Sabino, even if he was playing in a league that he was too good/old/talented for.
Sabino did eventually get promoted to State College, but it was only for the last four games of the season. He continued to show a controlled approach at the plate, but there isn't anything more to take from it than that.
I imagine that Sabino will start the 2020 season at Peoria. Although, due to his advanced age (he'll be 24 in May of 2020), I'd like to see him get aggressively assigned to Palm Beach. His bat can handle it even if his defense can be rough at times, and there really isn't a reason to keep the kid gloves on this type of player.
Martin Figueroa

- Age 23 - State College - 2B/3B/OF
It's been a weird journey so far for Figueroa. First, he was drafted by the Astros in the 32nd round of the 2017 draft as a catcher.
When it became evident that he wasn't going to stick at catcher, he was released from the Astros organization. Committed to playing baseball for as long as possible, Figueroa signed on to play for Sussex County in Independent ball. There, he showed the ability to get on base without striking out and position versatility that the Astros weren't willing to explore.
Figueroa did these things well enough to catch the eyes of the Cardinals. Actually, the Cardinals have a lot of success following this plan. It's worked out with others such as Dalton Roach, John Nogowski, and Tyler Reichenborn, and Figueroa seems like a nice little addition to this group.
One of the first things that you'll notice about Martin is that he's pretty stock at 5'11". He definitely still looks like a catching prospect. As you might expect from a player built like Figueroa, he isn't the fastest or quickest. He is more athletic than you might expect, though.
The switch-hitting Figueroa has a much cleaner swing right-handed than left-handed. He makes solid contact from the left side (as you'll see in the gif above), but it's a round and flat swing that is susceptible to looking lost against breaking pitches. He's smart with what he swings at, but he doesn't have good enough control of the bat from the left side. That in mind, I really like his swing from the right-side. It's controlled and quick, and it can produce more power than you'd think from someone with the frame of Figueroa. You can definitely tell that he changes his swing in counts that favor him with the intent of doing damage, and that's a huge positive.
Figueroa only played second base during the 2019 season, but he is capable of playing third and a corner outfield spot. I suspect that he'll get plenty of time all around the diamond for Peoria in 2020.
A QUICK SHOUT OUT...
... To second base/third base prospect, 19-year-old Ramon Mendoza.
He's only getting a shout out because I don't know anything about him other than that he seems to be able to rake. Since I've seen virtually none of him, and I've heard almost nothing about him, I'm only going to give him a shout out here. It didn't seem correct to ignore him on the list, but it's usually my practice to not include this type of player. The thing about Mendoza is that he appears to have a strong ability to get on base, and he's done it while showing an ability to hit for extra bases without striking out a nauseating amount. That he also might have third base versatility is a positive.
If you are looking for a teenager to keep an eye on that put up impressive statistical numbers at the lowest levels of the minors, Mendoza is your cup of tea. It should be fun to follow along with, and we are just going to have to wait and see what Mendoza is!
Thanks to @cardinalsgifs for the amazing picture and to FanGraphs for the delicious stats!!
Thanks For Reading!!