Cardinals Minor League Rankings: The Catchers
THE LEAD-IN
Welcome to the offseason!!
The offseason means that we have nothing better to do with our time than to make and read both dumb and subjective lists!! Hooray!
And who does dumb and subjective lists (with no bearing in reality) better than anyone? That's right, it's Bleacher Report!! I'm somewhere down on that list, but I'm going to do it anyway because I'm tired of letting Cardinalsgifs down, and I hate being the guy that isn't doing anything for Birds On The Black.
As you might have guessed, I'm going to be doing these rankings my way. There will be some rookie-eligible players that are omitted from the list. I'll talk about those "GRADUATES" before we get into each grouping. With some of these position groupings, I'm going to throw an extra player or two or ten into the fray just for the hell of it.
Also, the lists are going to be a little different. The Cardinals have gone out of their way to turn individualized infielders into utility infielders. SO, instead of ranking the second basemen and shortstops separately, I'm going to group that unit into one. There might be a 3B, or two, sprinkled into that mix, as well.
Also, I truthfully didn't know what do with the 300 pitchers that the Cardinals drafted during the 2019 draft. So, instead of including them into the SP or RP pitching rankings, I'm going to break them off into their specific category.
"It's my world, my world, and those ancient people are dead."
Remember, these rankings are mine and mine alone. They are very subjective, and they will be brief. The re-ranked Dirty Thirty-Five will be just a few months away. When we get to that, we'll go back to being as objective and in-depth as possible.
Until then, let's have some fun! Discourse is both welcomed and encouraged. And remember, just like with my own opinions, your opinions are worthless!!
LET'S GET TO THE LISTS!!


THE CATCHERS
THE GRADUATE:

Andrew Knizner - Age 24 - Memphis and St. Louis
I have decided to omit Mr. Knizner from the list because he is barely holding on to his rookie eligibility. Or, should I say, the Cardinals barely held on to his rookie eligibility. He is just a few, mere, active roster days away from exhausting that eligibility. Kiz will be on the pre-season D35, more than likely, but I haven't decided what direction to go in with the D35 yet.
You know Knizner pretty well by now if you've been following me for any amount of time. He's a good looking kid from NC State that has made huge strides as a defensive catcher, even though he still has some things in need of work. He hasn't been given much in the way of a significant major league taste, but he possesses an advanced feel for hitting with two-strikes while doing a great job of taking the outside breaking pitch to the right-field gap. 2019 might have seemed like a down year for "Kiz," but I love the strides that he made to improve in slugging the ball.
Of course, we didn't get much of a feel for the player that he is at the major league level because Yadier Molina plays every day when he's healthy, and because Matt Wieters was ahead of Kiz on the depth chart. What the future hold for Knizner and the St. Louis Cardinals is still up in the air. Is he destined for the role of starting catcher for the Cardinals? Is he going to break out with a change of scenery like his "predecessor" Carson Kelly? Will he ever get a fair shake at the major league level? These are all questions that we should start to see answered by the end of the 2020 season.
OK, NOW THE LIST


#1 Ivan Herrera: Age 19 – Peoria Chiefs and Palm Beach Cardinals
Well, if you had to pick one player in the organization that is going to be this season's Dylan Carlson, you'd start with Herrera. I'm not even sure if there's a #2.
This kid has real swagger, too, and I am HERE for it.
Herrera is THERE. He's the prospect on the cusp. He's the player that will be a top 100 prospect by the Rankers Of Record by mid-season. His power hasn't manifested yet, exactly, but it's on its way. He's made huge strides behind the plate, especially blocking the ball in the dirt. He has an impressive two-strike approach, and he's shown the ability to hit all pitches to all parts of the field. It doesn't take this teenager long to feel comfortable at a new league, either.
I've said it before, but Herrera actually kind of reminds me a lot of Andrew Knizner. They have a similar approach and skill-set, but Herrera has a higher-upside because he is younger and further along behind the plate than Knizner was when Kiz entered the system. Neither are precisely burners, but they both have enough in the tank to take an extra-base or go from second to home when needed.
Aside from the impressive 2019 stats that you'll see in his stat line above, Herrera was the most impressive Cardinals' affiliated hitter in the Arizona Fall League. Herrera was one of the younger players in the league, and that makes his success even more impressive. In 34 at-bats, Herrera hit 324/439/382 with two doubles and six RBI. To show you how advanced his approach is for his age, he also walked five times while striking out four times. Man, do I love this kid's approach.
It's fitting that we are firing up the position player portion of these lists with Herrera because he is going to be the "hot" name within the organization during the 2020 season. Familiarize yourself with him now, if you haven't already. I'm not one to bank on Yadier Molina retiring after the 2020 season (or even 2021 season), so Herrera as his heir-presumptive (shout out to Rusty Groeppel for the term) seems to fit better on the timeline.
#2: Julio Rodriguez

– Age 22 – Palm Beach and Springfield
Entering the 2019 season, Rodriguez was more of the backup/time-sharer with Dennis Ortega than he was the next catcher to keep an eye on in the organization. Sure, we were impressed with the type of catcher that he was. And, yeah, we were intrigued by his bat. But Ortega seemed to be the guy that had positioned himself as the marquee name of the two.
Fast-forward through the season, and Rodriguez has quietly jumped ahead of Ortega as well as nearly every other catchers in the system.
Rodriguez did this by continuing the growth that he showed in 2018. As we said a year ago, Rodriguez didn't necessarily have the flashy tools that Ortega had, but he was more consistent with the tools that he had than Ortega was. To me, in 2019, it seemed like those tools behind the plate that were "just" consistent became flashier without compromising his consistency. Rodriguez is good with balls in the dirt. You can tell that he has the trust of his pitching staff, as well (I've talked to a couple of the pitchers in the organization that has pitched to Rodriguez, and they all rave about him). I'd go so far as to state, not suggest, that Rodriguez is the best all-around defensive catcher in the organization.
All of this excitement about his defense only glosses over the fact that Rodriguez is an excellent minor league hitter. He stays compact and in control, but Rodriguez is also an aggressive swinger. I'm most impressed with his ability to push the ball to the opposite field. He looks to pull the ball early in counts but gets the correct amount of defensive late in counts.
Rodriguez was overmatched in a minimal 47 plate appearance sample size at Springfield, striking out almost 32% of the time. I watched probably half of those at-bats, and they weren't pretty. I'm not worried about it, however, and I expect a positive 2020 season at Springfield. Rodriguez has all of the trappings of a short-term major league backup, but with the upside of a long term minor league backup.
#3: Pedro Pages

– Age 21 – State College Spikes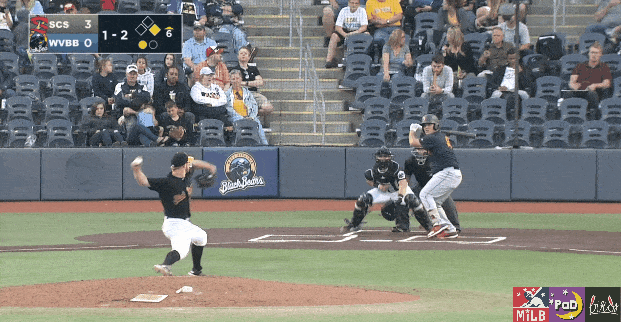 Drafted in the 6th round of the 2019 draft, the first thing that sticks out with Pages (pronounced "Pay-Haas," I believe) is his big-bodied frame. Physically, he looks like a mid-career version of Bengie Molina. He stout, yo.
The first thing that you'll notice about him at the plate is that he takes one helluva hardy cut. I like his swing plane and his intent at the plate. I'm anxious to see how that evolves. I can't remember a hit that I saw from the righty that wasn't to the opposite field. Which is crazy, because he pulled the ball 52% of the time in 2019. Pages only hit two home runs at State College, but he hit an impressive 17 doubles in 214 plate appearances. I'm sure that Pages will start 2020 with Peoria, and I expect to see some of those doubles to turn into home runs. I truly don't know what to make of a hitter that pulls the ball as much as Pages, but who gets so many of his hits oppo. A lot of those oppo hits come late in counts, so it's probably just a matter of Pages trying to shorten his swing.
It's Pages' work behind the plate that has me most curious. The little of him that I saw while watching State College wasn't exactly encouraging. He has a strong arm, but he's slow behind the plate. Pages spent half of his starts behind the plate and the other as DH for State College, and I think that's the best indication of where he is defensively, currently. It seems like Pages has a ton of work to do behind the plate, as of right now.
I'm giving Pages the upper hand because his bat is ahead of the others. Also, at 21 years old, there's still plenty of time for him to develop. I'm really intrigued by Pages.
BEFORE WE GET TO THE HONORABLE MENTION...
There are some other intriguing catchers in the organization. Zach Jackson has a cult following and a powerful bat, but with a pumpkin-sized hole in it . Carlos Soto had an solid little rebound 2019 following a rollercoaster 2018 season. Brian O'Keefe has been an excellent organization soldier. Matt Duce had a loud offensive season for State College, but as a 23 year-old repeating the level, that's not as impressive as it otherwise might sound. He is a good backstop, though. I probably should spend more time talking about Duce.
HONORABLE MENTIONS


José Godoy – Age 25 – Springfield and Memphis
I've never given Godoy the credit that he's deserved as a valuable member of the organization. Through the years, he's played a vital role as catching depth within the organization. The Cardinals have been blessed with some impressive catching prospects during his tenure with the Cardinals, and he's been somewhat lost in the shuffle because of it.
What sticks out about Godoy is how well he does in blocking the ball. He's easily the best at it in the system. He's a grinder, too. You can tell that he loves calling a game and that he takes a ton of pride in the work that he does. At the plate, he's always had a good understanding of the strike zone. He never struck out too much, and he still took a fair amount of walks.
Unfortunately, Godoy never showed much in the way of pop off of the bat, and that always seemed to hold him back a little bit.
Unless I'm doing the math wrong, Godoy should be a minor league free agent this offseason. I do hope that the Cardinals bring him back (if they haven't already. Minor league deals are hard to find). If not, then I hope he gets a real chance with another organization.
It feels good to give this type of player an extra little shout out.
Dennis Ortega

- Age 22 - Palm Beach