The Changing Dynamics of Cardinals Pitchers Under Mike Maddux's Tutelage
Mike Maddux tutoring Cardinals pitchers (Thanks @bschaeffer12 for the image to work with!)
Today I wanted to take a look at some data and see if we can make any sense of any changes that MIke Maddux has actually (not theoretically) brought to the the St. Louis Cardinals in his two years as the pitching coach, when he replaced former coach Derek Lilliquist after the 2017/prior to the 2018 season. (At this point I'd like to point out that I was nearly 10,000 characters, 8 .gifs, and 2 .jpgs into this article before it was brought to my attention that @stlcupofjoe wrote about this for The Athletic back in 2018 as well. I think this will stand on it's own, but as always Joe did a fantastic job and if you have a subscription to The Athletic, you should read it as well.)
First, let's take a look at the pitchers that both pitching coaches had to work with in the two seasons prior to and post-coach switch. The Derek Lilliquist led 2016-17 group is on the left and the Mike Maddux led 2018-19 group is on the right. Italicized are the players that played for BOTH pitching coaches.
Innings Pitched in 2016-17 and 2018-19, italicized/red are the pitchers that played for both coaches
In looking at that group of players, I felt it would be unfair to compare what the players that did not pitch for both pitchers did while a Cardinal. My thought is wouldn't it be more fair to compare the same groupings of data? So I only looked at the following players' statistics for the remainder of this article - the group of 14 below (alphabetically):
Matt Bowman

John Brebbia

Brett Cecil

Jack Flaherty

John Gant

Tyler Lyons

Carlos Martinez

Mike Mayers

Alex Reyes

Ryan Sherriff

Sam Tuivailala

Michael Wacha

Adam Wainwright, and

Luke Weaver
There was nobody else who pitched for both Lilliquist in 2016-17 and Maddux in 2018-19. Did those 14 pitchers change the usage of their repertoires after the coaching change? First things first, let's do some large groupings here. The group as a whole threw 1,564 2/3 innings under Maddux and 1,630 1/3 innings under Lilliquist in the last two years of his time here. Those are fairly equal - with Maddux's tenure seeing a reduction of just 4% of the innings is all.
STEP 1 - Broad pitch categories - SIMILAR PITCHERS
I want to start by taking a look at 6 gifs. There will be two about fastballs, one on location and one on K% by area of the zone. There will be two about offspeed pitches - location and K%. There will be two about breaking pitches - location and K%. I will add a small analysis of what I see in those gifs that you can determine, as the reader, if you agree . Here they are:
Change in Fastball Location
via @cardinalsgifs
Fastballs have decidedly been thrown higher in the zone and higher out of the zone under Maddux than under Lilliquist. This was one observation that I came into this article expecting to find. It was something that Maddux preached upon coming over - more fastballs up in the zone. Lilliquist was more of a sinkers down guy - a Dave Duncan protegee, if you will.
Change in Fastball K%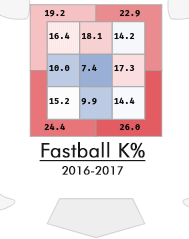 via @cardinalsgifs
While fastball strikeout totals have stayed similar at the bottom of the zone for Cardinals pitchers through the pitching regime change, the percentage of strikeouts in the zone and up in the zone on fastballs has risen precipitously.
Change in Offspeed Location
via @cardinalsgifs
The change in offspeed location has been to lower it in the zone slightly, it seems. There' s not a huge change that I see here, philosophically, unlike the fastballs above. This is a spot where it seems Lilli and Maddux agree completely.
Change in Offspeed K%


Cardinals pitchers seem to be getting similar strikeout totals on offspeed pitches (percentage-wise) under both Lilliquist and Maddux, but where they are getting them is different. I'll let you look and see on this one because a picture (or .gif) is worth a thousand words and I don't know that I could explain this better than the ol' "eye test" on this one...