2020 Preseason Dirty Thirty-Five: Prospect #34 Now
Updated: Feb 12, 2020
PROSPECT PREFACE
I present to you my list of the top 35 prospects within the Cardinals organization!! The list is both exhausting and ever-evolving.
I am aggressive with who I deem to be a "Graduate." You can read the post that I wrote on The Graduates by following this link. As a heads up, you won't find Lane Thomas, Ryan Helsley, Genesis Cabrera, Andrew Knizner, Rangel Ravelo, or Edmundo Sosa on The Dirty Thirty-Five (R.I.Cardinals Prospect.P to Tampa Bay Ray Randy Arozarena and Texas Ranger Adolis "JAG" Garcia).
There is also a group of about 15 prospects that I could have written about. They are on the outside looking in, currently. I did write in-depth about five of them, and I presented those fellas in this article. I also briefly touch on a bunch of other prospects in that article.
To prepare you for the first part of this countdown, the back seventh of these rankings are comprised of what I'm going to call "Misfits." Think of this group of players as being on the fringes of prospect status for one reason or the other, yet still needing a little shout out or love.
Finally, I totally cheated and basically just copied and pasted the individual write-ups from the "Position Rankings" articles that I wrote after Black Friday. I hadn't realized how thorough those write-ups were until I started to redoing the D35. I have added additional gifs and thoughts to each post, and I've done some light to medium editing within each write-up, as well.
D35 AMENDMENT:
Delvin Pérez was originally the 35th prospect on the list. However, because of the addition of our new #35 prospect, Delvin Pérez is now the 34th prospect on the D35.
Please enjoy! Please have fun! Please let me know what you think!
Shortstop

Delvin Pérez

– Age 21 - Peoria - 1st Round 2016
I swear, I promised myself that I wouldn't write about Delvin Pérez. I was just going to make this list and move on and hope that no one would ask or wonder.
But I can't do it. I'm not strong enough. Delvin Pérez is like a planet, and all prospect writers are constantly being pulled into his orbit. It's impossible to resist the pull.
Here's the thing: if you remove the stats and the hype, and if you remove the expectations as well, then you have a player that just turned 21 years old that has gotten better each year since his down second season in the organization. Now, those gains seem small. And, truthfully, they probably are. But they are still gains, and in a positive developmental direction from a player that couldn't purchase booze legally in the States until December.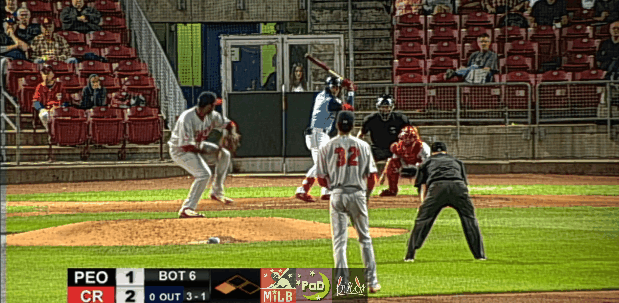 Over the past two seasons, it's become clear that the two areas in which Delvin Pérez has worked hard to become very good at are base-running and defense at short. It still gets a little clunky with Perez in the form of his plant-and-throw, but he does more than you would expect defensively at short. He's good there, he's going to stick there, and he's going to impress you while doing it. Don't let the defensive stats available to you for minor leaguers fool you.
The same can be said about his base running. Delvin Pérez is fast and quick around the bases. He's a relatively smart base runner, too. It was nice to see him start to understand how to steal bases during the 2019 season. He was terrible at it in the past, and he was still bad at it during the beginning of the season, but you could see that he worked hard to get better at it as the season went on. The play below shows Delvin scoring from second on a fly-out to the RCF gap:
Delvin scoring from 2nd on a flyout to the RCF gap
The issue with Delvin Pérez will always be that he doesn't have any meat on his frame. He's listed at 6'3", 175 pounds, and that might be true, but I'll take the under. He does a great job of keeping himself in shape, but he needs to add a little bit of weight to his gangling frame. Otherwise, he's always going to have a hitter's ceiling of Magneuris Sierra. 21 total extra-base hits in 506 plate appearances isn't nearly enough. And that was a nice little increase for him. He does an excellent job of utilizing his speed at the plate, but there's more in his tank from a slugging perspective, and it's time to see him tap into it. This was about the time in Oscar Mercado's development that it started to happen for him. I'm not giving up on Delvin, and I have a feeling that we are going to see a modest power increase during the 2020 season. Unless he's in the Florida State League, where he won't get an extra-base hit at all (I KID).
One thing that Pérez is going to need to work on is how he handles big curveballs from right-handed pitchers. He really is weird in that he actually handles tight cutters and frisbee sliders OK (in that he can make a decent amount of soft contact against those pitches), but big and loopy curveballs make him look awful. Also weird, it seems to get worse when he is sitting on that pitch. It's just a really weird thing to watch. The at-bat below is a lot of fun. Mostly because it's a gif of the only HR that Pérez hit last season (on an 0-2, oddly enough), but also because the second pitch of the at-bat is a wicked little pitch that made Pérez look terrible.
There are two things that I'd also like to bring up with Pérez. The first thing is that Delvin Pérez is best suited at the top of the lineup. He becomes a more patient hitter when they have him leading off. I've been trying to crunch the numbers, but I've done it three different times, and I get different results every time because I'm stupid. But the one thing that is true each time is that his walk rate goes up and his strikeout rate goes down.
The other thing worth bringing up, and the thing that I'll leave you with, is that Delvin Pérez ended the season very strong. It was his first year at a full season affiliate, and I was concerned about his weight and conditioning over an entire season. From July 6th until the end of the season, a span of 193 plate appearances, Pérez hit 301/353/409 with 12 of his 17 doubles, two of his three triples, and his lone home run. Even with this success over this period, his OPS was still only .762. This was the best that Pérez has looked in the minors.
Pérez increased his prospect stock during the 2019 season. I think that you could make an easy case that he is a top 30 prospect in the organization with the potential to find his way back into the top 25. I'm hopeful that he can continue to do so in 2020.
ADDITIONAL INFO AND SUCH
GOOD NEWS FAM, our boy put on some weight! He still looks lanky, but you can tell that he's put maybe 15 pounds or so of good weight on. What we'll have to keep an eye on is how it effects his speed and agility, along with how/if it adds to his hitting profile.
I'm more bullish on Delvin Pérez than I've been in a very long time. Unless there is some serious movement in the organization, Delvin will receive the tough Florida State League assignment with Palm Beach. Will he have an Oscar Mercado-like breakout at the age of 21? It'll be tough to do in the FSL, but I'm gonna go ahead and predict that Delvin has his first season as a modest, above-league-average run producer since his organizational debut in 2016, while continuing to make strides towards being an above-average fielder and base-runner.
There is a real chance that Delvin is just starting to really tap into his athleticism and natural abilities.
The biggest of shout outs should be given to @Cardinalsgifs, FanGraphs, Twitter, and MiLB. TV for all of the work that they do that eventually gets put into these articles.
Look at that beautiful pic by @Cardinalsgifs. What a mensch.
Thanks For Reading!!