2020 Preseason Dirty Thirty-Five: The Graduates
Hello Again!!
Today, we are going to go over the list of prospects that I have decided to omit from the Dirty Thirty-Five (D35) because of service time.
If you've been following me for any period, you'll know that I am very liberal about the prospects that I deem to be "Graduates." That's why some of these guys are on this list even though they still have rookie eligibility intact for 2020. The truth is, I get bored writing about the same guys over and over, and I get excited about writing about the next wave of prospects. Being a little more aggressive about graduating players at the beginning of the year affords me the chance to talk about some other players that I might not otherwise have the opportunity to.
Plus, you've already heard a ton about these guys. There's very little that I can tell you at this point that a broadcast hasn't already beat to death.
It shouldn't need to be said, but Tyler O'Neill, Gio Gallegos, Alex Reyes, Daniel Ponce de Leon, and Austin Gomber won't be mentioned here. They GRADUATED LAST YEAR. No need to bring up Tommy Edman, either.
Finally, the shell of these write-ups are taken nearly verbatim from THE PROSPECT POSITION RANKINGS that I did at the end of November. I've added additional gif's and words to each, along with a rough estimate of where they would have fit on the D35 had they not graduated off of the list. Think of "THE DEAL" section as a "wrap up" section.
NOW, THE CLASS OF 2019
Catcher - Andrew Knizner - Age 25 - Memphis & St. Louis
I have decided to omit Mr. Knizner from the D35 because he is barely holding on to his rookie eligibility. Or, should I say, the Cardinals barely held on to his rookie eligibility. He is just a few, mere, active roster days away from exhausting that eligibility.
You know Knizner pretty well by now if you've been following me for any amount of time. He's a good looking kid from NC State that has made strides defensively at catcher, even though he still has some things in need of work. He hasn't been given much in the way of a significant major league taste, but he possesses an advanced feel for hitting with two-strikes, while doing a great job of taking the outside breaking pitch to the right-field gap. 2019 might have seemed like a down year for "Kiz," but I love the strides that he made to improve his ability to slug the ball.
Of course, we didn't get much of a feel for the player that he is at the major league level because Yadier Molina plays every day when he's healthy, and because Matt Wieters was ahead of Kiz on the depth chart. What the future hold for Knizner and the St. Louis Cardinals is still up in the air. Is he destined for the role of starting catcher for the Cardinals? Is he going to break out with a change of scenery like his "predecessor" Carson Kelly? Will he ever get a fair shake at the major league level? These are all questions that we should start to see answered by the end of the 2020 season.
THE DEAL
Knizner is a victim of prospect fatigue, right now. There are some questions about if he'll be able to stick at catcher, but I'd caution doubters that the catching position takes the longest to develop. Knizner is a pure hitter that probably won't get the chance that he deserves with the Cardinals, and he'll probably have an offensive outburst at some point in the near future if the Cardinals either play him or trade him. The more frequently he catches the better he does, as well. I've always been a little over-bullish on Kiz, and if he were on the D35 I'd have him between prospects #3 & #4. There have been some that have been quick to write off Knizner's defensive ability at catcher. Look, he'll probably never be an elite defensive catcher. But he's fine. Those people are dumb/over-thinking it.
RHP Ryan Helsley

– Age 25 - Memphis and St. Louis
Everyone knows that I love Ryan Helsley.
He's better than Dakota Hudson. His stuff. His velocity. More specifically, his future, if health will allow for it. Now, the ball is in the Cardinals court to not mess it up. Helsley has always profiled as a major league starter, even if other (less aware beyond the top 100 prospects in baseball) outlets said otherwise. I don't blame them. It's easy to fall victim to old scouting reports.
One way or the other, Ryan Helsley is an elite "prospect" arm. I doubt that he gets a fair shake to be a member of the rotation, which means that he's going to be the most crucial bullpen arm moving forward for the Cardinals. Including Gio Gallegos, but potentially excluding Carlos Martinez, there isn't a more dynamic arm this side of Jordan Hicks (when he returns) penciled in the 2020 bullpen. We saw it during the 2019 playoffs, and we now know this for sure: if Ryan Helsley isn't being put in during game-defining situations during the 2020 season, then the manager is doing it wrong.
Now, it's just up to the Cardinals' catcher to call on Helsley's entire arsenal. He's more than just a cutter/fastball pitcher, and both his changeup and his curveball are weapons. Of course, you wouldn't have any idea if you watched him at the major league level.
Take note, family: it doesn't get much better than this out of a fifth round pick. For a frame of reference, here's a list of all of the Cardinals fifth round picks, courtesy of Baseball Reference:
THE DEAL
I would have put Helsley right in front of where I'd put Knizner on the list if he were eligible. So, Helsley would have been fourth and that would have pushed Kiz to fifth. That would put both of them in front of the current #4 prospect on the D35. That's about all that I have to add to this.
OF Lane Thomas – Age 24 - Memphis & St. Louis
Sometimes, it's just a matter of a player finally getting healthy, then finally getting a chance. This is the case with Lane Thomas.
We saw this during his brief showing in the major leagues. Thomas is the second best defensive center fielder in the organization (behind Harrison Bader, of course). He has pop to all fields thanks to a very repeatable, quiet, and direct swing. He does swing at a lot, and that might bite him in the butt with prolonged MLB exposure, but only time and... proper managing... will tell. With that being said, it's also worth mentioning that he was gaining momentum and playing time before he was put on the 60 day IL after breaking his hand. Things might have been different if not for that hit by pitch.
SPEAKING OF WHICH, It's been pretty well documented by this point that I don't do math well. I don't "know" numbers, exactly. What I do know is that Lane Thomas has 38 plate appearances at the major league level, which is at least 14 fewer plate appearances than games he was available to play in with the big club. I'm might be even more PA's than that, but I'm not going to push my luck. As a reminder, I am VERY dumb.
Anyway, Lane Thomas has the potential to better than both Dexter Fowler and Harrison Bader, and he's going to sit on the bench (or down at Memphis) to start the season again because Cardinals finna Cardinals (in case you can't tell, I'd very much like to see Tyler O'Neill be the everyday LF, with Thomas in either CR or RF).
Anyway, he's graduated off of the list. I'm getting whiny about this, so that's where I am going to stop in regards to Thomas. I've had plenty to say about this during Prospects after Dark and other podcasts.
THE DEAL
Basically, in my mind, Thomas, Helsley, and Knizner are all kind of the same player/prospect, from a value standpoint. All three have the ability to be major league regulars. All three have already made a major league debut. All three have tremendous value both to the Cardinals and other major league clubs. So, if Thomas were on the current D35, and so were Knizner and Helsley, he'd be right behind Helsley and in front of Knizner on the list. Thomas possesses an intriguing combination of speed, strength, skill, and intelligence. As we've talked about in the past, he's also prone to prolonged spurts of streaks both offensively and defensively. I'd try to keep that in mind when/if he struggles, if possible. I can't wait to see what role he has with the Cardinals at the onset of the 2020 season.
LHP Genesis Cabrera

– Age 23 - Memphis and St. Louis
SEEEEEEEEEEEEEEEEEEEE! What did I tell you?! Genesis Cabrera is a genuinely talented arm. When he gets comfortable and stops tipping his pitches, you can really see why the Cardinals would consider trading Tommy Pham for a package of prospects surrounding Genesis.
Genesis is always going to have command issues. That's just his reality. More than likely, he's always going to have moments where he struggles to repeat his delivery, as well. Even with these obstacles, Cabrera's arm is electric. This isn't only true of his fastball, either. It's his entire repertoire. The four-pitch mix of fastball, curve, slider, and change is as lively as any four-pitch mix possessed by someone within the Cardinals organization that is still rookie eligible. That's to say, and very crudely at that, that his sheeeeeeeeeeeit finna eat.
The question then becomes what will Cabrera's future be with the Cardinals. Will he be a dominant left-handed reliever, or will he be a starter. More than likely, if I had to hedge my bets, I'd bet that he is in the pen long-term. It just seems like that's the most natural path for him. The other issue with Genesis as a starter is, his command will never be better than average. To call him the next Jaime Garcia (the next left-handed starter with fancy stuff but wishy-washy command) is a big ask, and probably inaccurate. I don't envision a scenario in which this happens. But I do believe that Cabrera can be just a kick below Jaime if he is given a chance to start. It's also a fun conversation to have because Jaime never really seemed to know where his pitches were going, or how they were going to break. Jaime's stuff was better, too, but the same principles here apply to Mr. Cabrera.
This is all to say that I am EXTREMELY happy that the Cardinals have this dynamic arm in their system. It sucks that he's with St. Louis because he was traded for Tommy Pham, but we shouldn't hold that against him. It's evident that the Cardinals had other reasons for moving Mr. Pham, but at least they got someone with a high-ceiling and major league floor in the deal. Cabrera is a feisty competitor, too, and I'm anxious to see what an entire year at the major league level will look like.
THE DEAL
If I'm guessing, Cabrera will be in the Memphis rotation to start the season. The Cardinals have four other lefty bullpen options under contract (Andrew Miller, Brett Cecil, Kwang Hyun Kim, and Tyler Webb), and the Cardinals are going to need all of the pitching depth that they can get. This is probably the best thing for him, as he still has plenty of developing to do in the command/control department. If Knizner, Thomas, and Helsley weren't on the list, and we were just going off of the players that are on the D35, then Genesis would be slotted in between prospects five and six.
1B Rangel Ravelo – Age 27 – AAA and MLB
I've decided to omit Ravelo from the list because he spent quite a bit of time on the major league roster. Also, he's older than your average prospect. So, that keeps him off of the list.
Ravelo is a fine defensive first baseman with limited extremely limited abilities in a corner outfield spot.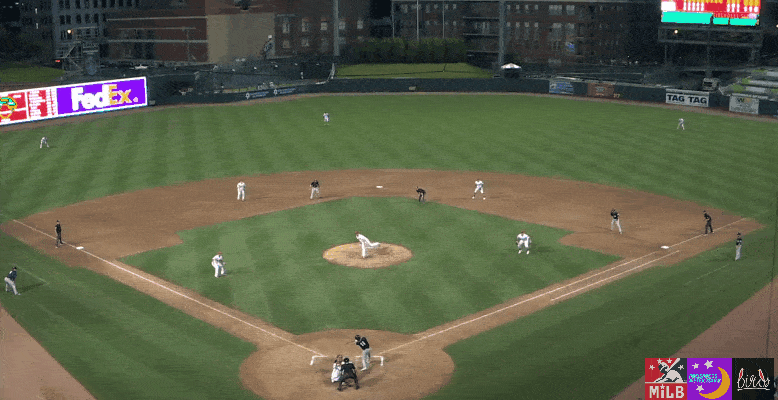 Ravelo did just fine in a pinch-hitting role for the Cardinals, and he has a good approach that should allow him to be a productive pinch hitter-type moving forward.
I've often compared Ravelo to a Jeremy Hazelbaker-type player, and I'm gonna hold firm on that. There's a major league future for this young man if he can continue to take advantage of the pinch-hitting opportunities that he is afforded. After spending nearly ten seasons in the minor leagues, it's great to see a player like Ravelo do well in a specific role.
On a roster full of redundancies, it could be argued that Ravelo is better suited for JMart's role.
THE DEAL
Welp, you might say that we were ahead of the "Ravelo taking JMart's" spot news. Now, it looks like Ravelo is penciled in for a spot on the 26-man roster for sure. With that comes risks. First, Ravelo is a pretty poor defensive outfielder. He doesn't have nearly the arm of JMart, but he is definitely a little quicker. They both take terrible routes, so it really is a "pick your poison" kind of situation. We've also seen Ravelo's long-ish swing be tormented by advanced breaking pitches from right-handed pitching. That's the other thing that we'll need to keep an eye on. I honestly don't know where I'd put Ravelo on the list because of his advanced age and experience in the minors. Sorry about that. I probably would have tried to avoid it, kind of like I'm doing right now.
Utility Infielder

Edmundo Sosa – Age 24 (On Opening Day) - Memphis & St. Louis
It's Edmundo Sosa, ya know? I don't really know what I'm supposed to say anymore. He's been a prospect for longer than I've been a writer, and I'm not sure that there's anything else to say about him.
When I think of Edmundo Sosa, I think of Breyvic Valera. Not because they are alike, but because I have to believe that Sosa has a few years as a utility infielder in the major leagues in him if Valer