2020 Preseason Dirty Thirty-Five: Prospect #3
PROSPECT PREFACE
I present to you my list of the top 35 prospects within the Cardinals organization!! The list is both exhausting and ever-evolving.
I am aggressive with who I deem to be a "Graduate." You can read the post that I wrote on The Graduates by following this link. As a heads up, you won't find Lane Thomas, Ryan Helsley, Genesis Cabrera, Andrew Knizner, Rangel Ravelo, or Edmundo Sosa on The Dirty Thirty-Five (R.I.Cardinals Prospect.P to Tampa Bay Ray Randy Arozarena and Texas Ranger Adolis "JAG" Garcia).
There is also another group of about 15 prospects that I could have written about. They are on the outside looking in, currently. I did write in-depth about five of them, and I presented those fellas in this article. I also briefly touch on a bunch of other prospects in that article.
Finally, I totally cheated and basically just copied and pasted the individual write-ups from the "Position Rankings" articles that I wrote after Black Friday. I hadn't realized how thorough those write-ups were until I started to redoing the D35. Those write-ups are the shells for these posts. I have added additional gifs and thoughts to each.
This one, however, is essentially just copied and pasted from the post that I wrote after the Cardinals acquired Liberatore. Again, I have added some stuff to it.
Please enjoy! Please have fun! Please tell me what you think!


LHP Matthew Liberatore
Age 20
A-Level Bowling Green (Tampa Bay Rays)
Acquired From Tampa For Jose Martinez and Randy Arozarena


The first thing that really stands out about Liberatore is his size. His 6'5" frame is a notable presence on the mound, and he has that frame pretty well filled out for a 20-year-old. I find his mechanics fascinating. From the behind-pitcher angle, it looks like he has a short stride. When you look at it from the side, he does get average-to-good extension. The side angle is when you really get a feel for just how big he is. Liberatore usually sets up just on the 3rd base side of the mound, and he comes from a bit of a 3/4 slot. His arm action is incredibly short and quick, too. Sometimes he throws off-balance and gets open and circular with his shoulder. More often than not, Liberatore maintains good balance through his delivery.
While I worry about his lack of strikeouts (22.9% on the season) and his somewhat high walk rate (9.3% on the season), I've been encouraged by the lack of solid contact I've seen against him. This goes for both lefties and righties, and I can't help but think that both of those rates are going to go in the desired direction if his fastball was a little harder and more consistent (more on that in a bit). It is encouraging that his walk rate actually went down from his limited sample in 2018.
It's a total throw away because it can be said about every pitcher in the history of... ever, but Liberatore becomes both unpredictable and nearly unhittable when he is working ahead in a count.
One area that he is going to have to improve is his speed to the plate. I'm anxious to watch more of him, but it appears that he is slow to the plate. He has a pretty great pick off move to first base (as most lefties do), but I've watched too many bases stolen off of him because of his speed to the plate. He also has a tendency to not even look at the runner. Obviously, that'll have to change.
Another fun thing, and you'll see it in the gif below, is that Liberatore will change his delivery to mess with the timing of a hitter. He usually only does this when he is in full command. I love it. You'll see three different motions to the plate on three different pitches:
In the gif above, you'll notice that the poor lefty didn't stand a chance against any of the three curveballs that Liberatore threw him. I'm going to go ahead and call that a theme because lefties generally don't stand a chance against Liberatore's plus-flashing curve. He commands it extremely well, and he repeats his delivery with it almost always. It's a swing and miss pitch when thrown to both lefties and righties, and he's a monster when he's sequencing it with the inside fastball. One thing that became clear during spring training is that he isn't going to be able to get away with throwing it over and over again to advanced lefties. He might get them to flinch the first time, but they're going to stick in there, ready for it, the second time. He's been able to get away with it at the lower level of the minors, but he won't be able to nearly as frequently moving forward.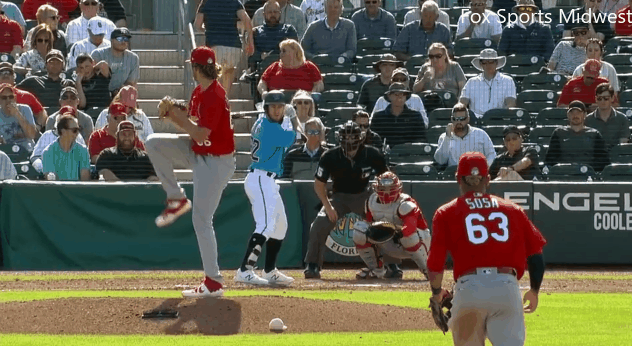 In regards to his fastball, it's a very solid pitch, but it needs more work. I've seen it described as a "plus" pitch, but it was average (flashing above) during the starts that I've watched. He lives between 91-93 MPH with the fastball, and while it's been reported that he tops out at 95, I've only seen him hit 94 a couple of times. Mostly, it's 91-92, with a top out around 93. When he's using it in on the hands of lefties, it'll saw them off. He has average command of the pitch, but can flash plus, command-wise. It also demonstrates some impressive glove-side run, at times. I worry that it flattens out a ton when he tries to go inside on righties with it. The other issue is that he over-throws it. This causes it to sail on him, arm-side. I believe that this is a timing issue with his front foot and release point.
I've heard a lot of talk about his changeup, but I haven't seen enough of it to really feel comfortable committing to an evaluation of it. From what I have seen, it has tremendous downward break, but he doesn't command it particularly well. This goes double when he's throwing it harder. It's commanded best in the 81-82 range, but it starts to get funky and overthrown when he tries to pump up the velocity. As everyone knows, the changeup is a feel pitch. Sometimes you have it and sometimes you don't. From what I've seen, Liberatore doesn't always have a great feel for it.
The pitch that I've been pleasantly surprised with is his slider. The slider is electric when used beside the loopy curve and the glove-side run of his fastball. He also commands it well, and appears to manipulate the velocity of it regularly. I've seen what appears to be a 82-ish MPH slider and a 86-ish MPH slider. He'll get out in front of the pitch a little sometimes, but he has tremendous feel for the pitch. In my mind, it's the second best pitch in his arsenal behind the curve.
Speaking of having different opinions on left handed pitchers best pitch, this kind of reminds me of when everyone kept saying that ZacK Thompson's best secondary offering was his slider when it was clearly his curve. Thompson is more fastball/curve and Liberatore is more curve/slider, in my opinion (it'll be fun to watch everyone backtrack on Thompson, so keep an eye out for that!)
During his July 30th start against The Dayton Dragons, Liberatore really battled his command. Over two innings, he allowed seven hits, four walks, and four runs, and he didn't strikeout anyone. I really wanted to key in on this start. What became clear to me is that this bulldog-type pitcher wasn't particularly happy with the strike zone on this day, and he let it get to him.
In particular, Liberatore wasn't getting the outside strike with his fastball against righties. He got frustrated by it, and it was hurting his command and he was losing poise. This start was also the least lively his fastball was of the three I watched, and I think that the real issue was that the late break to the glove side on his fastball just wasn't happening. NOW, I'm DEFINITELY NOT saying that poise is an issue with this young man. He's smart and talented, and he feisty mentality that he displays on the mound is going to take him far. Just that, on this particular day (his worst start of the season), nothing seemed to work for him.
THE DEAL


What a tremendously gifted pitcher this young man is. I love both Randy Arozarena and Jose Martinez, but I get why the Cardinals made the trade for Liberatore.
Right now, it seems like most of the work that Liberatore has to do surrounds his fastball. He needs to get more consistent while throwing it, from both a command and movement standpoint. Like with any 20-year-old pitcher, Liberatore still has plenty of work to do with the consistency of his breaking pitches, as well. The good news is that both his slider and his curve have a chance to be plus pitches, so long as he isn't throwing curveball after curveball after curveball. I'm anxious to see more of that changeup in 2020, as well.
There is a ton of upside with this lefty, and a pretty high-floor. That makes me feel even better about the trade. He's going to be something special if he stays on his current developmental track. However, it's going to take time for him to get there. As I mentioned, I think there's an argument to be made that any of Liberatore, Herrera, or Thompson could actually have been #2 on the D35. With Liberatore in particular, there's a better argument to be made that he should be fifth as compared to second.
The biggest of shout outs should be given to @Cardinalsgifs, FanGraphs, Twitter, and MiLB. TV for all of the work that they do that eventually gets put into these articles.
Look at that beautiful pic by @Cardinalsgifs. Wowowowowowowowowowowowowowowow.
Thanks For Reading!!