2020 Preseason Dirty Thirty-Five: Prospect #2
PROSPECT PREFACE
I present to you my list of the top 35 prospects within the Cardinals organization!! The list is both exhausting and ever-evolving.
I am aggressive with who I deem to be a "Graduate." You can read the post that I wrote on The Graduates by following this link. As a heads up, you won't find Lane Thomas, Ryan Helsley, Genesis Cabrera, Andrew Knizner, Rangel Ravelo, or Edmundo Sosa on The Dirty Thirty-Five (R.I.Cardinals Prospect.P to Tampa Bay Ray Randy Arozarena and Texas Ranger Adolis "JAG" Garcia).
There is also another group of about 15 prospects that I could have written about. They are on the outside looking in, currently. I did write in-depth about five of them, and I presented those fellas in this article. I also briefly touch on a bunch of other prospects in that article.
Finally, I totally cheated and basically just copied and pasted the individual write-ups from the "Position Rankings" articles that I wrote after Black Friday. I hadn't realized how thorough those write-ups were until I started to redoing the D35. Those write-ups are the shells for these posts. I have added additional gifs and thoughts to each and I've done some MAJOR editing within each write-up, as well.
Please enjoy! Please have fun! Please tell me what you think!
Third Baseman Nolan Gorman
Age 19
Peoria and Palm Beach
1st Round, 2018
Yes, Nolan Gorman is probably the real deal.
No, Nolan Gorman is not Dylan Carlson.
No, Nolan Gorman isn't ready to be considered as the same caliber of prospect as Dylan Carlson.Yes, he is still the second-best prospect in the organization.
Really, that's not to bash or beat up on Gorman. It's just to illustrate how good Dylan Carlson currently is, and how much sense it made that he'd break out in 2019.
I find that, frequently, what I like to do with this list is absolutely crush the hopes and dreams of people who make outlandish claims about prospects, and teenage prospects at that.
Before I do that here, I want to say that I love the athleticism displayed, and in-game adjusting, that Gorman makes. Gorman will stick at third, even if he gets crossed up over there sometimes. Any outlet that tells you that he won't isn't paying any attention to the facts. His arm is a plus tool, and he's athletic and smart/adaptive enough to stay at the position. He still has some ironing out to do at third, and I don't feel comfortable projecting what level of "average" it's going to be moving forward, but I know for sure that he'll stick over there.
At the very least, it'll be average for a couple of years. What's great is, I now feel comfortable saying that there is more than just "average" defense in his tank. When the Cardinals drafted Gorman, I really felt like they had found their version of Kyle Seager. Gorman's 2019 season, and what we've seen out of him this spring, only reinforced that, for me. His bat has a real chance to be something louder than Seager's of course, but there's still work to be done.
I also know that Gorman has real, dynamic, in-game power. That power is only going to get louder and louder as he progresses in both age and experience. It's fun power, too. It's the kind of power that allows him to put a curveball that he was utterly fooled on over the fence. Take a look at the gif below to understand what I am saying. It comes from spring training 2020, and it'll display how good Gorman is against breaking pitches that miss their mark. If you are going to throw a pitch that isn't going to hit it's spot, you probably shouldn't let the pitch veer over any part of the middle of the plate like this one does. Gorman wasn't looking for it exactly, but his raw power is on display as he hammers this thing, that he didn't even get all of, over the wall: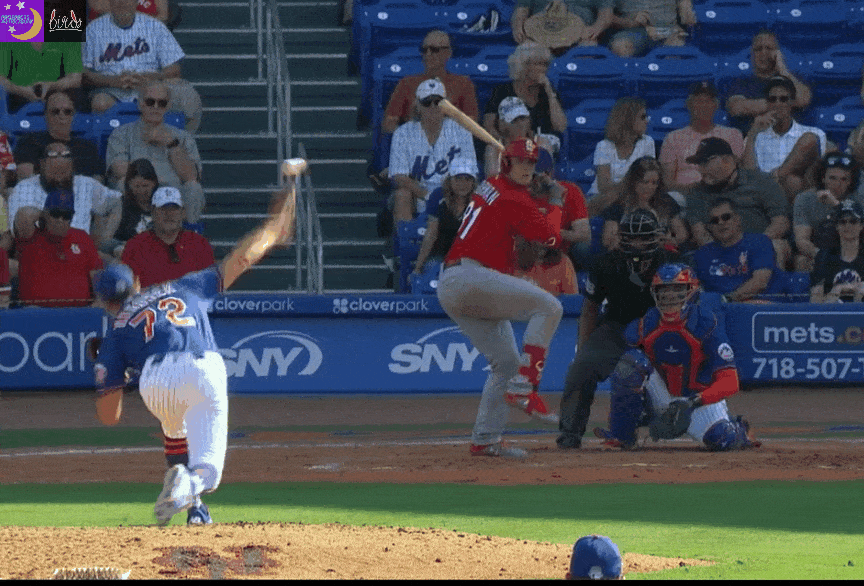 It's the kind of power that you get mad at Statcast for undervaluing the distance of his home runs when he's sitting on a fastball ("Only 417 feet?! That thing was hit to the moon!"). It's a lot like Tyler O'Neill's power. It's raw and it's real, and it's a sight to see, and a sound to hear, at the ballpark.
What I've really loved seeing is what you'll see in the gif below. When Gorman is living within his abilities, he's capable of doing some awesome stuff. If I told you that the Cardinals had a teenage prospect that strikes out about 29.7% of the time on the season, but was still capable of doing things like pushing the ball as a left-handed hitter against a left-handed sidearm pitcher in a pitcher's count in an advanced pitching league, you'd be pretty damn excited about all of it except for the run-on sentence that came with it.
As a matter of fact, there are a lot of reasons to compare O'Neill and Gorman, from a hitting standpoint, minors-tenure-wise. I've said it a bunch, and I know that it's redundant by now, but the two are a lot alike. They both advanced quickly through the minors. They were both destined to be 20 year old's making waves in AA. They were both putting up unsustainable walk numbers because minor league pitchers were scared of their raw power and, for the most part, can't locate their breaking balls precisely where they want to. They are both tremendous athletes that only get better with more exposure. Both have been considered to be top 50 prospects in all of baseball at or around the age of 20.
After the first month of the season with Peoria, Gorman was not very good. He saw pitchers being more aggressive in all-counts with their breaking pitches. They als stopped feeding him those breaking pitches almost exclusively on the outside corner. Gorman did a great job of capitalizing on what he was being pitched in April as he sat on outside breaking pitches, but that didn't last for long.
It was when the breaking pitches started dropping both inside and low that Gorman went from slashing 325/389/650 with six home runs, seven additional XBH, and a 25.6% strikeout Rate in his first 90 plate appearances with Peoria, to hitting 199/323/348 with four home runs, ten additional XBH, and a strikeout rate of 29.2% over his next 192 plate appearances with Peoria. I can't tell you how many times I watched him swing helplessly at pitches that were buried in the dirt.
All of the gifs in this post of Gorman swinging should give you a great idea of how short and quick his swing is. These are some of the fastest hands in the organization, and his barrel stays in the zone for what seems like forever. Personally, I kinda hate that he reaches a point in his swing where he appears to be on his front foot and swinging mostly with his hands, but that allows him to create some incredible leverage. Because his swing is so short and his hands are so fast, he gets away with being out on the front foot so much. There's something that is a little Japanese or Korean slugger about his swing.
While Gorman's K Rate ticked way up to 31.7% and his BB rate ticked all the way down to 5.7% in 230 plate appearances with Palm Beach, I have to admit that I was more impressed with his time at Palm Beach than I was at his time with Peoria. He seemed more comfortable (and capable) playing against more advanced talent (even if the stats don't necessarily show it). That's a huge positive. Even with that huge strikeout rate, he put up a wRC+ of 117 in that pitcher-friendly league. That should give you some indication of just how much damage Gorman is capable of doing. He was substantially younger than both of the leagues he played in during the 2019 season. He was overmatched often, and fighting for his life at the dish sometimes. Even with these issues, he was still a run producer that was 17% more effective than the league's average. He still struggled way too much against both left-handed and right-handed pitchers that threw good breaking pitches, but not so much that you'd worry about this 19-year-old against such polished talent.
As we saw at both Peoria and Palm Beach, Gorman has a reputation of doing damage that pitchers would rather not take part in. Because of this, there are at-bats after at-bats in which Gorman doesn't get anything remotely close to being able to do damage with. Now, this is the key in all of this. This is what separates the suspects from the prospects in this type of prospect. Gorman is going to have to learn to hunt for his pitch. Right now, he's too aggressive for his own good. He's trying to hard to do damage, even in hitter's counts, with pitches that he (and 99% of hitters) can't do damage with. You'll see some of what I'm talking about in the gif above. If he can learn to practically apply the ability to do damage in conjunction with finding the pitch to do damage with, then he's going to be something even more special than I am giving him credit for. This is his big obstacle because pitchers just aren't going to give him anything to hit until they have to. If he isn't giving them a reason to, and if he isn't forcing them to make a mistake, then neither are going to happen. It's rare to find a hitting prospect with the ball in their court. All Gorman has to do is find comfort and peace in that approach.
One thing that has become clear is that Gorman has put on a good deal of muscle this offseason. His face isn't carrying that baby fat like most faces of teenagers carry. Truth be told, this spring has been wonderful for him. He looks like a major leaguer, physically, and he's done a ton of damage when given the chance. Now, some of that does feel like smoke and mirrors. He's swinging at a lot of first pitches, and that is helping to gloss over some of the concerns that were present last season. When I was a freshman in high school playing on the varsity team, I used to swing at the first pitch nearly every time. That was because I knew that I was more screwed the longer the at-bat went. I'm not saying that this is exactly the case with Gorman, but I am saying that swinging at the first pitch in spring training can prevent a teenager from looking exposed against advanced talent. None of this changes the fact that Gorman has been downright impressed and special talent.
THE DEAL
Nolan Gorman is special, just not in the same way that Dylan Carlson is now, or was entering the 2019 season. Carlson had the approach down, but he hadn't displayed the ability to do a ton of damage. Gorman is the reverse of that, which is substantially more volatile from a prospect standpoint. However, that doesn't make him any less special. It's just that, while he might be able to produce awe-inspiring numbers, there are also going to be more things to be concerned about than Carlson's 2019 season.
The great news is that Gorman appears to be able to stick at third, with the chance to be more than average on a regular basis over there if he can just continue down the developmental track that he's already laid for himself. At the plate, he has the ability to slug the ball in-game that few have in the minor leagues, with more raw power to tap into. He's going to have to continue to hunt for his pitch, because pitchers are going to be cautious with him. That'll be the balance and the line that he is going to have to walk if he is going to reach his potential. He is at the upper level of the minors now, and pitchers aren't going to get cute with him. They're going to force him to get himself out. If he's allowing that to happen, then he is never going to reach his potential.
Nolan Gorman is the real deal, from a prospect standpoint. But don't let that distract you from the fact that he still has a lot of work to do to be ready for the major league level. Even with the struggles that I mentioned, 2019 was a more-than successful season for the teenage. At some point during the 2020 season, and maybe from the beginning, Gorman will be at AA. Just like with Tyler O'Neill, I expect Gorman to light that league up as a 20-year-old.
The biggest of shout outs should be given to @Cardinalsgifs, FanGraphs, Twitter, and MiLB. TV for all of the work that they do that eventually gets put into these articles.
Look at that beautiful pic by @Cardinalsgifs. This close to the end of another D35...
Thanks For Reading!!