Mega-Depth: The Minor League Pitching


When we kicked off this wonderful website, I started with the Top 5 players at each position in the minors. Of course, that meant that we would eventually have to revisit the pitching depth in the organization because, obviously, there are way more pitchers than any of the other position groupings in the minors.
Even after trading Sandy Alcantara, Zac Gallen, and Daniel Castano to the Marlins, the Cardinals have an almost obscene amount of pitching depth.
The article about the top 5 pitchers showed you how amazing and talented the guys at the top of that depth chart are. We ended up discussing eight of the pitchers in the organization in that article and all eight have the potential to make a serious major league impact.
But then what? What's next after that top group? Is there a serious fall off?
The best way to think of the the Cardinals starting pitching depth is in a sort of tier system. This is how and where I view each pitcher in the organization. This view is mine and mine alone.
Tier One
These are the pitchers that every organization wants. They have the best possibility of being contributors in the front half of any rotation. The Cardinals have a solid amount of these players that are still rookie eligible. Even better, most of them are at the high levels. There aren't too many organizations in the league that can say that.
Tier one starts with RHP Alex Reyes. Reyes was responsible for my favorite moment during the 2016 season:
He'll be a special player to watch if he comes back strong after Tommy John. Then you have RHP Jack Flaherty. Yes, his major league debut was rough, but he has the pitchability and skill to be a top 3 SP in a rotation. RHP Sandy Alcantara would have been in this grouping, as well, had he not been traded to the Marlins as the centerpiece of the trade for Marcell Ozuna.
After that, there's RHP's Jordan Hicks and Dakota Hudson. Now, those two pitchers have a smaller margin of error in their pursuit to be top of the rotation arms, but the chance of that happening is still there. For Hicks, it'll depend on how consistent his curveball stays and if the change up continues to progress. For Hudson, it'll come down to his ability to pitch sequence his above average fastball while truly optimizing his plus slider.
Hudson toes the line of being a tier one and tier two pitcher.
*MEMBERS*
GET THE 2018 ST. LOUIS CARDINALS PITCHING PROSPECT
becoming a member is simple, easy, and free.
Tier Two
The next tier of starting pitchers in the organization are the guys that have a solid chance of being a back of the rotation starter with a chance to be a middle of the rotation arm if everything falls properly.
That list starts with RHP Ryan Helsley. He has an electric fastball and two secondary offerings that are trending in the right direction, and they're trending that way quickly.
I'm convinced that Helsley's, because of how thickly-muscular his lower half is, really half horse/half man and he should be leading the Clydesdale's out on opening day.
Austin Gomber represents the only lefty in the upper levels of the organization with the potential and probability to stick in a major league rotation. He's somewhat forgotten and lost among the flashier prospects but, like Helsley before him, he's vastly underrated nationally.
This is the grouping that RHP Zac Gallen would have fit into had he not been traded for Marcell Ozuna during the winter meetings.
RHP Junior Fernandez was responsible for two of the best starts for the Cardinals in the minors during the 2017 season, but he's a roller coaster starting pitcher: for every good start there's a pedestrian start to match it. He's progressed through the organization quickly and he has a tremendous ceiling anchored by his mid to high 90's fastball and great change up, but his third offering and command hasn't progressed the way that it needs to.
Fernandez spent all of 2017 as a 20 yer old at the A+ level and he was relatively successful there, and that's what keeps him in tier two.
Quick shout out to RHP Derian Gonzalez here, too. Gonzalez is certain to stay in the bullpen even though he's been a starter for most of his career. Depending on how that goes I could see Junior following a similar path as we enter 2019. Gonzalez would have fit nicely into the third tier but i wanted to bring him up here becaus eof the potential parallels to Junior.
There is one pitcher that rides the line between tier two and three and it's RHP Jake Woodford. His results are tier three but his age and progression at advanced levels keeps his potential tier two. We'll have a way better feel for what tier he fits into by the end of 2018. its going to be abig year for him.
Tier Three
Now, this tier of pitchers are the guys that profile best at the back end of the rotation with a shorter shelf life then the top two tiers. Anything could happen with these prospects, of course, but realistically they're the pitchers with limited value to another organization but with big value to their current organization.
This is no more evident then with RHP Matt Pearce. Pearce has been great in the Cardinals organization. He has more complete games and shutouts than any other pitcher in the organization. The problem is, he doesn't strike out a ton of batters and his stuff, while effective, is pedestrian.
Pearce makes his success via command and if he threw with the same velocity and movement as Gallen he'd be in the second tier. Unfortunately, he's a poor man's Gallen, and that's the third tier. While that might seem like a knock on Pearce, it isn't. He is the best possible version of that type of pitcher.
At the onset of the 2017 it looked like RHP Daniel Poncedeleon was going to start the season at Double-A, which would have been a total waste and a huge mistake for his development. Then John Gant (who I am leaving off of this listing) got hurt at the end of spring training and that allowed Poncedeleon to reclaim his rightful spot in that rotation.
All Daniel did was dominate until he took a line drive to the head. It was one of those moments that left you sick to your stomach for weeks.
Poncedeleon has since recovered and is ready to get back at it in 2018. He has a diverse arsenal that relies on him keeping the ball low in the zone. If there's one prospect in the organization worth rooting for it's Daniel Poncedeleon.
Tier Four
Now, these are the guys that have value, but they pretty much are what they are. RHP Connor Jones fits into this group perfectly. To me, there isn't a more Mitchell Boggs-esque player in all of the minors. I find myself often wondering what he could have been if he had decided to pitch anywhere other than the University of Virginia. I think most evaluators would put Jones in the third tier, but I don't see it. He throws a tremendous sinker but his command and mechanics just aren't there. He got better as the season progressed, which is good, but he didn't get so much better that you ignore his struggles. He'll do fine in Springfield during 2018 but only because of his advanced seasoning. Don't get too caught up in those numbers.
One of the interesting guys in the middle levels is RHP Mike O'Reilly. O'Reilly is one of those late round draft picks that the Cardinals always seem to optimize.
O'Reilly has an unusual arm slot and motion, but it allows him to throw all of his pitches from a consistent arm slot with a lot of command.
He was great in Peoria (he flirted with a no-hitter on a couple of different occasions) and good in Palm Beach.
His HR allowed total is the major concern with him because he doesn't throw with much velocity or movement.
RHP Austin Sexton is in this group, as well. Sexton actually taught Dakota Hudson how to throw his change up at Mississippi State. So, obviously, Sexton has a good changeup himself. He's as close to "average" across the board as you'll find. Sexton is sneaky good and I honestly like him better than Jones. Sexton pitched out of the bullpen mostly in 2017 and that's probably where he's destined to be. I'd still like to see him in a rotation.
LHP Daniel Castano, another pitcher traded to the Marlins as part of the deal for Marcell Ozuna trade, would have fit into this group.


The Wild Cards
These are the players that still have a lot to prove but could easily fit into one of the tiers above by the end of the season. Think of this as the pitchers that are so volatile while scouting that it's hard to fit them into a tier. If I had to fit them into a tier right now it would probably be tier four, but the deserve their own tier because there's more to them.
The most intriguing pitching prospect to keep an eye on in 2018 will be RHP Sam Tewes.
I thought about putting him in the fourth tier, but I don't think that does his potential justice even if that's where his value to another organization might be.
Tewes is a monster of a pitcher (6'5) that lost all of 2016 to Tommy John surgery. He came back strong in 2017 and is poised to be the breakout pitcher in the organization for the Cardinals.
If there's one thing that we've learned from watching the Cardinals farm system over the last few years it's that you shouldn't rule out the late round picks. But what about the
guys who aren't even drafted? Enter RHP Zach Prendergast. He was teammates with Cardinals 18th round pick Shane McCarthy at Seton Hall. McCarthy didn't sign with the Cardinals and elected to go back to college. The Cardinals obviously had their eye on Prendergast and he did not disappoint.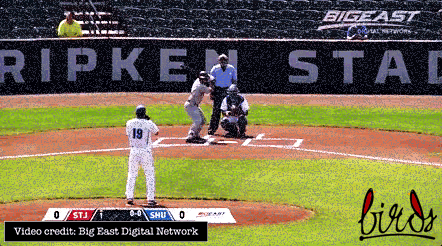 It's crazy to think that a former Big East 1st teamer and no-hitter thrower wasn't drafted, but sometimes things get a little weird for college seniors come draft time. Prendergast throws a curve and a change and he was way too good for Johnson City. I'm excited to watch him pitch in 2018. I'm not kidding when I say that he's my favorite non-Helsley or Poncedeleon pitching prospect. I hope it all falls into place for him
Then you have RHP's Alvaro Seijas and Johan Oviedo. Both received big bonuses from the Cardinals, made terrific debut's in the organization, but really struggled with consistency during the 2017 season. They both started the season in Johnson City but Seijas stayed there while Ovideo was promoted to State College to finish the season. Both of these pitchers have high-ceilings and major league potential (trade value, too) but there are just too many questions to nicely fit them into a tier. With Oviedo, it's a fastball velocity and mechanic-repeatability issue. Prior to 2017 he had been know to dial it up to the high 90's, but he didn't come close to doing it last season, living mostly in the low low 90's. To me, Seijas's struggles are more to do with command than anything else. IF I was forced to put them in a tier other than the one they are in it'd be the third tier.
Finally, hard-ish throwing lefty Jacob Schlesener fits into this group. Again, if I was forced to put him in another tier it'd be the fourth tier, but I just don't have any idea how to evaluate him. He has an interesting arm slot and motion and all of his pitches have good movement, but he literally has no idea where it's going. None at all. Over three seasons in the minors he's allowed more than a walk per inning. That's a baffling lack of command. The fun part of Schlesener is that he started to show some small signs of refinement in 2017 while striking out 61 batters over 43.2 innings. Ask me about Schlesener again in a year.
The 2017 Draft Picks
I put these guys into a different category because, unless they really blow the world apart, there's just too much going on before they're drafted to get a solid feel for exactly how good they are or how arbitrary their success was. Often, these players start at a level that is below their collegiate level talent-wise after being drafted. That usually pads their success. Also, some of these pitchers are coming off of innings totals that they've never reached, thus numbing their potential success. And don't get me started on the high school kids and how difficult it is to gauge that. Now, if this group had someone like Luke Weaver or Michael Wacha in it then they'd be up there in the appropriate tier, but they didn't, so they al get lumped together.
This list starts with LHP Andrew Summerville for me. The 6'3, big-bodied Stanford alum who was 21 for nearly all of his time at State College offers a great combo of control/command and pitchability. Not much in the way of velocity, Summerville throws a slider that I view as above average. He held batters to a batting average against of .206 while striking out 52 in 60.1 IP. I really like Summerville.
Summerville's middle name is Clyde and maybe I like him more because of that...
Only one of the pitchers selected in 2017 pitched at a full season club and that was LHP Evan Kruczynski. Kruczynski is another big lefty (6'5) out of a good collegiate baseball program (East Carolina). Kruczynski had an almost identical 2017 to John Kilichowski's 2016. If you continue to follow that trajectory that means he'll start 2018 in Peoria. Kruczynski commands four pitches but doesn't have much in the way of velocity right now, but it has started to tick up a bit.
In my mind, the most interesting 2017 draft pick was 16th round pick RHP Jake Walsh. Walsh was a starter in college but entered the organization pitching out of the Johnson City pen. His motion is beautiful and he absolutely dominated the Appalachian League.
That's great, but he was way to talented and skilled to be pitching at that level. Walsh has a bit of a high/curled leg kick and an arm slot similar to Mike O'Reilly's, but he is definitely his own pitcher.
The 10th round pick in the draft was LHP Brett Seeburger (You should be seeing a trend here. The Cardinals took a lot of left handed pitchers in the draft). There's very little to gush about in regards to Seeburger, but he had a solid debut. The San Diego State product has a repeatable delivery with good deception created with his ability to use his body to hide the ball.
Now that we've made it through the lefties drafted in 2017 let's talk about two really interesting righties. Evan Guillory and Kodi Whitley are interesting, but for different reasons.
While Kruczynski was the only pitcher drafted in 2017 to play all of his games at a full season level, Guillory started at Johnson City and finished at Palm Beach. Guillory was a swing man of sorts for the University of Louisiana Lafayette, but I imagine he'll get a good long look as a starter in the Cardinals organization. Every report you read about Guillory is gushing.
Kodi Whitley is the true wild card of the draft. Whitley lost part of 2015, all of 2016, and nearly all of 2017 to an arm injury and recovery. When he returned for his small sampling to end his college career, he looked as sharp as he ever had. He possesses a big frame ideal for pitching and he is poised to be next season's version of Sam Tewes. There's a ton of upside there.
To see Whitley pitch absolutely great out of the Johnson City and Palm Beach bullpens with his velocity restored in the mid-90's was an awesome thing to see.
The last name from the 2017 draft that I'm going to bring up is RHP Thomas St. Clair. Why I don't think he'll ever get to the majors, he has an 80-grade soap opera name and you deserve to know that he exists. He dominated out of the JC pen, which was cool but he's another case of a guy way too old for the league.
One quick shout out to two guys who are relief exclusive pitchers, RHP Will Latcham and LHP Jacob Patterson. Both of these gentlemen have a chance to move super quick through the organization. Keep a close eye on both of them.
Dead Birds
This is the group that is meant to make you sad. These players had potential, where on a solid track, and have since fell off so greatly that it hurts.
RHP Ronnie Williams is the perfect example of this. One year ago he was poised to really break out. He finished 2016 in a great way and he was going to start 2017 in Peoria with Jordan Hicks and the two of them were poised to be the middle-levels, high-upside relief for the organization.
Hicks went one way while Williams went the other. Williams was so ineffective that he found his way out of the Peoria rotation and in to the bullpen. It was the right move to make and most, including myself, believed that the move would help expedite his development. He ended up being worse in the bullpen then he was in the rotation. During the 2017 season, there wasn't a prospect who did more damage to his stock then Williams did.
Vanderbilt has been known to produce really good pitching, and 2016 draft pick and LHP John Kilichowski looked like another one of those pitchers. He was really good after being drafted at the advanced Peoria level. Kilichowski started 2017 right back at Peoria and he really fizzled out. Then he had an arm injury that ended his season in early June. Kilichowski was already old for the level and now he has to try to rebound from arm surgery when he eventually comes back. That's one hell of an upward climb. My best guess is that Kilichowski comes back and follows the Andrew Morales path; pitching exclusively out of the pen.
And that is a look into how I view the organizational pitching depth. I wish it was more clear cut than that, but I personally feel like this is the best way to view it as you enter the season. Of course, I've left off names like Wilbero Rivera, Angel Rendon, Junior Hernandez, Andrew Shew, Austin Warner, and Juan Perez. As I'm prone to say, ask me again in a year!
BIG shout out to Nicholas Childress and cardinalsgifs for the work they did on this article. They killed it.
Thanks For Reading!