Tsunami Walks Seven, Battles with Inconsistent Zone, Cards Drop Bizarre Contest 6-3
Carlos Martínez would make his second start this afternoon coming off the disabled list, this one lasting shorter than the first. Carlos would walk 5 batters through 4 IP his first game back and the walk trend continued today, not that it was all entirely his fault, Gerry Davis wasn't helping him behind the plate with his horrendously-inconsistent strike zone. Today was weird, like all around weird! Basically, anything and everything happened, minus a Cardinals error, which I found odd. Especially when you consider how ugly this game truly was. Let's start this recap, bear with me.
1st Inning
Anthony DeSclafani opened today's game striking out Carp on a knucklecurve and followed that retiring Pham on a line drive right back to him. Cafecíto shot the first pitch he saw into LCF for what looked to be a double, but Billy Hamilton cut the ball and threw a strike to Gennett at second base, throwing out Cafecíto to end the top of the inning on 6 pitches. Tsunami would struggle with command on some pitches today, but Gerry Davis wasn't doing him any favors. Tsunami would give up back-to-back walks to Barnhart and Votto after retiring the leadoff man, Scott Schebler, on a grounder back to him on the mound. Martínez got Scooter Gennett on the first pitch, jamming him inside with a good cutter, getting him to fly out to Pham in shallow CF. Tsunami worked around the two free passes, striking out Suàrez on a 96mph fastball in the left-handed batters box.
Even a sub-par Carlos can be pretty sexy
2nd Inning
Swags Ozuna (2-4) would lace his first hit of the afternoon to open up the 2nd inning. DeSclafani would turn to his two-seam fastball to get back-to-back strikeouts of Molina (swinging) and Garcia (looking). Garcia had a legit gripe with his ring-up. Three pitches were thrown in the identical spot, strike-ball-strike, setting him down looking. This was the beginning of a long day for Mr. Gerry Davis behind home plate. Harrison "The Brah" Bader kept the inning alive, bouncing a single back up the middle to bring up Wong. DeSclafani ended the potential threat striking Wong out on a backdoor slider. Carlos Martínez returned the favor in the bottom half, striking out the side in order on 17 pitches. Jesse Winker would battle with a 7-pitch at bat, striking out looking at a changeup that was up in the zone. Carlos brought the changeup back out to nail Peraza, a beautiful pitch low and diving inside on the hands, easily his best pitch of the afternoon. Carlos ended the inning striking out his counterpart, DeSclafani, on a slider low and outside, catching the zone.
3rd Inning
This is when some weird stuff started happening. Carp, leadoff guy, would rip a one out single into RF, beating the shift. DeSclafani then would give up back-to-back walks to Pham and Cafecíto to load the bases for Swags. Swags would rip the first pitch he saw to deep LF, it looked like a grand slam off the bat, but Winker would leap and appeared to rob Ozuna of a couple RBI's and extra bases. José Oquendo immediately signaled to the dugout to challenge the call, thinking Winker trapped the ball on the wall. Oquendo was correct and the call would be overturned, resulting in a long RBI single, scoring Carp with the bases remaining loaded. Pham would test the arm of Winker in LF on Yadi's sac-fly next, beating the throw, sliding into home, making it 2-0 Cardinals. Billy Hamilton, batting in the 9-spot, would leg out a leadoff triple to LCF to begin the bottom of the inning, coming around to score on a 4-3 groundout off the bat of Schebler, making it 2-1. Carlos, again would give up back-to-back walks to Barnhart and Votto, déjà vu of the first inning. Carlos would pick up his fifth strikeout of the afternoon on Gennett, getting him swinging at a backdoor slider. Suàrez would be plunked by Tsunami, loading the bases for Winker, who would ground out to Wong.
Not a catch
4th Inning
DeSclafani would make quick work to begin the 4th, striking out Bader on a slider and getting Wong to fly out to Hamilton. Tsunami made sure it wasn't too easy for DeSclafani, ripping a single back up the middle. Here's another weird thing coming your way. Carp would hit a double into shallow RCF, missing the diving Billy Hamilton, although he kept it right in front of him. Oquendo got too aggressive and would wave Carlos around third and Hamilton would throw him out by three steps to end the inning. Carlos would limp to the dugout after the play but would make his way back out to the mound for the bottom half.
Carlos, who I'm sure was gassed after his trip around the bases, would retire the first two batters, Peraza on a ground out to Garcia and DeSclafani on a line out to Bader. Then, he did that back-to-back walk thing again, walking Hamilton and Schebler to bring in Barnhart. Again, there were a few calls that didn't go his way, especially in that Schebler at bat. Barnhart would make the walks hurt, ripping an RBI single to RF, scoring Hamilton, tying it up 2-2. Votto (0-0, 4 bb's) would work his third free pass, again loading the bases. Gennett wouldn't let Tsunami get him this time around, knocking a two-run single to RF, making it 4-2 Reds. Suàrez would end Tsunami's afternoon after he hit an RBI single to CF, scoring Votto, making it 5-2 Reds. Tsunami's final line: (3.2 IP, 4 hits, 5r/5er, 7 bb, 5 k's, 96 pitches) Long reliever, Mike Mayers would get the final out, getting Winker to fly out to Ozuna on two pitches.
5th Inning
Tommy Pham hit a leadoff single into RCF, and stop me if you've heard this before, didn't come around to score. Cafecíto grounded into a 5-4 fielder's choice and Ozuna and Molina both flew out to RF. Mike Mayers began his inning allowing a walk to Peraza, bringing in DeSclafani. DeSclafani attempted to move him over with a sac-bunt but failed miserably, striking out on a missed attempt. With Hamilton batting, Peraza would be caught stealing by Molina, gunning it down to Wong covering the bag. Mayers struck out Hamilton on a slider low and inside to end the inning.
6th Inning
The Cardinals would run DeSclafani out of the game after getting back-to-back hits from Garcia and Bader. Garcia would double down the first base line and Bader would hit a hanging breaking pitch to LF, putting runners on the corners. With Wong coming up, Riggleman would turn to a lefty, Amir Garrett. Matheny countered the move, pinch-hitting with Muñoz, who would fly out to Schebler in shallow RF. Schebler would air mail the throw back in, sending it over Barnhart and Garrett, who was backing the play up. The ball would find its way into the Cardinals dugout and Garrett went flying down the dugout steps for it. Garcia would score on the play and Bader would be awarded an extra base, moving up to third. Luke Voit would grab a bat and pitch-hit for Mayers, grounding a ball hard back to Garrett who had Bader caught in no man's land between third and home. Bader would be tagged out on the play, 1-2-5-3-6-1 on the fielder's choice, as Voit moved up to second base. Garrett ended the inning striking out Carp on a great 97mph fastball, with the lead still in hand at 5-3.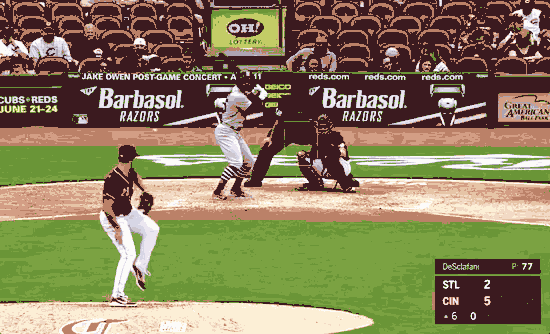 Papa Garcia hustling and doing his part
Brett Cecil, coming in on three days rest, worked a good inning, arguably his best inning of the season, though that is debatable. Cecil struck out Schebler on a 92mph fastball up in the zone. Cafecíto flashed the leather next, taking a hit away from Barnhart for the second out. Votto then got his fourth free pass of the game, guy must be Barry Bonds, all joking aside, Votto kills us anyways. Gennett ended the inning flying out to Pham, Cecil at 16 pitches.
7th Inning
Michael Lorenzen would relieve Garrett and throw a scoreless half inning, giving up a hit to Cafecíto. Lorenzen picked up a strikeout to end the inning, getting Yadi on a slider.
Cecil went back out for a second inning of work, and the lefty would struggle. Cecil would give up back-to-back walks to Suàrez and Winker. Cecil would get Peraza to chase at a couple pitches, retiring him on a fly out to RF. With Adam Duvall pinch-hitting for Lorenzen, Cecil would throw a pitch behind him to the backstop and the ball would bounce back to Cecil, who caught Suàrez in between second and third, throwing him out at third base. Duvall ended up connecting for an RBI single, scoring Winker from second to make it 6-3 Reds. Duvall would get picked off by Cecil to end the inning, 1-3-6 on the play.
8th Inning & 9th Inning
Jared Hughes, a familiar face over the years in the NLC, would pitch the final two innings today, earning his 4th save of the season. Billy Hamilton would make two fantastic plays, robbing Garcia and Carp of extra base hits. Garcia's came leading off the 8th, flying to the warning track in CF, and Carp's came with a runner on and nobody out in the 9th. This one was the most impressive of the two, as Hamilton leaped up to take away the hit. Hughes struck out Pham and got Cafecíto to ground out to Gennett to end the game, 6-3 Reds.
John Brebbia worked a clean 8th inning for a depleted Cardinals bullpen, picking up two strikeouts along the way.
The Cardinals (35-28) head back home after starting (3-3) on what looked to be the easiest 9-game stretch of the season against three last place clubs. (Marlins, Reds, Padres) The Padres (31-36) come to Busch for a three-game set, winning two in-a-row. Jack Flaherty (2-2, 3.20) gets the ball in game one against Jordan Lyles (2-2, 4.70). First pitch at 7:15 c/t.
Hoping for another Flaherty ovation like this one
Thanks for reading, cheers!
Game 63 is in the book
by Stew // @StewStilez