Game 41 Recap vs Phillies
Weaver Start Goes To Waste, Bats Silent Again, Phillies Take Game One 6-2
So, I just wrote a recap for an hour and deleted it on accident, so please bare with me. It's late, and that really just flustered me on top of the lackluster performance tonight. I apologize in advance. So I'm gonna skim through this briskly at this point.
Weaver was absolutely in control all night through his 7 innings, with a masterful changeup in his back pocket. Weaver had the infield on their toes throughout the first 3 innings, inducing 7 ground outs.
Surprisingly, this is the first conventional double play turned behind Weaver this season
Weaver's only fault came leading off the top of the 5th. Weaver would throw a good fastball low and outside, but Santana would muscle it (437 feet), and that's putting it lightly, to the grass patch in CF for a solo HR, making it 1-0 Phillies. Weaver buckled down after that, bringing out that lethal changeup (which he threw a high % of tonight from what I recall, not to sure because http://brooksbaseball.net doesn't have data available at this moment) to strikeout Franco and Kingery. Weaver would end the inning striking out Alfaro.
Weaver would pick up his 5th & 6th strikeout in his final inning after allowing a leadoff infield single to Herrera. Franco would single to RF after the strikeouts and both would be stranded on the corners after a Kingery flyout to RF.
The Cardinals offense was rather boring up until this point, and they didn't help out their starting pitcher either. What's new? The Cardinals would string together 5 hits on Vince Velasquez, 4 singles (2 infield), stranding 6 runners.
You aren't gonna succeed much with your *true* backup catcher delivering 2 of those 5 hits, but hey, he was (3-4) tonight so I'll be quiet.
Jordan Hicks would pitch the 8th inning in a one run game, allowing the first 4 Phillies he faced to reach base. Alfaro would hit a leadoff single to RF and Florimón would tap a ball back to Hicks, who would hesitate and bobble the grip on the ball before trying to get the lead man at second. Hernandez blooped a single to LF, loading the bases for Altherr. Altherr came through with a 2 RBI single to RF, ending Hicks outing with recording an out.
Tuivailala came in with the inherited mess and threw the ball well, striking out Hoskins on a nice curveball. After intentionally walking Santana to load the bases for, Franco, DeJong and Gyorko would bring in some defensive gems. DeJong would nail a runner at the plate, charging in, throwing on the run to his right for the force at home. Trap House Gyorko ended the inning with a diving stop to his left, ending further damage.
The Cardinals wasted a couple big opportunities to chip away at the Phillies lead, most notably in the 7th, but let's avoid that one and talk about the 8th when they actually scored 2 runs. Pham and Cafecíto (3-4) would lead the inning off reaching base, on a walk and single. DeJong would be hit by the pitch (but he didn't think so) to load the bases. Ozuna then weakly rolled over a pitch to third base, bringing in Pham, on the 5-4 fielder's choice. Fowler then hit a grounder to Santana, who would get Cafecíto at home, trying to put some runs on the board for the Cardinals. Trap House then lined an RBI single to LF, scoring Ozuna, making it 4-2 Phillies.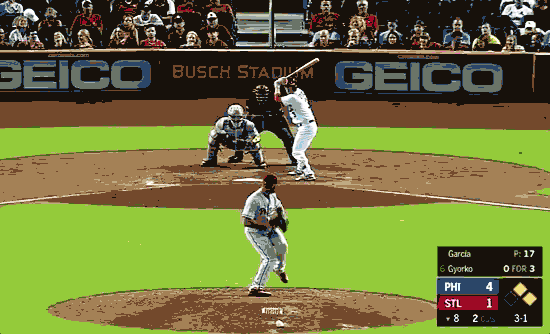 Jedd "the only clutch player on the team" Gyorko
Brebbia, who was recently recalled for the fifth time on the short season, wouldn't keep things close for the Cardinals offense. (Not that it would matter, right?) Brebbia would give up three consecutive hits, one being a 2-run HR to Florimón into the Cardinals bullpen to make it 6-2 Phillies.
The Cardinals would make things interesting their final bat in the bottom of the 9th, loading the bases with one out before stranding three runners and the tying run at the plate. Peña and Wong would get back-to-back singles before Cafecíto would hit a one out single into CF. DeJong would line out to Florimón and Ozuna would ground out to him to end the game with the Phillies on top 6-2.
The Cardinals offense has really got to start backing their starting pitchers. They need the run support they deserve.
Michael Wacha (4-1, 3.09) will get things going tomorrow evening vs ex-Cub and division rival, Jake Arrieta (3-1, 2.59). First pitch 7:15 c/t.
Thanks for reading, cheers!
Game 41 is "in the books"
thanks to Stew's scorebook