Game 17 Recap Cardinals vs Brewers/Yelich
Brewers rough up Flaherty in 3rd, hang on for 8-4 win
So Christian Yelich happened again tonight. But it happened when the game was getting to that point of being the final nail in the coffin anyway, and he sure did deliver it.
The Brewers jumped on Jack in the bottom of the 3rd, scoring five runs on six hits, sending all nine in the order to the dish. Cain led the inning off with a solo shot to LF, getting a hanging breaking pitch belt high. Yelich then flew out to Fowler in CF (yes, he got out), bringing in Braun, who doubled into LF.
Flaherty would strikeout his fourth of the night, getting Moustakas on a slider down and in on the hands. Grandal kept swinging a hot bat, launching a two run shot to RF to open things up to a 3-0 Crew lead.
Shaw then singled, Aguilar singled, Arcia walked, and Brandon Woodruff (who hit a pinch-hit double last night) lined a two run double down the first base line, scoring Shaw and Aguilar to make it 5-0 Crew.
Things didn't get better after that either, so let's be brief.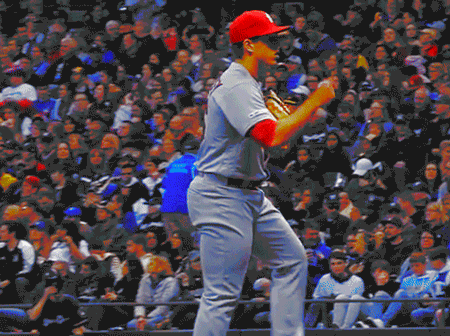 Ryan Helsley dawning #56 in his debut
Ryan Helsley would make his debut tonight, getting the tough task of facing Yelich his first at bat, drawing him with two runners on (Gallegos runners), yikes.
Yelich would take a two strike breaking pitch from Helsley to deeeeeep RCF to extend the Brewers lead to 8-0.
But, Helsley looked really, really good outside of this little blip.
He pitched 2.1 innings, giving up one hit (Yelich bomb), while striking out four. Helsley was even channeling his inner Jordan Hicks, touching 100-102mph on the gun a few different times, flashing filthy breaking pitches.
The Cardinals scored four late runs to make things look respectable, I guess. Swags kept being an xbh machine that he is the past five games, blasting a two run blast to LF off Woodruff.
Swags Swagsin'
Yadi and KoWo would deliver rbi singles in the 8th off Wilson.
Good piece of hitting by KoWo
But the story from the offensive standpoint should be, 13 of the 27 outs recorded were via the strikeout. Not gonna win too many games doing that.
Michael Wacha (0-0, 5.28) looks to salvage a sweep of the Brewers tomorrow as he will matchup with, spin-master, Corbin Burnes (0-1, 10.05).
First pitch 12:40pm c/t, so call off work and crack open those rally beers, because we will need them.
Cheers, Stew