Updated: Dec 16, 2018
Prospect #6: OF, Randy Arozarena
Previously Ranked 11th in preseason, 5th at July reranking
Memphis Redbirds
Signed as an international Free Agent in 2017
23-years-old
The Stats
THE QUICK WRITE UP
While it hasn't been the most flattering season for Arozarena, and while his stats don't match up with the expectations that we all had for him, I am just as high on him as I have ever been. We would also be lying to ourselves if we said that we didn't see this struggle coming from Arozarena. Remember, during the preseason write up that we took note of how much baseball he had played over the last two years without anything that resembled a vacation from the sport. Remember, we knew that the struggle was coming. He's a player that needs a little bit of rest, especially when he's slumping. This season proves that true, as he's always rebounded well offensively with just a little bit of rest. What I see out of Arozarena is a change in approach from the beginning of the season to this very moment. He was a little hack-heavy in his early season time at Memphis. I'm guessing that the success that he had in spring training following the success that he had in the Mexican Winter League had him believing that he could hit anything. But that aggressiveness hurt him. After a demotion to Springfield (in which he just made a laughing stock of the league) he found his way back to Memphis and he's been a different hitter ever since. The walks are coming. The strikeouts are down. At one point, the power was virtually gone at AAA, but we've really seen the true version of Randy since the beginning of July.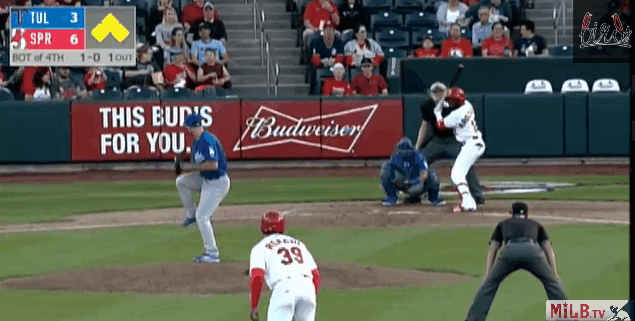 Even while struggling at the plate, Arozarena's speed on the base paths and in the field have been never fallen off. Randy is a good outfielder. With him in a corner of the outfield and Oscar Mercado in center, I can't for the life of me figure out how a ball drops in the gap. Arozarena has also stolen a fair amount of bases. He's aware on the bases, too. He's first to third and second to home all day, every day. It might appear to be a disappointing season for Randy from a stats perspective, but I see nothing to diminish his stock as prospect. With so many graduating off of the list in front of him, Raaaaaaaaaaaaaaaandy has a future that is every bit as promising as it has ever been.
*UPDATED ON 8/23/2018*
Well, it's been a tough month of August for Randy. I thought that he'd blow up AAA but it hasn't worked out that way. It saddens me to say that his stock is dropping and that he'll probably be closer to tenth overall when we redo this during the 2019 preseason. All of the tools are there for him to contribute, but his approach at the plate needs adjustment. I still maintain that rest is the best thing that can happen to this baseball-gym-rat.
WHY TO GET EXCITED
Because he's RAAAAAAAAAAAAAAAAAAAAAAAAAAANDY.

He's a blend of excitement and athleticism and every time that he's at the plate you feel like something interesting is going to happen.

Arozarena is a donkey-hacker. That's to say, our dude doesn't get cheated out of a swing.

As a result, he absolutely mashes everything that he makes contact with.

Randy has sneaky-power. He's hit ten home runs this season and he had eleven last season, but he has 20 home run power in that swing because....

His swing is super quick and super powerful. When he's dialed in, he has elite bat speed. I'd bet that he's in the top percentile of Cardinals minor leaguers in barreled balls.

He's a very good corner outfielder. He has great range and he gets good reads off of the bat.

His arm is probably the second best outfield arm of all of the leGit outfield prospects behind JAG's. Although, Carlson and Mercado would give Randy a run for his money.

Randy has become a better base stealer this season. I wouldn't want him attempting 20 stolen bases in a major league season, but I could easily going seven for ten or ten for fourteen in a major league season.

He's aware on the base paths and the outfield. Where players like JAG and Mercado to a way lesser degree might be prone to a lapse or two, Randy is never caught off guard. He's always ready. Whether it be to get to the ball in the gap or to take the extra base, Randy is hustling and instinctively moving.

He's actually been a better, more well-rounded hitter at Memphis than in Springfield even though his numbers are gaudy at AA. He has a lower K rate and a higher walk rate with good, hard hit rates.
WHY TO BE CAUTIOUS
Arozarena has played a lot of baseball over the last two years. He's hardly received a rest. He's gone from winter league to minor leagues, back to the Mexican Winter League, then back to the minors. If I'm looking at the schedules correctly, he's roughly 9 weeks (potentially 10 weeks) of rest in the last two years. I believe that this is a big contributor to why he's struggled so much this year. He needs rest. As a matter of fact, he's been his most polished after getting bits of rest throughout the season. Two straight years of baseball is exhausting, even for a kid.

Rest issues aside, this year has been a disappointment. He's been incredible at Springfield but he's struggled at Memphis. His time at Memphis has been so lackluster that he was recently passed over by Lane Thomas for a promotion following the Luke Voit trade.

It seems like pitchers have keyed in on Arozarena's aggressiveness at the plate. He's being greeted by breaking pitches to start at-bats frequently and he's not doing well with them. This is another big reason why he's struggled this season.

There are times when he's looked lost at the plate. He's rarely cheated out of a swing, which means that he's hacking at everything he decides to swing at. I believe that he'd do well for himself to shorten that thing up when his back is against the wall.

I feel like we are at the same point with Randy that we were with JAG just one year ago. You see all of the tools, but a faulty and inconsistent approach. This offseason, and hopefully with a little down time, Arozarena will have to decide what kind of hitter he wants to be.
COMPARISON
I maintain that the most likely outcome for Arozarena is something similar to Gerrardo Parra: an ideal fourth outfielder that could sub in and be very good for a moderate period of time as a starter. I maintain that he has at least a five year major league career ahead of him, too. However, this season has been a leGit set back for one of my favorite prospects in the organization and it has me questioning what his ultimate ceiling that he has a 5% chance of reaching is, offensively, something close to Dodgers utility outfielder Chris Taylor.
Thanks to Fangraphs for supplying the stat graphic.
Thanks For Reading!!