Cardinals Top 30 Prospects: Prospect #9
Updated: Nov 24, 2021


Prospect #9, LHP Austin Gomber
Age At The Start Of The 2018 Season: 24
Drafted In The 4th Round Of The 2014 Draft
In conjunction with my friend Colin Garner over at The Redbird Daily, we present to you our combined list of the Top 30 Prospects in the Cardinals organization! Every other day for the next two months, From January 28th until March 29th, we will be presenting you with an exhaustive evaluation on each of the top 30 prospects in the organization starting with prospect #30 and counting down to prospect #1. This is our combined list, not our own individual lists. For additional information on how we came these rankings, CLICK HERE. Without further delay, we present...
2017 FIP: 4.10
Kyle Reis (Prospect #11 On Personal List, Prior To Combining Lists With Colin Garner)
The only place to start with Gomber is that he's the only high-upside left-handed starting pitcher in the organization. I do not like that he's the only one, but I love that he's left-handed. The value that he presents the organization with as a left-hander cannot be under-estimated.
There's some confusion about the season that Gomber had in 2017, so let me set the record straight; Gomber was damn good. Gomber had a terrible start to begin his season, pitching 0.2 innings while allowing four earned runs. He threw 37 pitches before being pulled from that game. It was a terrible way to kick off the season. I remember watching that start and thinking "he'll be fine if he calms down and stops over-throwing."
His next start was sketchy, as well, but he was still outstanding over his next eight starts. During that span, he had an ERA of 3.23 while allowing a batting average against of .242 and striking out 39 batters in 39 innings. Four of those eight starts were quality starts, and one of those starts was cut short because of a lower-body injury.
This is the part of the write up where I have to tell you about how much of a bulldog Gomber is. He's a real competitor molded from the same clay as Lance Lynn and Chris Carpenter. If his arm ever betrays him, he'll still be able to will himself to success. He's the kind of competitor that every rotation needs.
Of course, sometimes those type of competitors can get themselves in a little bit of trouble. I believe, and I have to emphasize that it's speculation, that Gomber rushed himself back from the lower body injury. He struggled for much of his first two starts on the mound after the injury. Staying off of the bump seems like it'd be a difficult thing for a competitor such as Gomber. Either way, I'm giving him a pass on those two starts.
After those two recovery starts, Gomber went on to pitch dominantly to end the season. Over his last 15 starts, Gomber pitched 96.1 innings, and he struck out 96 batters while only walking 24. His ERA over this time was 2.34, and he did that while holding hitters to a batting average against of .185 and an OPS against of .544. Also, 11 of those 15 starts to end the season was of the quality-type. That includes a span of four starts from July 30th to August 15th in which he only allowed one earned run and nine hits in 27 innings pitched. His average game score for those four starts was 73. That's an incredible number.
With all of that in mind, it shouldn't come as a shock to you when I tell you that when Gomber is on, he's really "ON." His fastball lives in the 92 MPH range, and he's capable of dialing it up to the mid 90's with a ton of movement. His curveball has turned into a "table-dropper," and it's above average at the very least. Look at it. Love it: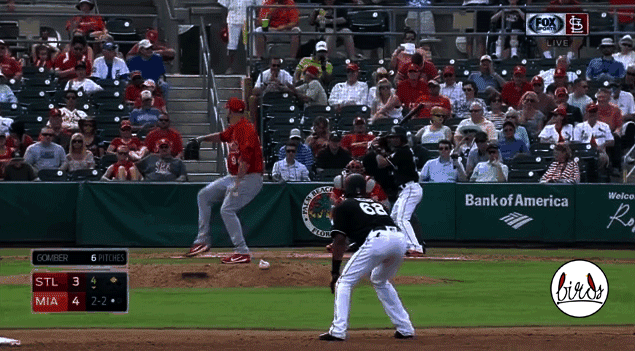 He can put slider movement on his fastball. It is a real beast, for me, especially against lefties. I don't understand how lefties even come close to making contact with it.
Oh, yeah. I forgot to mention that his changeup is destructive, as well. This iisn't even one of his better changeups:
If you're keeping track at home, that's four pitches that are at least average. More importantly than that, Gomber has command of all four when he's using them correctly.
Even better, Gomber throws with a deceptive little delivery that helps his "at least average" stuff play up to "at least above average" regularly. His delivery has a little hitch in it, and I really like that. It used to be accentuated even more than it is now, but Gomber has worked to smooth it out. Gomber also hides the ball extremely well. Probably better than any other pitcher in the organization. Our very own Joe Schwarz put a picture of Gomber side by side with Clayton Kershaw, and their mechanics look almost identical from the side. That's a good thing, I think!
I love the rhythm that Gomber pitches with. It's quick and "on key," if you will. Watching him out of the wind-up is like watching someone dance. All of these little quirks in his delivery help to make him better than scouts can comprehend or radar guns can quantify.
Austin should start the season at Memphis and the beginning of his season should be worth keeping an extra close eye on. I'm willing to bet that Mr. Gomber will be making his major league debut by August. I've said it before, but it's worth repeating; Gomber is the most pro-ready of all of the pitchers in the Cardinals organization that haven't made a major league debut.
The only thing that I don't like about Gomber is that he allowed too many home runs in 2017. 17 home runs allowed in 143 Double-A innings is terrible. The increase in home runs allowed is alarming, also. Gomber only allowed five home runs over 127 innings split between A and AA in 2017. That's an increase of 12 home runs allowed in 16 additional innings. That's such a concern, and I'll be keeping a close eye on that total during the 2018 season.
I mentioned in the section above this that I love his competitive side. I stand by that, but I also have to note that sometimes his competitive nature gets the better of him. There are times - and they are becoming less frequent as compared to early in his career - when Gomber lets the game get the better of him. His emotions run high during the game and he over-throws the ball as a result. Sometimes it's caused by a play that is not made behind him and sometimes it's the strike zone. Either way, it's something that he needs to gain mastery over.
Aside from those two areas of concern, I see nothing but a bright future for Gomber. That is, as long as the Cardinals stop jacking around with him. In the past, the Cardinals have wanted to tinker with his mechanics. I believe that's part of the reason why he got off to such a poor start in 2017. If there's one thing I've learned coaching little leaguers (and the University of Virginia), it's that you have to let an individual's mechanics breakthrough, unless they are hurting themselves. I also hate that the Cardinals kept him in Springfield and did not promote him at the end of the season for either the Memphis or St. Louis playoff push. It just seems like the Cardinals would do themselves well to get out of his way and let him pitch. That said, I do believe that it'll benefit him in the long run that he received that extra little bit of rest.
If I'm comparing Austin Gomber to anyone, at this very moment, it's Brett Anderson. I do think that Gomber shows signs of being dominant on the same level as Alex Wood (and they throw with similar mechanics and deception), but that's a big ask. Where I am stuck is, I see him producing statistically on par with Patrick Corbin. All in all, I think that Gomber has an ultimate ceiling close to that of Mike Minor. Even if he doesn't stick in the rotation, I expect him to be a bear in the bullpen.
As always, these articles can't be done without Fangraphs and Baseball Reference. They are equally as reliant on the skills of Cardinalsgif's and NChill17. It's a pleasure to do this list with my friend Colin Garner at The Redbird Daily.
And please remember to check out my colleague Colin Garner's write up of our #9 Prospect (Colin's personal #8 prospect, prior to combining lists) over at The Redbird Daily right HERE!!!
Thanks For Reading!