Cardinals Top 30 Prospects: Prospect #10


Prospect #10, RHP Ryan Helsley
Age At The Start Of The 2018 Season: 23
Drafted In The 5th Round Of The 2015 Draft
In conjunction with my friend Colin Garner over at The Redbird Daily, we present to you our combined list of the Top 30 Prospects in the Cardinals organization! Every other day for the next two months, From January 28th until March 29th, we will be presenting you with an exhaustive evaluation on each of the top 30 prospects in the organization starting with prospect #30 and counting down to prospect #1. This is our combined list, not our own individual lists. For additional information on how we came these rankings, CLICK HERE. Without further delay, we present...
A+ FIP: 2.78 AA FIP: 3.85 AAA FIP: 3.52
Kyle Reis (Prospect #7 On Personal List, Prior to Combining Lists With Colin Garner)
What I like most about Ryan Helsley is that he's been the underdog for three straight seasons. Pipeline hardly recognized him. Baseball America erred on the side of caution with him. Fangraphs and Baseball Prospectus, as they are wont to do, hardly even mentioned him.
Hell, even my colleague Colin Garner is underrating him. Colin has him 10th, listing nine players ahead of Helsley on his personal list.
There aren't nine better prospects in the system. There might not even be five better prospects in the system.
Yet all that he's done is produce. All that he's done is excel. All that he's done is dominate.
First, Helsley's fastball lives in the mid 90's with decent movement. As you know by now, he's capable of dialing it up to the high 90's when he decides to. When he makes it to the majors later on in the season you'll hear a ton about his spin rate, which is through the roof.
One thing that I like is that his velocity increases as the game goes on. He might start a game throwing in the low 90's, but by the 5th inning it'll be in the 95 MPH range. Even more important, he commands the fastball well.
I'm impressed with how well his secondary pitches have developed, as well. His curveball can be nasty. It shows "drop off of the table" potential and he throws it powerfully. To give you an example of how good it can be, this is what it looks like when it's "flat", lol: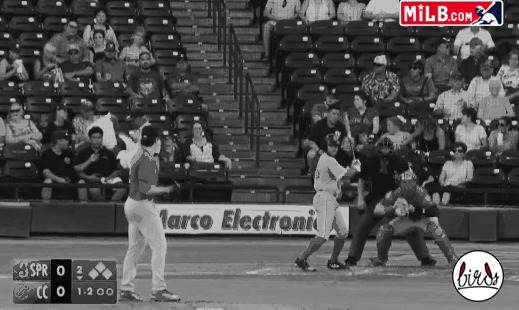 He introduced a cutter in 2017 that, at times, was well ahead of where it should be for being so new to him. The cutter also tunnels with the curve well which helps both pitches. His changeup still needs to improve, but I'm impressed with how it's looked so far this spring training. You'll notice here that it tunnels extremely well with the curve:
Moving on from his repertoire, I like everything else about this kid. His lower half is built like a horse. He has a deceptive motion and he hides the ball well. He's a competitor that takes tremendous pride in being the victor and he has an edge to him on the mound.
Speaking statistically, his career strikeouts per nine of 9.4 are delightful. The strikeout-stuff will always be there for him. Even better, he struck out 11 batters per nine innings during his six-start trial at Double-A. I call that a "K-crank". It's a beautiful thing. His walk rate increased in 2017 as he climbed the ladder, but that shouldn't detract from his sub-three BB/9. Sure, it's barely sub-three at 2.9, but that's fine for a player that strikes out that many hitters. Of course, it could always get better.
Helsley held hitters to a batting average against of .215 on the season. His OPS against on the season was .601. What I really like about this is that he had level to level consistency with those numbers. Over 17 starts with Palm Beach he held hitters to a batting average against of .213 and an OPS against of .578. Then, he held hitters to a batting average against of .200 and OPS against of .611 over six starts at Springfield. The OPS did go up by .35 points, but the slugging percentage against barely changed. At Palm Beach it was .302 and at Springfield it was .320. That means, roughly, that Helsley did an amazing job of not allowing much hard contact in 2017. He did struggle comparatively in a late season trial with Memphis. However, he still played an important role in helping Memphis win the Pacific Coast League title while starting for the Redbirds.
There are some questions about Helsley's future in the rotation. I do not have those concerns. Helsley has the ceiling of a high-end number three starter. He needs to get the walks down, but the stuff is there. So is the approach if he sticks with it. At the very worst he's a dynamic arm at the back of a bullpen.
The best thing about Helsley is that you'll be able to watch Helsley in some capacity at Busch Stadium during the 2018 season. Be excited about that. The 2017 Florida State League "Pitcher of the Year" dominated his way through three levels in 2017. He has it all.
It isn't even a matter of "what I don't like" about Helsley as it is "Helsley needs to refine". He's introduced a cutter into his repertoire and that needs to continue to progress. Same goes for the change up and curve. It's all there, but it needs to gain consistency.
The only big area of concern that I have about Helsley is that he'll lose a hitter after getting ahead in a count. Too often I've watched him get up 0-2 or 1-2 on a hitter only to walk them. I can't remember ever seeing a pitcher do it as much as Helsley does. It happens because he tries to get cute with his breaking stuff and it backfires. He'll need to learn to carry his aggressive pitching approach all of the way through an at bat. He also needs to get better at holding runners on base.
Helsley had a high BB/9 in 2017 that climbed the ladder as he climbed the organization. 3.3 BB/9 on the season is high, but what was alarming was the 4.01 BB/9 over six starts in Springfield. That was the first time in his career that the walks per nine were above three. I'm not as worried about it as most are, but I'm definitely going to be keeping an eye on it.
The other area that I'm concerned about is the amount of home runs that he allowed in Springfield. Four home runs allowed over 33.2 IP isn't good. Over the 2015 and 2016 seasons, spanning 135.1 IP, he had only allowed four total home runs. That's an alarming increase in home runs. He's going to need to get back to 2016 form of preventing the long ball.
I'm HEDGING MY BETS HERE, but if I'm comparing Ryan Helsley to anyone it's a non-racist version of Bud Norris. They're built alike with the velocity to match. I also want you to know that I hate myself for saying it, but it needed to happen. I do believe that Helsley has a higher ceiling. We are talking about a kid capable of Charlie Morton's 2017 but sustained for a couple of seasons. Think something along the lines of Anthony DeSclafani, if DeSclafani had a larger sample size. So I'm basically saying Garrett Richards. Now I'm just rambling. It's all about the command and the progression of his secondary offerings.
As always, these articles can't be done without Fangraphs and Baseball Reference. They are equally as reliant on the skills of Cardinalsgif's and NChill17. It's a pleasure to do this list with my friend Colin Garner at The Redbird Daily.
And please remember to check out my colleague Colin Garner's write up of our #10 Prospect (Colin's personal #10 prospect, prior to combining lists) over at The Redbird Daily right HERE!!!


Thanks For Reading!