Cardinals Minor League Rankings: Starting Pitchers
Updated: Feb 9, 2020
THE LEAD-IN
Welcome to the offseason!!
The offseason means that we have nothing better to do with our time than to make and read both dumb and subjective lists!! Hooray!
And who does dumb and subjective lists (with no bearing in reality) better than anyone? That's right, it's Bleacher Report!! I'm somewhere down on that list, but I'm going to do it anyway because I'm tired of letting Cardinalsgifs down, and I hate being the guy that isn't doing anything for Birds On The Black.
As you might have guessed, I'm going to be doing these rankings my way. There will be some rookie-eligible players that are omitted from the list. I'll talk about those "GRADUATES" before we get into each individual listing. With some of these rankings, I'll throw a couple of extra players into the fray just for the hell of it.
Also, the lists are going to be a little different. The Cardinals have gone out of their way to turn individualized infielders into utility fielders. SO, instead of ranking the second basemen and shortstops separately, I'm going to group that unit into one. There might be a 3B or two sprinkled into that mix, as well.
Also, I truthfully don't know what do with the 300 pitchers that the Cardinals drafted during the 2019 draft. So, instead of including them into the SP or RP pitching rankings, I'm going to break them off into their own category.
"It's my world, my world, and those ancient people are dead."
Remember, these rankings are mine and mine alone. They are very subjective, and they will be brief. The re-ranked Dirty Thirty-Five will be just a few months away. When we get to that, we'll go back to being as objective and in-depth as possible.
Until then, let's have some fun! Discourse is both welcomed and encouraged. And remember, just like with my own opinions, your opinions are worthless!!
LET'S GET TO THE LIST!!
TOP STARTING PITCHERS
A REMINDER: This list does not include the pitchers that were drafted during the 2019 season. Those bae's get their own list, and that comes out tomorrow.
GRADUATE: LHP Genesis Cabrera

– Age 23 - Memphis and St. Louis
SEEEEEEEEEEEEEEEEEEEE! What did I tell you?! Genesis Cabrera is a genuinely talented arm. When he gets comfortable and stops tipping his pitches, you can really see why the Cardinals would consider trading Tommy Pham for a package of prospects surrounding Genesis.
Genesis is always going to have command issues. That's just his reality. More than likely, he's always going to have moments where he struggles to repeat his delivery, as well. Even with these obstacles, Cabrera's arm is electric. This isn't only true of his fastball, either. It's his entire repertoire. The four-pitch mix of fastball, curve, slider, and change is as lively as any four-pitch mix possessed by someone within the Cardinals organization that is still rookie eligible. That's to say, and very crudely at that, that his shit is nasty.
The question then becomes what will Cabrera's future be with the Cardinals. Will he be a dominant left-handed reliever, or will he be a starter. More than likely, if I had to hedge my bets, I'd bet that he is in the pen long-term. It just seems like that's the most natural path for him. The other issue with Genesis as a starter is, his command will never be better than average. To call him the next Jaime Garcia (the next left-handed starter with fancy stuff but wishy-washy command) is a big ask, and probably inaccurate. I don't envision a scenario in which this happens. But I do believe that Cabrera can be just a kick below Jaime if he is given a chance to start.
This is all to say that I am EXTREMELY happy that the Cardinals have this dynamic arm in their system. It sucks that he's with St. Louis because he was traded for Tommy Pham, but we shouldn't hold that against him. It's evident that the Cardinals had other reasons for moving Mr. Pham, but at least they got someone with a high-ceiling and major league floor in the deal. Cabrera is a feisty competitor, too, and I'm anxious to see what an entire year at the major league level will look like
GRADUATE: RHP Ryan Helsley – Age 25 - Memphis and St. Louis
Everyone knows that I love Ryan Helsley.
He's better than Dakota Hudson. His stuff. His velocity. More specifically, his future, if health will allow for it. Now, the ball is in the Cardinals court to not mess it up. Helsley has always profiled as a major league starter, even if other, less dialed in, outlets said otherwise. I don't blame them. It's easy to fall victim to old scouting reports.
One way or the other, Ryan Helsley is an elite "prospect" arm. I doubt that he gets a fair shake to be a member of the rotation, which means that he's going to be the most crucial bullpen arm moving forward for the Cardinals. Including Gio Gallegos, but potentially excluding Carlos Martinez, there isn't a more dynamic arm this side of Jordan Hicks (when he returns) penciled to the 2020 bullpen. We saw it during the 2019 playoffs, and we now know this for sure: if Ryan Helsley isn't being put in during game-defining situations during the 2020 season, then the manager is doing it wrong.
Now, it's just up to the Cardinals' catcher to call on Helsley's entire arsenal. He's more than just a cutter/fastball pitcher, and both his changeup and his curveball are weapons. Of course, you wouldn't have any idea if you watched him at the major league level.
Take note, family. Ryan Helsley is as good of a draft pick as possible outside of the first 150 picks in any given draft.
NOW, WE LIST!!
#1: RHP Angel Rondon – Age 22 - Palm Beach and Springfield
I like Rondon better than Woodford. I like three pitchers better than I like Woodford right now, but I like Rondon the most.
When I do the re-rankings of the Dirty Thirty-Five at the beginning of 2020, I'll probably have Woodford higher because I try to be as objective as possible with that list.
But don't get it mixed up, Rondon had the best season of any of the starting pitchers that didn't make a major league debut within the organization.
His fastball/curve combo is the type that makes rehabbing MLB players look awful. His command is pretty damn good, too, and he's nearly impossible to square up when he's mixing his changeup in the way that he's capable of mixing his changeup in.
It dawns on me as I write this, and I type this, that I feel similarly about Rondon as I did about Ryan Helsley as he exited his first taste of AA baseball. Just as Helsley was, Rondon is being over-looked as a "leGit" prospect due mostly to old and outdated scouting reports, and the fact that he doesn't have the flashiest name.
No, instead, all Rondon has done is perform. As you can see thanks to the gifs, Rondon has a quirky little delivery, and that quirky little delivery allows him to hide the ball exceptionally well. When he starts to present the ball, it's accompanied by well-above-average arm speed. That also helps his stuff play-up.
I've watched Rondon really grow over the last season. When I watched him pitch in Peoria during the 2018 season, you could see the foundation for success, but the concrete hadn't cured just yet. When you watched him during the 2019 season, you could see a lot of his weaknesses start to fade.
Rondon is a smart pitcher with interesting stuff. He's also surprisingly efficient, and he was asked to work deep into games even when he didn't have his best stuff. These are the trappings of a pitcher that will stick as a starter. I do think that Rondon has an arm for late-inning work if that's where he eventually ends up. I'm super bullish on Rondon, and you should be, too.
#2: RHP Johan Oviedo – Age 21 - Springfield and Palm Beach
It was an excellent season for Oviedo, and the organization desperately needed that from him.
Oviedo started the season in Palm Beach, but it didn't take him long to earn his promotion to Springfield. There, it took the 21-year-old Cuban about nine starts to get his bearings about him.
Yes, that's a lot of starts.
Yes, the issue is his command.
We'll get there.
Once Oviedo settled in, we really started to see the type of pitcher that he was capable of being. Over his next 13 starts (13 of his last 14 starts on the season), Oviedo held hitters to a batting average against of .218 and a slugging percentage against of .328. During these 62 innings, Oviedo struck out 73 and only allowed 5 home runs.
The issue is, the on-base percentage against that he allowed was actually higher than the slugging percentage allowed, with an OBP of .332.
So, obviously, the issue with Oviedo is his command. Sometimes he's really sharp, but most of the time he's just kinda throwing the ball. It's been fun to watch his mid-90's fastball (which, fortunately, isn't having the same velocity issues that it once had) continue to progress, and it's been even more fun to watch Oviedo work his slider and changeup off of that pitch. His slider has a chance to be a true "plus" pitch. Again, he doesn't command that stuff at a level above "average" at best, but they are wicked pitches. Sometimes, it looks like his curveball is really working, too.
The easiest way to tell what kind of command Oviedo is going to have on any given night is to keep an eye on how he is finishing his motion. His command is generally betraying him when he is standing straight up and not burying his arm.
Truth be told, Oviedo is as close to a right-handed throwing version of Genesis Cabrera as the organization is capable of having. His arm is dynamic, but he still has a lot of work to do in his pursuit of commanding his arm. While 2019 was a bit of a breakout for this young man, he appears to be poised to have a real "coming out" in 2020, if his command will allow for it.
#3: RHP Griffin Roberts – Age 23 - Palm Beach
I'm not kidding or being dramatic when I say that I actually sighed out loud as I was typing Roberts' name.
You folks know about the weed thing, right? The suspension? We don't need to go over that, do we?
OK, thank goodness. Because of that "thing," Roberts didn't make his affiliated debut until the end of May. And, from there, it was ugly. I mean, REALLY ugly. That is if you are just looking at the stats.
But what his season stats won't tell you is that Roberts was hurt by two things in particular.
First, Roberts was prone to giving up one big inning per start. The second thing that is abundantly clear is that the one big inning usually came early on in a start.
Now, I can't speak to if this was a preparedness issue or something else, but what I know is that I watched Roberts last start of the 2019 season, and he seemed determined to make Bradenton look awful. He was mixing his sinker and his fastball exceptionally well, and he was making hitters look foolish with his slider, which I'm confident in calling the best pitch in the organization that has never made a major league debut.
Roberts' changeup is still a visible work in progress, but what separates him from other potential starting pitching options in the system is that the changeup isn't going to make or break him. Instead, it's fastball command and fastball command alone. The key for Roberts is the 4-seam/2-seam mix. His four-seam has decent spin, and it's tough on hitters when he's using it up and in on the arm-side. When he's commanding it there, that's when he's bastardizing hitters with his slider. He's at his best when he is using his sinker to the glove side. It's a thing of beauty when his slider and his sinker are on at the same time. Think about it this way: his slider is filthy. But when he's running his mid-90's fastball in on righties, and his mid-to-low 90's sinker outside on righties, that's when his frisbee slider truly reaches the pinnacle of its dominance.
Roberts had a successful turn in the Arizona Fall League this offseason, and I'm hoping that becomes the springboard for bigger and better things during the 2020 season. The best part of his AFL stint was that he struck out 18 batters in 14.2 innings while only walking two. That type of improvement following a season in which he walked 35 while striking out 36 should not be overlooked. Now you just hope that it's the trend and not the outlier.
#4: RHP Jake Woodford – Age 23 - Memphis
I don't have the slightest idea of what to make of Jake Woodford. Honestly. I see a pitcher that has gotten better year after year. Obviously, that's a plus. I've seen him become a pitcher that can get a timely double play or a timely strikeout. Again, "YUGE" pluses.
But I've also seen, more often than not, a pitcher that isn't aggressive enough with his arsenal. Woodford throws a heavy fastball and a solid secondary combo in a changeup and breaking pitch. The problem is, he screws around with both of those pitches too much. This means that Woodford is throwing too many balls too often in counts. I get frustrated watching Woodford because I can see how good he's capable of being. I can see the progress that he's made from year to year. I can see a clear and aggressive path to the majors for him if only he were willing to let the opposing hitters get him there.
If Woodford learns just to trust his stuff, if he's willing to trust the type of pitcher that he's capable of being, then there is a bright future for this young man. Until then, his 11.7% walk rate won't cut it.


#5 RHP Alvaro Seijas – Age 21 - Peoria and Palm Beach
I don't have as much to say about Seijas as I do about the other pitchers on this list. He made some great strides during the 2019 season, and it was nice to see him have success while repeating the Midwest League.
It's his time in the Florida State League that I was most encouraged by. It's a pitchers league for sure, but he really seemed to harness his arsenal there. It was nice to see his fastball/curve combo get plenty of swings and misses, and you could see that his changeup had also made some good progress through the season. One clear thing was that Alvaro came into the season in better shape, and he did a great job of keeping the appropriate type of weight on throughout the season. You could also tell that Seijas was more prepared for the grind of a minor league season as compared to 2018.
Seijas still throws with a violent delivery. He still shows sporadic command often, as well. All of this probably equals a long-term bullpen arm. Seijas lives in the mid-to-low 90's, but that arm could be something special out of a bullpen. I was also impressed to see that Seijas did a better job of keeping his emotions in check during the 2019 season. He's an emotional pitcher (THIS IS NOT A BAD THING, EXACTLY), and sometimes a crappy strike zone will get the better of him. It still happens every now and again, and it does affect the way that he pitches. It's happening less and less frequently, and that is a great sign. Remember, Alvaro was 20 years old for the entire 2019 season. This is just part of the natural maturation process.
It goes without saying that you shouldn't count the 21-year-old out as a starter just yet. If Seijas grows as much between the 2019 season and the 2020 season as he did between 2018 and 2019, then he will have a potential future as a starting pitcher.
HONORABLE MENTIONS (In No Particular Order After The First Name)
LHP Evan Kruczynski – Age 25 (On Opening Day) - Springfield & Memphis
Kruczynski is a personal favorite of mine. I've written it time and time again, but I don't know why he struggled as severely as he did during the 2019 season. His stuff is better than his results. My good friend Colin Garner and I discussed it, and Colin thought that it might be because the Cardinals were having him use his changeup more than he should have been using. I think Colin is on to something there, but I also believe that Evan has a tendency to speed up both himself and his delivery when he is throwing his fastball. I think that hitters picked up on that, too.
Then again, it might also have been an issue with pitch calling. What I know for sure is that Yadier Molina got the best out of Kruczynski while Yadi was on his minor league rehab assignment. Over 6.2 innings in that start, Kruczynski struck out 11 and allowed six hits, one earned run, and only walking one. This was easily Kruczynski's second-best start of the season, and it was a glimpse at just how good he can be.
During that start, he also threw about 65% of his pitches for strikes. This is another calling card of his; he throws a ton of strikes. He's an aggressive pitcher, and he doesn't ever seem afraid to go after hitters. This makes me wonder, and this is just the worst and shabbiest commentary, if he throws too many strikes. I mean, I know that he doesn't, but I do think that he throws too many pitches that are close to the middle of the plate. One of the things that concern me after watching him was that his routinely above-average command from 2018 seemed to become less and less routine in 2019.
Aside from that, Kruczynski is a four-pitch pitcher, and all four of his pitches can play average or above. His fastball velocity is low 90's mostly, but it's a deceptive pitch. This goes double when he is mixing his pitches in properly. From the minor league camera angle, it's tough to get a feel for both his slider and curve, but you can tell that they work really well with each other. Kruczynski also does an excellent job of using the extra depth from his curve against right-handed hitters.
I'm still bullish on Kruczynski, but there's no denying that 2019 was a disappointing season for him. I thought that he would have had a chance to make a major league debut in 2019 after his turn in the Arizona Fall League, but it just didn't work out that way. Like with Austin Gomber before him, this lefty is going to have to get the long ball under control if he is going to have success moving forward. He's too good of a pitcher to struggle the way that he did in 2019.
RHP Tommy Parsons

- Age 24 - Peoria, Palm Beach, Springfield, & Memphis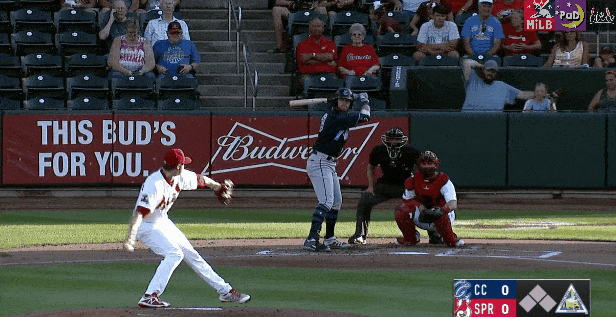 You remember Jason Simontacchi?
Well, I do, and I can't help but think that's what Tommy Parsons ends up being when it's all said and done.
Parsons can get his fastball up to the mid-'90s when he's using it up in the zone. He can also drop in a deep 12/6 curveball when he's really dialed in. What makes Parsons unique is that he has the potential to have three flashing-above-average pitches, anchored by a plus changeup. Make no mistake; his changeup is a potential plus pitch. He has plus arm-speed when he throws it, and it comes from a nearly identical release point as his fastball.
The main issue with Parsons is that he lets up a lot of home runs. Like, more than anyone else in the system, and by about 25% more. Without thinking too deeply about it (so I'm sure I'm wrong), I can't think of the last time that a Cardinals' Minor Leaguer allowed that many long balls and was stil worth mentioning. It's one of the downfalls with his willingness to pitch up in the zone; sometimes he doesn't get the ball up enough. Also, sometimes his curve won't break the way he needs it to. This is when a lot of the damage is done against him. Parsons is going to need to work on both the command and consistency of that pitch.
Beyond that, I don't have much to say about Parsons, really. Sometimes he over-throws his curveball, and that will cause him to lose command of his other pitches for a short period of time. Needless to say, he needs to continue to refine both his feel and his command of this pitch. His fastball can get flat sometimes, but he has decent enough command of it that he doesn't usually get blistered when it does flatten out. Parsons is just a really solid, high-floor/low-ceiling pitcher. If I'm betting, he will either be Jason Simontacchi or Zach Petrick when it's all said and done. Either way, that's a pretty successful undrafted free agent signing.
As you might expect, I am rooting hard for this former… Well… I don't know what in the hell kinda league he was playing in before he was an undrafted free agent. Whatever league it was (D3-ish), it's pretty damn cool that he's been able to get the most of his skills as he starts to knock on the door of the major leagues.
RHP Alex FaGalde - Age 25 - Palm Beach and Springfield
Alex FaGalde is a weird pitcher.
FaGalde has great command of three pitches, but the dude gets hit hard and often. I can't remember watching a Cardinals Minor Leaguer get hit around the way that FaGalde does, but without the damage to show for it. It seems like everything that is hit off of him is a hard-hit ball, but it always seems to be right at someone. It's really just an exercise in tremendous luck.
This is why we saw FaGalde have bad results (for the first time), at the end of the season for Springfield. It became clear that this young man with the low-90's fastball wasn't going to cut it if he continued to leave things near the plate. So, we saw FaGalde compensate by throwing a lot more balls. This, of course, is always a tough direction to go because it allows the advanced hitters at AA to wait for their pitch. And, as you'd suspect, that is precisely what started to happen.
FaGalde has a lively sinker that keeps hitters off-balance when they aren't swinging out of their shoes. He mixes it well with a curve and a slider, and all three of these pitches have worked well against the lower levels of the minors. Much like with former Cardinals' farmhand Mike O'Reilly, the question becomes how FaGalde will adjust now that he has been beaten around a bit at AA. More than likely, it'd be in his best interest to pitch out of the bullpen. There, he might be able to dial his fastball up to the mid-'90s, which would allow the rest of his arsenal to play up. Then again, with a little work on the changeup this offseason, he just might be able to stick as a starter for a little bit longer.
It's been a very nice minor league run for FaGalde to this point. I hope that he's able to take some of the lessons that he learned during the 2019 season and apply them during the 2020 season. It'd be really nice to have a pitcher on the cusp of the majors with the type of command that FaGalde is capable of exhibiting.
LHP: Steven Gingery

- Age 22 - GCL-ish
I am really hopeful that I'll get a chance to add Gingery to one of my lists very soon.
Right now, because of his injury history, I just can't. I've been unable to find out any information on why he was removed after 2/3rds of an inning in the only appearance that he made during the 2019 season. With that in mind, until we see Gingery pitching consistently, I'm going to keep Gingery off of my lists.
It's a shame, too, because Gingery looked like a long-term starter during his collegiate career. He has a deceptive little motion with noticeable arm speed, and that allowed his already plus changeup and sinker to work well together. I viewed his curveball as about average at the time of his draft. But it was nice to see the undersized lefty making progress with the repeatability and command of the pitch during his Sophomore season. It really is a shame that he lost his Junior season to Tommy John Surgery.
Gingery could be a difference-maker within the organization if he can stay healthy. The Cardinals were able to steal him in the 4th round with an aggressive signing bonus. While things haven't worked out just yet, I still strongly approve of the decision to both draft and sign him.
RHP Francisco Justo

- Age 21 - Johnson City
The Cardinals don't really have a lot of pitching at the lowest levels of the minor leagues that are worth keeping that close of an eye on. So, it's definitely worth spending a few extra minutes on what I believe to be the cream of the low-level pitching crop.
The list basically begins and ends with Justo. You might remember, but Justo has been one of my favorite prospects since the Cardinals spent a 12 round pick on him during the 2018 draft. What I loved most about him was his plus-potential slider and a fastball that he could creep to the low-to-mid-90's, but what I respected the most about this young man was something that stretched well beyond the diamond.
You might recall, thanks to this great piece by Rob Rains, that Justo was drafted out of a JuCo because he was forced to take a job to support his family instead of pursuing a baseball career. There was a time when he was a potential draft pick out of high school. Instead, Justo took the path of responsibility, and there was a chance that this young man had put a career in baseball behind him.
Well, fast forward a bit, and he's getting drafted and signed by the Cardinals. Justo had a strong, albeit underwhelming, debut with the GCL in 2018, but it was his solid start to the Johnson City season that made him a stand out. It sucks that Justo had a rough last outing with Johnson City before the playoffs because that really skews his season stats. Over the other 11 outings on the season, Justo pitched 50.1 innings while striking out 41, walking ten, and allowing four home runs. His ERA over this period was 3.22, and his batting average and on-base percentage against were .215 and .265, respectively.
As you might suspect with a pitcher as young as Justo, the development of a third pitch is going to be the maker or breaker. Justo is either going to continue to grow into the curve and/or change (that he throws sparingly now), or he's going to have to learn to throw something different. He's young and raw, having sat out for a couple of seasons. I suspect that this offseason will be good for him as he prepares to build up strength and innings during the 2020 season.
Justo is a big boy, standing 6'4". He would do well to add a little muscle to his slender frame. With that muscle will come velocity, and there's no doubt about it. Some will point to Ludwig Jimenez as the cream of the lower levels crop, but there's no doubt in my mind that it's Justo. Apologies for not writing about Jimenez.
RHP Michael Baird

- Age 24 - State College, Peoria, Palm Beach, & Springfield
It was a weird season for Baird. I honestly couldn't decide if I wanted to include him with the starters or the relievers, and I don't have the slightest idea of where he is going to be when the 2020 season opens up.
I, for one, was surprised that he was held back at extended spring training at the start of the 2019 season. He was coming off of a solid debut with State College during the 2018 season, and some lesser talented players were given assignments over him. I guess that is just the way it goes sometimes.
Baird flirts with a low-90's fastball and an average-to-above change/slider combo. He's a big boy at 6'5", and it does seem that he has a little bit of trouble repeating his mechanics. Because the Cardinals seemed to struggle with how to handle him during the 2019 season, Baird only threw 49.2 innings during the season. I'd love to see the Cardinals stretch him out and use him in either the Springfield or Palm Beach rotation at the start of the 2020 season. Baird does have a little history of a small tear in his shoulder, so I'm very bullish on being aggressive with pushing him through the system if he can take it.
Michael Baird is just another one of my personal favorite prospects that I'm happy to have been granted a second or two to talk about. At the very least, I hope you enjoyed the gifs!!
RHP Perry DellaValle

- Age 23 - Palm Beach
I wanted to make a point to put Perry DellaValle last on the list. DellaValle is the ultimate example of why you don't get so caught up in stats at the minor league level. Often times, success can be misleading.
DellaValle is a VERY good pitcher. He has good command, and he does a fantastic job of mixing his pitches. He also throws those pitches from the same slot without slowing his arm down. With this type of pitcher, you almost always see statistical success until the AA level.
However, things usually get dicey for relatively undersized pitchers that don't throw that hard at the highest levels. Especially with a pitcher that only struck out about 7.3/9 last season (although his 20% K rate is better than I would have thought while watching him pitch). I do not have the intent of incriminating DellaValle here. I certainly don't want it to sound like I don't think he's talented. He is extremely talented. I'm just trying to use this young man as an example of how hard it is to gauge and anticipate minor league success. At the same time, he allows me to demonstrate how much of an accomplishment it is to have success in the minors. If I'm being honest, I actually like DellaValle more than I like FaGalde. I just think FaGalde has better stuff, even though DellaValle's slider is really good.
The 23-year-old DellaValle has had a great minor league career so far, and I look forward to seeing it continue. DellaValle was sent to the Restricted List in July for the same thing that sent Roberts to the list at the beginning of the season. Here's to hoping that he's clear-eyed as early as possible during the 2020 season!
RHP Dalton Roach

- Age 23 - Johnson City, State College, & Peoria
If you are looking for a super wild card and a guy that couldn't be further below the radar, Roach is your guy. That's to say I'M ONLY INCLUDING HIM AS A SUPER ULTRA MEGA SUPER BONUS NAME.
There is so much to talk about with Roach, and I'm not even talking about performance stuff.
First, Roach was an acclaimed Division II pitcher, setting records and winning the 2017 Brett Tomko Award as the best pitcher in DII.
Next, he was drafted in the 21st round of the 2018 draft... by the Houston Astros. The best part about this is? Roach didn't sign with the Astros. I'm not sure if it was because the Astros tried to low-ball the senior draft pick (I'd bet everything that this was the case) or he had faulty medicals. Either way, Roach didn't sign with them.
After failing to sign with the Astros, Roach went on to pitch for the River City Rascal in unaffiliated baseball. For those of you that don't know, the River City Rascals are located in O'Fallon (near St. Louis), and it's the same team that the Cardinals mined LHP Austin Warner from. It's also where the Cardinals dug World Series hero Josh Kinney out of. In August of 2019, The Rascals ceased operations, and they no longer exist.
Now, before we get to scouting Roach, I have to say that I didn't even know that he existed until I started to write the position rankings. I knew his name, and I knew that he came from The Rascals, but I didn't know any of the other info that I presented above. Needless to elaborate, I was dismissive of this young man. It was the way that he was pitching when I was researching other players that caught my eye. On top of that, knowing that it didn't work out with the Astros and that he might have told them to F-off, really got my loins blazing. I love that he's the reason why they essential blew a 21st round pick.
It's been challenging to get a velocity reading on Roach, but the consensus is the low 90's/high 80's. I know that it explodes on hitters and plays above its velocity. I know this because he gets away with throwing it up in the zone, and he gets a lot of late swings with it. As you can see, he throws with a quick arm motion, and he has a changeup(at least) that comes from the exact same slot. Roach changes nothing about his mechanics when throwing the change, and it pairs so well with his fastball. His third offering, a curveball, needs work. A lot of work. Roach is also slow to the plate, and he's going to have to speed that thing up when he has runners on base. His command, in general, needs work, and he leaves too much over the plate, but his fastball/changeup combo can be mean. This is especially true when we are talking about lefties.
Roach's stats aren't pretty. They aren't going to catch your eye. As a matter of fact, it's easy to overlook them or not even see them. That his stats at Johnson City were so bad doesn't help his case, either. But there's more to what Roach did in 2019 than what might appear. Looking specifically at his time in Peoria, Roach struck out 23.6% of hitters. He did this while holding batters to a batting average against of .240 and a slugging percentage against of .304. His OBP against was .633, which was beefed up by a near 11% walk rate.
Roach only made six starts with Peoria, but his second start was the real killer to his stats. In that start, he allowed six runs in 4.2 innings. If you take out that start, Roach struck out 26 in 29.1 innings, while allowing a batting average against of .217 and slugging percentage against of .255.
I've written a lot about Roach here, so I'm obviously a big fan of his. I really like what I've seen. It should also go without saying that he's too talented and seasoned for the competition that he went up against in 2019. I'd LOVE to see the Cardinals start him off at Springfield in 2020, skipping Palm Beach altogether. I doubt it happens, but I still want to see it.
Roach is the deepest of sleepers, a great story, and a total wild card. I couldn't help myself but go on and on here.
One last quick shout out to RHP Anthony Shew. The former undrafted free agent from the University of San Francisco was having an eyebrow-raising 2019 season before he hurt his arm on June 25th. I'm not sure what happened, or how serious it ended up being, but I know that this was the last time that he threw a pitch during the 2019 season. Here's to hoping for health and a return to form as soon as possible.
Thanks to @cardinalsgifs for the picture and to FanGraphs for the delicious stats!
Thanks For Reading!!