The Dirty Thirty-Five: Prospect #8
Updated: May 1, 2019
THIS IS A COUNTDOWN!!!!! Over the next forty-something days starting on February 12th and ending on March 28th, I will be rolling out my Top 35 prospects in the Cardinals organization. We call it "The Dirty Thirty-Five" because it's marketable, I think. Also, we call it that because my write-ups and evaluations are a little different. I'm kind of a quirky and goofy guy, and the evaluations fit that personality. I've already written about the four players that graduated off the list. I've also written about the guys that just missed the list. You should check those out because you're going to have questions about my sanity afterwards. The article about the guys that didn't make the D35 is really freaking good. This list is my own. It's terrible. I'm fine with it. Remember, have fun with these lists. Ranking prospects is a joke, but it's fun so treat all of the prospect ranking accordingly.
Randy Arozarena - Outfielder
Signed as an International Free Agent in 2016
HE'S BEEN ON THE DL, BUT WILL BE AT MEMPHIS
Age 24
STATS ARE REFLECTIVE OF 2018 BECAUSE HE'S BEEN HURT
STORY TIME
Sometimes, it's hard for me to be realistic with myself. I think that's where I am at with Mr. Arozarena.
I tend to stay bullish on Arozarena because of how "showy" and fun his tools are. He possesses all "five tools" that you look for out of an outfielder. All of those five tools aren't "loud" per se, but they are present. He's fast. He's a rangy outfielder with a plus arm. He has a good approach with 10-20 home run pop. In my mind, I've always thought of him as a "junior-five-tool" player. I don't know. I probably did a poor job of explaining that. The player that I always compare Arozarena to is Gerardo Parra. So, I guess that I'm trying to say that more than anything.
Before we get into his 2018 season, I want to talk about the last few winters that he has had as a member of the organization. For the last three years, Arozarena has played in the Mexican Winter League between seasons. It's been rumored that he does this to help provide for his family. Yes, Arozarena was signed by the Cardinals for a bonus that was right around the $1.25 million mark, but that bonus goes fast after taxes and agent fees. Then, he entered the minor leagues and made less-than minimum wage for his services. So, in an effort to supplement his income, he has to play in the Mexican Winter League, even though he'd do well to get his body some rest. This offseason, he was limited to 56 at-bats in that league, and I'm happy about that. I'm bullish about his coming season because of it. Over the prior two years he's basically played baseball non-stop. A little break, I'm betting, is going to do wonders for him.
AND AS I STAND ON MY SOAPBOX AGAIN, I'll POINT OUT ONE MORE TIME HOW LITTLE THE MINOR LEAGUERS GET PAID AND HOW CRIMINAL IT IS. I MEAN, IT WAS CRIMINAL UNTIL LEGISLATION WAS PASSED THAT MADE IT LEGAL. WE SHOULD ALL BE EMBARRASSED WITH OURSELVES THAT WE AREN'T STANDING UP FOR THESE KIDS AND YELLING FOR MORE PAY (at least the minimum wage). THAT THE MAJOR LEAGUERS, WHO WERE ONCE MINOR LEAGUERS, WON'T DO IT IS ALSO TRAGIC.
Anyway, I really should have dropped him further down the list following a rough 2018 season. His hitting line of 396/455/681 at Springfield was amazing, but it came with a strikeout rate that was right around 25%, and a low walk rate of right around 6%. He was hitting, but he was swinging at too much. Plus, with it being his second season at Springfield (coupled with the fact that he was about the age-equivalent of that level), those stats were skewed.
So, what we should probably make our judgement on with Raaaaaaaaaaandy is his time at Memphis, which was not good. Since Raaaaaaaandy had three different tours at Memphis during the season, I'd like to break them down individually. Before we do that, here's a .gif of a walk of home run followed by a fun little celebration:
Arozarena's first tour of duty at Memphis was from the start of the season until May 3rd, and lasted 22 games. During these 88 plate appearances, Randy hit 360/368/329 with five doubles and zero home runs. His strikeout rate was 19.3% and his walk rate 10.2%. And, honestly, he was "fine." When I watched him, he seemed hesitant at the plate, though.
Raaaaandy also seemed like he was swinging from his heels during this AAA stint. One of the things that I enjoy most about watching Arozarena is that he's almost never cheated out of a swing until the count gets to two strikes. The same could be said for Adolis Garcia, but Randy has a control about his swing, even when he is selling out, that JAG doesn't have. during his first tour at Memphis, there weren't many "sell-out" swings.
After a quick 13 game stint in Springfield, Arozarena was promoted back to Memphis for roughly two months between May 19th and July 16th, a span of 44 games and 144 plate appearances. Randy was not good during his second AAA tour, as he hit 225/301/364 with four home runs and six doubles. He also struck out 18.75% of the time and walking 6.25% of the time. I kept a very close eye on Randy during this time, and I just couldn't figure him out.
He was doing a good job of covering the plate. He wasn't getting over-exposed by breaking pitches. He was putting the ball in the air enough. but he just wasn't hitting the ball hard enough. His bat seemed slow during this period of time. Also, it seemed like the lower-half torque, that he usually generates in spades, wasn't there. Lacking in both of these swing characteristics is very uncommon of Arozarena.
I've gone back and watched many of those games this winter (before the MiLB .TV archives betrayed me) and, I have to say, and maybe it's just my mind making an excuse for him, but I believe that this is a direct result of the lack of rest that he has received over the last two years. He definitely seemed to be noticeably smaller at the end of the season than he did at the beginning.
His third tour of duty at Memphis stretched from the first of August until the end of the season, and spanned 79 plate appearances. It was more of the same for Arozarena, and he hit 215/333/338 with five doubles and one home run. He struck out roughly 19% of the time but walked an impressive 12.7% of the time. You could tell during this tour that he was more interested in working a count and seeing pitches than he was swinging. I don't know if that was a good thing or a bad thing, or if he was doing that because he knew that he was fatigued, but the aggressive-swinger was all-but-gone.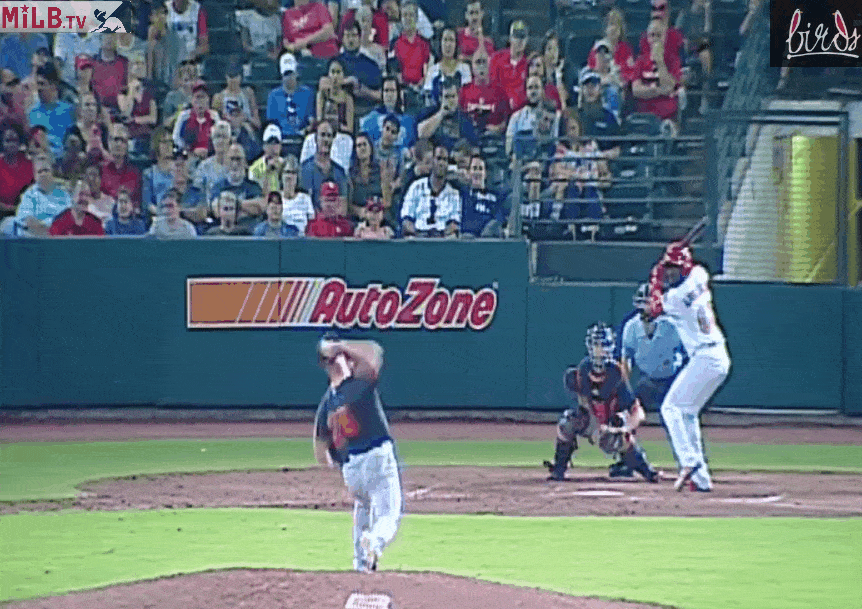 I wanted to look at all three of these "tours" at Memphis in the hope of breaking down some similarities. Other than "under-performance", you'll notice that his strikeout rates were around the 18%-19% mark during each tour. You'll also notice that there was never really a spat of power. His second and longest tour yielded an increase in power, but not the kind of power that you'd hope for (or even expect to see) from him. What really alarms me is that he has a perfect swing and hitting profile for doubles, and those were all but gone during his time at Memphis in 2018. The walk rates were all over the place, so there isn't a lot to take from that. That is, unless you buy into him changing his approach at the end of the season to match his fatigue. If that was the case, then he possesses an encouraging amount of self-awareness.
Steering away from the numbers for a second, one thing that I really noticed while watching the tape was that Raaaaaandy went through a bunch of different batting stance changes during the season. You'll notice this while watching the .gif's throughout this article. In 2017, his stance was open in an exaggerated manner often, and that really seemed to work for him. Then, in 2018, it was varying degrees of open and closed throughout the year. His front foot timing mechanism seemed to change frequently, as well. Sometimes it was a quick little step, sometimes it was a quick little ankle turn, and every once in a while it was a big step. It just doesn't seem like Arozarena ever got comfortable at the plate.
What you won't notice from those numbers is that he continued to play a very good corner outfield throughout the season. I've been saying for some time now that I love him in left field. He reminds me of the good version of Marcell Ozuna that Cardinals' fans have yet to see.
He also plays a very good right field and an OK center field. He is quick to the gaps regardless of where he is playing in the outfield, and he has this way of making a spectacular play when needed, like he does while robbing this home run:
He gets a little wonky going back on slicing balls in the corners ( the most difficult play for a corner outfielder), but his athleticism helps him make up for missteps.
Arozarena burst onto the radar of Cardinals' Nation last year when he turned a misplayed infield pop-up into an infield triple. He did that because he's extremely quick and athletic, but also because he's a very smart and aggressive base runner. He has the speed needed to steal bases, and he gets good jumps, and I believe that he has the legitimate ability to steal 15 bases at the next level. Even if he never gets that good at stealing bases, he's always going to be an asset on the base paths.
It's easy to bring Adolis Garcia (JAG) up when we talk about Arozarena, and that's for a couple of different reasons. They've both been the organization for near the same amount of time. They both hit from the right side. They're both outfielders. They are both supremely gifted athletes with plus outfield arms.
Well, another thing that they have in common is that they both mash left-handed pitching. You'll notice that most of the .gif's in this article of Arozarena having success against lefties.
Over 96 plate appearances in 2018, Arozarena hit 329/427/573 with eight doubles and four home runs. He also walked ten times while striking out 18 times. Arozarena is substantially better against right-handed pitchers, though. He's a smarter and more complete player, too. That's why he is seven spots higher on the list than JAG.
THE BOTTOM LINE
While Mr. Arozarena's time at Memphis during the 2018 season was a bit of a throw away, I'm willing to bet that an offseason with a little bit of rest, for the first time in years, does him well. As one of the more "toolsy" players (and especially outfielders) in the organization, nothing would surprise me less than if he finds the middle ground between tearing up AA and feeling out AAA. It doesn't really matter to me, because this is an obviously biased review for one of my favorite prospects to watch.
Thanks to FanGraphs for their contribution to all of the D35 articles.
Thanks For Reading!!