Organizational Rankings: Top 5 First Basemen
*Welcome to the Organizational position rankings!! This is the preface. What I aim to do with this list is show you what the organization looks like beyond the obvious names at the top. As a result, aside from a brief mention at the beginning, players like Patrick Wisdom, Daniel Poncedeleon, and Giovanni Gallegos will not show up on the list. As a matter of fact, any player that has made a major league debut will not show up on the organizational position rankings. This is purposefully designed to be a quick glance of what's going on, so it might seem light on details as compared to what you'll find on the Dirty 35. You'll get more in-depth analysis on these players come February when we do the preseason Dirty 35 rerankings.
You might being asking "how did you get to these rankings?" Well, THAT'S NONE OF YOUR DAMN BUSINESS JUST ENJOY THE RIDE. But you should know that I have a tendency to place an emphasis on proximity to the majors when doing the organizational rankings.
So, without further ado, Birds On The Black Presents...
THE TOP 5 FIRST BASE PROSPECTS
Editors note: Kyle dives deeper into the first base prospects in the St. Louis Cardinal organization with this podcast below, available on soundcloud & itunes podcast.
#1: Luken Baker - 21 Years Old - GCL & Full Season-A
I've spent a lot of time answering the question "would Cardinal's Fourth Round selection in the 2018 draft Steven Gingery have been selected in the first round had he not undergone Tommy John surgery?" Well, the better question in regards to one of the Cardinals' 2018 draft selections might be "would Second Round selection (taken 75th overall) Luken Baker have been available to the Cardinals at 19th overall had he been health for the prior two seasons?"
Baker is a big boy with a powerful swing. For a 2018 draft pick, Baker has a pretty well developed feel for the strike zone and what he can do within it. Looking back on it now, the Cardinals were lucky that there were/are enough questions about both his health and his ability to stick at first. Without those questions I seriously doubt that he would have fallen to 75th.
Speaking of injuries, it was a strange college career at TCU for Baker. His freshman season (one in which some thought that he might be a two way player) ended early because of arm issues. His sophomore year ended early because of a fluke collision while covering first base. His junior year ended early because he broke his leg sliding into second. When he was healthy, he was raking.
Baker doesn't have the typical power swing and I think that might have put some teams off of his scent. He has more of that "Lumberjack" power that you see out of Evan Gattis and Matt Holliday, or that we used to see out of Scott Rolen. There's a lot of leverage in this swing from his lower half and I'm a big fan of that.
It's simple with Baker; he's just a big boy that tries to barrel everything while using his freak-strength to send balls into orbit. At Peoria, he managed to do this without ever looking over-exposed. He also has the ability to change his swing to match the count. Like I mentioned, his bat is more advanced than it's given credit for.
The Question with Baker will be his defense. Entering his junior year at TCU, he was considered a defensive liability at first base. When I watched him at Peoria, he definitely seemed bulky and a little off-balanced, but there was nothing to suggest that he wouldn't be at least slightly below averaged as a first baseman. And, at the very least, a step above what we saw from Jose Martinez at first base during the 2018 season.
#2: Leandro Cedeno - 20 Years Old - Rookie Level Johnson City
Under most circumstances, I would be flipping Cedeno down the list to put other, older and more advanced prospects ahead of him. As I stated during the preface, because of age and lack of experience, younger players that haven't made their way out of short season baseball usually give me pause. I'm, generally, more conservative with those players. On top of that, often times, the Appalachian League provides stats that are misleading and that usually factors into my decision making process. The pitching is less advanced by a great deal as compared to the NY/Penn League and the fields are somewhat hitter friendly. However, I really really like Cedeno and I think that he's poised for a breakout in 2019. Hopefully. I'm just trying to learn from under-selling Elehuris Montero last year.
With Cedeno, I want to start with the concerns that I have. First, he's split time between the outfield and first base and I'd like to see him stick permanently at first base. Organizationally, the Cardinals appear to have this fear of first base and I feel like it's always the final fall back for a position player. With Cedeno, who they've already committed time to at the position, I just don't see how it's doing him or the organization any good to not be committed to first full-time. He isn't a middle infielder moving from short to second to third. That's valuable. Having a 19 year old kid split time between first and outfield when he's better at one position, and there's a clear organizational need at that position, just seems like a wasted step. Especially because Cedeno is closer to your typical first baseman size and skill-set.
My second concern with Cedeno is the strikeouts. The 26.7% strikeout rate is BIG. I do like that it came with a walk rate of 8.5%. That'll do just fine if he can keep it up. But, like with all young sluggers, he needs to get his strikeout number down to stay on track. Now, a 26.7% strikeout rate for a player in his age 19 season at a rookie level wouldn't be that much of a concern in truth, but I worry about Cedeno's swing. It's pretty long. There isn't much in the way of a direct path to the ball. I can't help but think that he'd be fine if he just adjusted his hands a bit to correspond better with his hips, but any mechanical adjustment like that is cause for concern and reason for patience.
Let's just think about that for a second, though. He strikes out a lot and has a mechanical issue worth being concerned about, but he still hit 14 home runs and 13 doubles in 258 plate appearances during the season. His posted OPS of 1.011 is damn beautiful, as well, and it tracks well with the samples that he has put up in other minor league seasons. He's a powerful kid with a powerful bat and the potential to move quickly through the organization with some moderate refining.
It's fun to have another prospect at the lowest levels of the minor leagues to follow and get excited about.
#3: Rangel Ravelo - 26 Years Old - AAA
It's been a long road en route to this list for Mr. Ravelo. The problem with a player like Ravelo is that he's hard to view as a prospect or a potential major leaguer because of how much time he has spent in the minors. More specifically, how much time he's spent at AAA before producing the way that he did in 2018.
If Ravelo were three years younger than he is then he'd be a top 15 prospect in the organization, undoubtedly. It would also help his case if he hadn't already gone through minor league free agency (that's how he found his way into the organization) or if he would have been taken in the Rule 5 draft at some point (which he has been eligible for a couple of different times already). But to see so many teams pass on him and to see him get passed over for so many opportunities.... Well, unfortunately, it's tough to not take notice of those things.
It's also tough to not take notice of just how good of a hitter and fielder he was in 2018. Ravelo was voted as one of the best defensive first basemen in the Pacific Coast League and he did it while posting a wRC+ of 133, a strikeout rate of 12.3%, and an OPS of ,392. Those numbers are beautiful. Again, had it not been for the fact that he was spending his third full-season at AAA then it would have been even more impressive.
Other than that, there isn't much else to say about Ravelo. As of right now, Ravelo is just interesting organizational depth. However, if there is one thing that major league effectiveness of Nick Martini with the Oakland A's has taught us, it's that we should not give up on a player that makes aggressive contact at an advanced age. Maybe with a few more outfield innings he'll become a more viable major league option for some team...?
#4: Brady Whalen - 20 Years Old - Short Season-A
I really thought that Whalen would break out in 2018 but the New York/Penn League really got the better of him on paper.
Last year, Whalen was on the list for the top five third basemen in the organization and I am pleased to say that he has successfully transitioned to first base. That's good for both him and the organization. He's a pretty good defensive first baseman, too. It still gets a little weird with ranging to his right as well as some footwork issues near the bag. However, he's become a very impressive defender at first for only being committed to the position for one full season. As a short stop turned third baseman turned first baseman, we know that Whalen has the athleticism to man first base. I can honestly say that I'm not worried about his defense at all at this point.
His, bat.... Well, it just might be the most unusual/unique bat in the organization. Make no mistake, Whalen's career is going to be completely reliant on his ability to develop the plus power that he's capable of. That's the only way that he'll be able to match his strikeout/walk profile and stay a viable prospect.
Whalen appeared to take a step back in the slugging category in 2018, but I love that his walk rate stayed as close to the same as you can ask for. I also love that he's quick enough to turn this into a double:
Thirteen doubles to go along with the six home runs isn't too shabby, either. But we are going to need to see MORE. It's in there, it just needs to come out in-game. When I watch his swing, it just seems like he opens up too early from both the left and right-handed sides of the plate. Speaking of which, it's been a weird two seasons of tracking Whalen. In 2017, he was an advanced left-handed bat (hitting 262/381/490) that needed to work on his approach as a righty (hit .089/241/178). In 2018, he was an advanced right handed bat (hitting 311/417/508) that was dominated by right-handers as a left-handed hitter (170/313/302).
Will this be the year that Whalen puts both sides together to make one-whole hitter? I can't wait to find out!
#5: Yariel Gonzalez - 24 Years Old - Full Season-A
Mr. Gonzalez rounds out the first basemen in the organization as another player that had a very productive 2018 season but probably deserved a promotion (In his case, to Palm Beach) at some point.
Mr. Gonzalez fits into the same mold as Rangel Ravelo: he's a player that produced extremely well offensively, but is too old and advanced for the level that he was at too truly evaluate based on statistically performance. What I know is, I love his swing and his approach. It's short with tremendous plate coverage and sneaky power. Unfortunately, it doesn't profile all that well at first base and that'll be an obstacle moving forward for him.
The good news is, Gonzalez and the Cardinals' are already ahead of this one. By the end of the season, Gonzalez had turned into Peoria's "Secret Weapon", playing everything from short to third to second to the outfield. He's 6'2" and damn athletic for his size. Obviously, his continued development as a utility player will be key for his rise in the system. Again, he doesn't have big power, but he is a line-drive hitter and I love the velocity for which the ball exits upon contact with the bat frequently.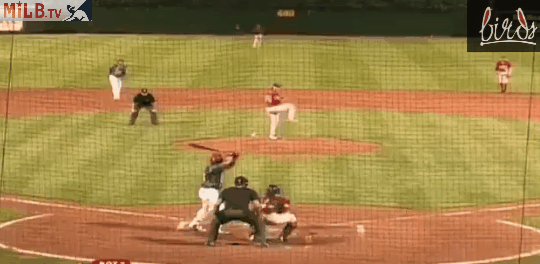 Again, as an advanced-age player in the organization, Yariel's margin for error is slim. By this time next year he could be out of the organization, or he could be on the list for another position, or he could be further up this list. But what I know for sure is that 2019 is going to be an aggressive season for Gonzalez and it will either make or break him.
NEXT MAN UP
The crop of first basemen isn't exactly deep but it has gotten better since last season. John Nogowski was on this list last year and was only taken off because of some higher-ceiling players. That said, he's more than worth spending an extra couple of words on. Nogowski has been a terrific organizational soldier and he had a great 2018 season when he wasn't on the DL for a hand injury (I believe it was a broken thumb). Truthfully, Nogowski should have placed somewhere on this list. However, I decided that I wanted to write about Yariel Gonzalez in honor of the terrific season that he had. Nogowski is a bulldog and a great teammate. He's well-respected by the organization, as well. Entering last season, he did some swing-tweaking and I'm anxious to see what a full season worth of healthy cuts is going to look like. Nogowski is just one of those guys that you root for. He's a very good defensive first baseman, too. He never stops working and he, too, came to the Cardinals through the Indy Ball route. I really really wanna see Mr. Nogowski shine.
Ryan McCarvel is an interesting prospect that can play a little catcher but appears to be in the midst of a full transition to first. Both he and Chris Chinea show solid in-game power but everything else is spotty right now. Dariel Gomez was a little too old for the Appalachian League, but his production was good and worth taking note of. However, those fellas have all been passed over for...
Stefan Trosclair - 23 Years Old - Advanced-A & AA
In the next couple of days, we'll be getting into the second base prospects, which is another list that Trosclair I could have taken part in. This young man doesn't look as athletic as he is, but he does an interesting job of handling second base and that is worth noting because it should give you an idea of how good about the type of first baseman that he is. He's agile for a first baseman and there are times when he looks like the best defensive first baseman in the organization. Knowing that he could handle the position at the next level is a big positive.
The other reason that I bring up second base is because Trosclair was treated a lot like second base prospect Andy Young in 2018. Both Trosclair and Young deserved to spend more time at AA than they actually spent at the level. I thought that both should have started the season at the level, but the depth and tenured players ahead of them really stunted their movement. It's a shame, because it hurt Trosclair's stock a great deal. It's also a shame because it really skews his statistical output for 2018. This hit was Trosclair's first at AA and you'll be able to see why I regard him so highly as a hitter. It's the swing and what he can do with it in pitcher's counts even when they throw their pitch (this one was left over the plate a little too much, of course. John Nogowski does stuff like this, as well):
I would expect that Trosclair would spend the 2019 season at Springfield, but nothing has really changed ahead of him in the organization. It might be time to see what he looks like in a super utility role, capitalizing on his athleticism. Trosclair short swing with good contact and plate discipline is strong enough for me to stay completely invested in his success and development.
Thanks to Fangraphs for the stats.
Thanks For Reading!!