Organizational Rankings: The Top 10 Outfielders
*Welcome to the Organizational position rankings!! This is the preface. What I aim to do with this list is to show you what the organization looks like beyond the obvious names at the top. As a result, aside from a brief mention at the beginning, players like Patrick Wisdom, Daniel Poncedeleon, and Giovanni Gallegos will not show up on the list. As a matter of fact, any player that has made a major league debut will not show up on the organizational position rankings. This is purposefully designed to be a quick glance of what's going on, so it might seem light on details as compared to what you'll find on the Dirty 35. You'll get more in-depth analysis on these players come February when we do the preseason Dirty 35 rerankings.
You might being asking "how did you get to these rankings?" Well, THAT'S NONE OF YOUR DAMN BUSINESS JUST ENJOY THE RIDE. Just know that I put an emphasis on proximity to the major leagues when compiling the organizational rankings.
So, without further ado, Birds On The Black Presents...
THE TOP 10 OUTFIELD PROSPECTS
Editors note: Kyle dives deeper into the outfield prospects in the St. Louis Cardinal organization with this podcast below, available on soundcloud & itunes podcast.
SIDENOTE: Because he made a major league debut with the Cardinals, "JAG" AKA Adolis Garcia, will not be on the list. Also, Tyler O'Neill no longer qualifies because he is no longer rookie eligible and has made a major league debut.
#1: Randy Arozarena - 23 Years Old - AA & AAA
Does everyone remember last offseason when we talked over and over about the Cardinals having soooooooo much outfield depth that they could afford to trade half of the guys and be fine?
We'll, we were wrong. That is how this works. That's how the minor leagues work. That's why you can never have enough depth at any position.
I love Randy Arozarena. He causes my prospect-synapses to fire with great arousal. But a player that's coming off of a tough season should not be the #1 prospect at his position. Sure, you might be able to argue that #2 or #3 on this list is actually the #1 but, even then, you should take note that there's no such thing as too much depth.
Even though his stats aren't glamorous, Randy still Randy'ed. Also, we'd be lying to ourselves if we thought that he wasn't going to regress entering the season. Remember, it had been nearly two full calendar years since he took a break from baseball, going from fall league to MiLB season to fall league, to MiLB season with nary a month long break between sessions. He was always bound to fatigue-out. When you give your all ever night for basically 600 straight days with the four average tools and the one plus tool (his arm) that he possesses, these things are bound to happen.
But we learned some important things about Mr. Arozarena. First, we found out, without a shadow of a doubt, that he's too good for AA. Not a surprise, but it's fact now and a good sign in his development.
Next, we can definitely point to fatigue as the reason why he struggled at AAA. Each one of his stints were worse than the next from an average and pitch-per-AB standpoint. He was a player that was pressing.
This coming year, Randy will make a major league debut. So far, he has sat out the Fall Leagues**** and I believe that's a key for him moving forward. Randy is never short on hustle and in-game spectacle, and he could be an interesting (albeit less effective because he profiles best in a corner) option in center field if Mr. Bader hits a wall in 2019 that Lane Thomas can't clean up.
****UPDATE: Randy is playing winter ball in the Mexican League again. So much for rest.
#2: Lane Thomas - 23 Years Old - AA & AAA
There has never been a better use of extra cash for the International signing period than there was when the Cardinals shipped some of their's off to Toronto for Thomas in 2017.
Thomas ended the 2018 season as THE breakout prospect in the organization. Sure, Elehuris Montero made the most noise and traveled the furthest up prospect lists, but Thomas went from being a mediocre-type prospect with health issues to a true front-of-the-lineup-ace-in-the-hole.
The main issue that I have with Thomas is that his swing seems slow. Well, maybe not "slow" but "round." I don't know what to say about it other than it's just missing something and that something is probably bat speed. It's tough to tell because every swing looks almost identical and as if he's swing off of a tee. He has tremendous balance at the plate and that's definitely worth noting.
There is SO MUCH to like about Thomas. He plays an average center field, even though he profiles best at a corner. He has a good arm. He has good speed, both in the outfield gaps and going first-to-third. He really grew into his power potential in 2018, as well. Now, the Texas League and the PCL are both hitters leagues, but the totals that he put up suggest real 15+ HR power while being uncompromising with his AVG/OBP combo. Also, he made this catch and it was the best catch in any baseball league during the 2018 season. REJOICE:
Thomas has had a wishy-washy turn in the Arizona Fall League this offseason. Some times he looks like a star and other times he looks like a sub. He struggled greatly with pitches on the outside early on but corrected it mid way through. Then he struggled with stuff on the inside half before adjusting. I love that he adjusts so quickly, but this is just a microcosm of a large problem and that is that sometimes Thomas looks like two different players. When he is "ON" he's as formidable of a hitter and fielder as you'll find in the organization. But when he is "OFF" He looks hopeless at the plate and in the field. It is an aggressiveness/confidence issue that he is going to have to work through.
#3: Dylan Carlson - 20 Years Old - Full Season-A & A-Advanced
Go ahead and mark 2019 down as the year of Dylan Carlson. Our boy, the "Patron Prospect", is on the cusp of a big break out.
The stats aren't the most flattering, I know. He just looks like "a guy". But it's realllllllllllllllly simple: Carlson is a big-bodied and disciplined switch-hitter who has been over-aggressively promoted since entering the organization and has flashed everything that you'd want a prospect to flash. Sure, it hasn't happened at the same time yet, but as he enters Texas League play at some point in 2019 (hopefully to start the season), he's going to blow up.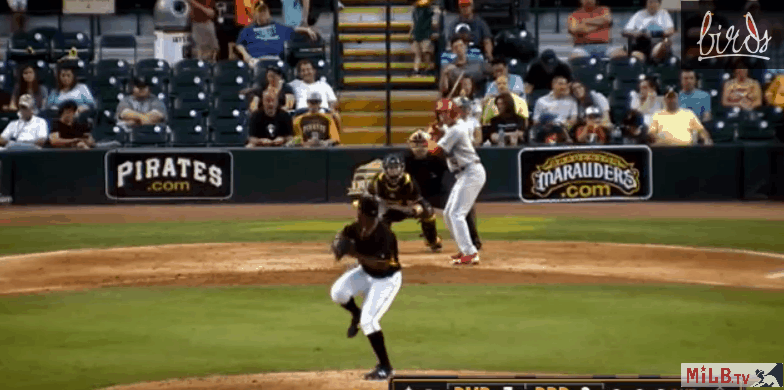 I'm really pleased with the gains that's he made from both sides of the plate. He still has work to do to create more power and optimize his swing against breaking pitches, but everything is right where it needs to be. The .gif above....... That's a pitch on the inner-mid half and low and he still had enough power to inside-out-swing-it over the opposite field wall. That's pretty special.
Not only is he one of the most physically gifted players in the organization, he is also one of the smartest baseball minds. This kid was born to play baseball and the fact that he's been able to do so well with the way that he's been brought along is a sign that the breakout is upon us. Take a look at that reduced K-rate and relatively neutral walk rate. That's the key, for me with Carlson. That's the first step towards true ascent. That's especially true for a switch-hitting prospect that has been young for every level.
If it doesn't happen from the start of the season on then we'll definitely be seeing it by the end of the season.
#4: Chase Pinder - 22 Years Old - A-Advanced & AA
I've always been higher on Pinder than most. I was fortunate to watch him run around in center field like a man possessed while at Clemson on ESPNLive as I scouted Seth Beer in both 2016 and 2017. So, when he started the year with an aggressive assignment at Palm Beach I was probably the least surprised person that follows or writes about the minors.
Unfortunately, Mr. Pinder really struggled at the start of the season, hitting 171/264/263 in 88 April plate appearances. Then, as he started to show signs of being the player that he was/is capable of being, he lost time to an injury at the beginning of May. When Pinder came back at the end of May he was the player that I loved watching at Clemson. In 240 plate appearances before being promoted to AA he hit 284/393/393/786 with three home runs and nine doubles. We'll get to the slugging issue in a minute.
Then, Pinder was almost forced into a promotion to AA. Now, usually that would be a big ask for a player that had gone through an up and down (and injury-missed) season, but Pinder did pretty well there to finish the season. He's more direct to the ball, but I wonder (see also; hope) that he might be poised to have a Lane Thomas-esque breakout in 2019 with a little added muscle. I love this swing:
Now, I don't think that Pinder will every have the power profile that Thomas has shown the ability to have, but he's the hustling-type that everyone loves so much and that allows players to really maximize their potential. More than likely, Pinder is another fourth outfielder-type player that'd be able to hold his own over a 10-day DL stint to a starter, but there's something "More" to the way that he plays the game that makes him an interesting follow moving forward.
While he does possesses a great understanding of the strike zone with a good swing and good plate coverage that's capable of going to all fields, he doesn't possess much in the way of slug so far. He also hits too many groundballs for my liking. Now, these would all be troubling signs that I would invest more into if it weren't for the fact that Pinder just completed his first full season in the minors. There's still plenty of growth to come. He just needs to make sure that it's the right growth.
In my opinion, Pinder will be able to stay in center. He's average out there, but everything plays "average" so I expect that to maintain. I've heard a lot of people talk about his running mechanics not being the prototypical centerfield-type, but I've never seen him miss a ball that he should get to or get beat by a line drive over his head. He's just steady, or solid, and not every outfielder needs to look like he's gliding.
#5: Scott Hurst - 22 Years Old - Full Season-A and A-Advanced
I have become a "Scott Hurst Truther." Where I once doubted his abilities to justify the third round selection on him, I now completely understand why he went where he went in the draft.
I say it a lot, but if there's one player in the Cardinals system that I could compare to 2018 Gold Glove finalist (Gold Glove Award, LOL) Jon Jay it would be Hurst. Hurst is a "puncy hitter." What I mean by that is, he does everything that he can to put the ball into play late in an at-bat. He goes to the opposite field with the same type of swing that Jon Jay exhibited on a regular basis. He plays defense similar to how a younger Jon Jay played defense, but with a better arm.
Hurst dealt with a troubling amount of injuries in 2018 but that's not something that I'm going to hold against him just yet. In two years, Hurst could be a very impressive and important fourth outfielder-type. I'm really anxious to see him repeat the spark-plug like offensive output that he showed during his brief appearance at the top of the Palm Beach lineup.
Just like with Pinder, the question moving forward with Hurst will be if he can develop power. It took him a couple of season in college before he was capable of doing it, and I wouldn't be completely surprised if he managed a ten home run season when he eventually gets out of the Florida State League. More than likely, Hurst will profile best as a fourth outfielder just like Pinder does. However, just like with Pinder, a little power will go a long way to enhance his stock and standing.
He's obviously going to need to stay healthy, as well.
#6: Jhon Torres - 18 Years Old - Rookie League GCL
Like with any player that has spent such little time stateside, I've actually seen very little of Torres with my own eyes. What I have seen, along with the offensive output that he displayed both before and after being traded for Oscar Mercado, is enough to get me more excited for a player as far away from the majors as he is as I can remember being.
As you all know, the only thing that pushes Torres down on the list is that he's still so young and still so far away from the majors. In reality, it's hard for me to put him behind both Pinder and Hurst. And, if we are being honest with ourselves, he might even be the number one outfield prospect in the organization. But, remember, we are practicing patience with the teenagers. Let's see what it looks like following 2019. Spoiler prediction: it's going to be good.
The power is there because he's a large human being with a quick bat, and because of a big leg-kick that he gets away with while going up against talent that is inferior to his own. It's going to be interesting to see how that mechanic evolves over his minor league tenure. My guess is, that'll get smaller and smaller from level to level. Otherwise, he is due to have a big jump in K's if he tries to keep the power without making an adjustment.
Torres can play center more than adequately for the age and level that he is at, but his arm is a hand-cannon and he is better suited in the long term for right field. What I know for sure is that I'm trying as hard as I can to not get too excited about him but I'm failing. When you get .gif's like this, how can you tame your expectations? IT'S BEAUTIFUL (you can also tell that the leg-kick is quieting down. I'd still like for it to be more up then down instead of a small circle, but a dong is a dong, ya know?):
You should definitely keep a close eye on this young man and it's going to be fun to witness his ascent up the levels. I can't help but think that the Cardinals will be aggressive with him and start him at Peoria and I can't help but think that he will hold his own there. I know that he's way more developed than Jonathan Machado was at that stage and he got the Peoria start in 2018 (albeit aided by injuries to others). Either way, I'd ask you to please remember that this young man is still far away from the show and that we should practice cautious optimism with his development.
#7: Brandon Riley - 22 Years Old - Rookie Level & Full Season-A