Mid-Season Dirty Thirty-Five: Prospects 7-1
Updated: Aug 4, 2019
THE PREFACE


This is a completely half-assed list!!!!
OK, so hear me out: I'm breaking the Dirty Thirty-Five into five subsets of seven players for our mid-season report. Why am I doing this? Because that's literally all of the free time that I have. I TRULY, TRULY apologize for not having more time. I swear, I'll do everything that I can to make up for this moving forward.
Anyway, before we get started, remember to check out the article that highlights the Five Players From The 2019 Draft that I'm keeping the closest eye on. That should be coming out in the coming days. Again, the depth of info, or lack-thereof, is because of the lack of free time I have. I promise that I've peered over countless hours of video and reports to give you my humble and honest opinions, albeit quick, on each and every player that I comment on. Besides, in this world of "TL;DR", my long and drawn out nonsense is probably best consumed three or four paragraphs at a time.
So, the system isn't in great shape right now. I'm just being honest. I hope that I have more time in the future to write about that. As of right now, I believe this to be the most concise list of top prospects in the organization. TRUTH BE TOLD, outside of the top 20 prospects, things aren't rosy right now within the organization. Only time will tell, of course.
Over the next five days, I hope to give you more context in regards to that topic.
This also comes with one final warning: while I have watched hundreds of hours of video and read countless reports on these players, this is the least amount of research that I have ever done for a countdown. While I have people that I trust at nearly every affiliate in the organization, I usually use MiLB. TV as my primary method of investigation and cross-checking. However, MiLB updated their service and it's terrible, and that has really ruined the experience for me. On top of that, for the most part, the system has been terribly boring. And with the pitching in the organization taking such a large step backwards as compared to past seasons, it's less and less interesting to watch a start.
THE STATS IN THIS POST ARE CURRENT AS OF 7-11-2019. SORRY FOR THE DELAY.
i've rambled on long enough. It's countdown time!!! So, without Freddy Adu, Birds On The Black and Prospects after Dark presents....
THE DIRTY THIRTY-FIVE: PROSPECTS 7-1
Prospect #7: OF Randy Arozarena
Memphis Redbirds
Signed in August of 2016
Age 24
The only responsible way to handle this is to post a lot of gif's of Randy within this write-up. It's been a lot of fun to see Cardinals' fans on Twitter call so loudly for his promotion to the majors.
If you'll remember, Randy was one of the better prospects during spring training. Then, right at the end of spring training, he broke his hand. This cost Randy the first month of the minor league season. BUT, unlike with most prospects that would be ticketed to miss significant time, we were actually fine with it. Remember, we thought that Randy needed a little bit of rest from competitive baseball. After all, he had been playing it without a break since before the 2016 season.
I am happy to report that after a down 2018 year, Randy has, indeed, rediscovered his 2017 form. It's amazing what fatigue can do to a player.
The version of Randy Arozarena that we are seeing right now is a smart hitter. He knows how to handle his swing during specific counts, and he knows how to work a count to get the pitch that he wants. This version of Randy Arozarena is the type of hitter that will take the 0-2 breaking pitch on the outside edge from a right-hander to the opposite field. He's a hitter that will work the count to 2-1 with the intent of driving the ball. He's the hitter that will drive the ball in a 2-1 count, as well.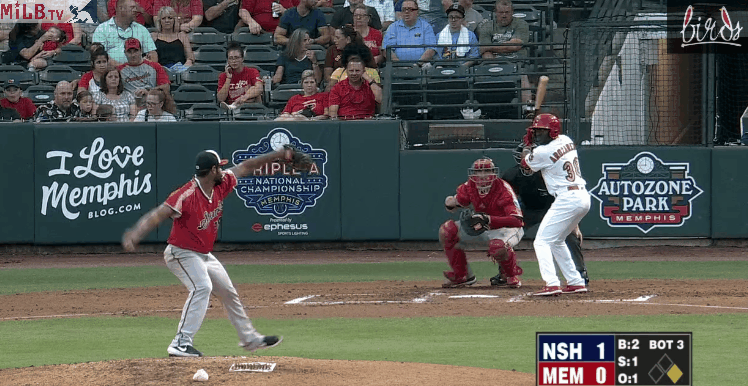 Randy is back to being the hitter with no wasted motion in his swing, and a bat-path meant for the gaps and surprise power. It's a direct little swing and his head doesn't move, and it's quick and adaptive enough to adjust on the fly. Just like we mentioned in his preseason write-up, Randy is still murdering left-handed pitching. This is a skill that will never go away, for him. Also worth mentioning, is that, right now, Randy has his all-fields swing working in full throttle. This is how you know that he's zoned in.
The good news is, Randy's damage isn't limited to lefties like it largely was during 2018. In 178 plate appearances against right-handed pitchers, Randy has hit 335/421/503 with four home runs and 12 additional extra-base hits. Randy is also striking out less than he ever has against righties, checking in right around the 19% mark between AA and AAA.
All of this is to say that Randy has taken the next step in his development. I have to believe that the rest that he received at the beginning of this season is helping to drive the developmental steps that he's taken.This is a young man who has to play during the offseason to support his family. It's hard to support a family, let-alone yourself, when you are making what minor leaguers make. It's nice to see him put it back together, while stepping forward, at the plate. He finally seems to have settled on a batting stance, as well.
In the field, not much has changed, really. He can still handle center field. A lot has been made about the amount of time that he is getting in center, currently. Mr. Mozeliak says that this is by designed, in an effort to see how he handles the position on a daily basis before potentially getting the call to the majors.
Other than that, it's business as usual. He still has a very good arm. He's still best suited for a corner outfield spot. He sometimes gets spun around out in the outfield, regardless of where he's playing. He still has a flare for finding and making the tough play. No surprise, all of these things apply on the base paths, as well. Every so often, Randy will make a dumb base-running blunder like sliding past a bag or rounding too aggressively, only to have the ball be thrown behind for the out. Then, he'll do something amazing like turn a single into a double on a little outfield blooper. Randy is a well above-average runner, and this is clear on the bases. He's gonna motor from first to third or from first to home, and we are all going to be talking about his wheels. It's just, every once and a while it's also going to get weird.
Randy is on the cusp of the majors. He could help the big league club right now, and I have no doubt about that. This Gerardo Parra-type outfielder can flat make things happen.
Prospect #6: UTIL Tommy Edman
St. Louis Cardinals
Drafted in the 6th round of the 2016 draft
Age 24
It's worth repeating over and over again, but if the spring competition for the utility role on the Cardinals would have truly been an open competition then it would have been Tommy Edman over all of the other options. He was clearly head and shoulders above the other performers during spring. Of course spring training is just spring training, but the spirit of an open competition over any time period is that the best player wins the job.
Anyway, regardless if he was ready or not, Tommy Edman was kept off of the opening day roster because the Cardinals' had a full 40-man roster and he wasn't already on it. There is no argument that can be made that this wasn't the primary reason that the Cardinals kept him in the minors. Do with that what you will.
So, here we are in July, finally seeing just how valuable Tommy Edman can be when used. I, for one, am glad that Cardinals' manager Mike Shildt is actually using him. One of the things that Shildt has done a poor job of, is getting the rookies and young/inexperienced players playing time. Of course, the question is "would Edman be getting this playing time if Matt Carpenter was healthy?" I have my guess (LOL), but, luckily, we'll never know that answer. However, I can't wait to see what happens with Carp comes off of the IL (he's off of the IL now, and Edman got the start at second for Kolten Wong against the tough lefty, Robbie Ray).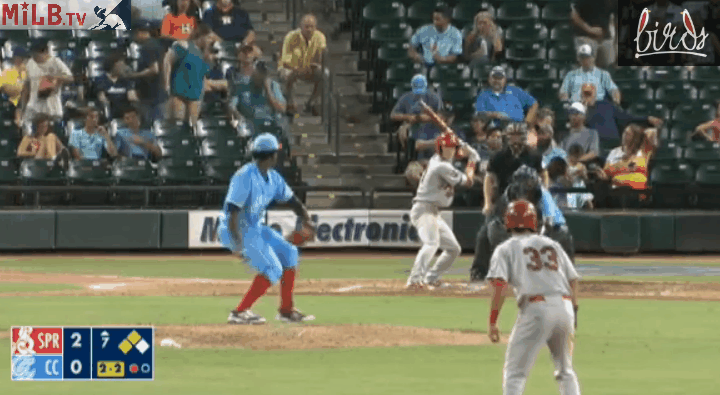 So, what does Tommy Edman do? Well, if you haven't been paying attention, the answer is "Everything, at least at an average level, and some things above average", He supplies average power for a utility infielder. He's an above-average infielder at short and second, and average at third. He has an above-average arm. He's an average-ish hitter left-handed and an average-to-above hitter right-handed. He has above-average speed, and plus plus plus plus plus plus "Baseball IQ" and instincts. Edman is also one cool cat, as demonstrated during the Memphis playoffs last season. This part of who he is has also been on display during his brief tenure so far with the Cardinals, one that has seen him come through in the clutch a couple of different times already.
I'll maintain, even now while he's raking, that Tommy Edman is going to be a seven to ten year vet that ends his career with a wRC+ between 95-110. During most of those seasons, Edman is going to live in that range. He fits the utility role so well that, if deployed properly like Tony LaRussa used to use the utility player, he's going to have a 115+ wRC+ season somewhere along the line. There's also going to be a sub-100 wRC+, as well. Why? Because baseball, that's why.
To bring TLR back into this, Edman is the type of player that TLR would have gotten the best out of because he'd be used in the proper match-ups, while getting near-daily playing time all around the diamond. Edman is a good player and a daily contributor, when given the chance. I'm anxious to see how often he's given the chance once the lineup gets healthy. Edman is the ultimate utility player.