Mid-Season Dirty Thirty-Five: Prospects 7-1
Updated: Aug 4, 2019
THE PREFACE


This is a completely half-assed list!!!!
OK, so hear me out: I'm breaking the Dirty Thirty-Five into five subsets of seven players for our mid-season report. Why am I doing this? Because that's literally all of the free time that I have. I TRULY, TRULY apologize for not having more time. I swear, I'll do everything that I can to make up for this moving forward.
Anyway, before we get started, remember to check out the article that highlights the Five Players From The 2019 Draft that I'm keeping the closest eye on. That should be coming out in the coming days. Again, the depth of info, or lack-thereof, is because of the lack of free time I have. I promise that I've peered over countless hours of video and reports to give you my humble and honest opinions, albeit quick, on each and every player that I comment on. Besides, in this world of "TL;DR", my long and drawn out nonsense is probably best consumed three or four paragraphs at a time.
So, the system isn't in great shape right now. I'm just being honest. I hope that I have more time in the future to write about that. As of right now, I believe this to be the most concise list of top prospects in the organization. TRUTH BE TOLD, outside of the top 20 prospects, things aren't rosy right now within the organization. Only time will tell, of course.
Over the next five days, I hope to give you more context in regards to that topic.
This also comes with one final warning: while I have watched hundreds of hours of video and read countless reports on these players, this is the least amount of research that I have ever done for a countdown. While I have people that I trust at nearly every affiliate in the organization, I usually use MiLB. TV as my primary method of investigation and cross-checking. However, MiLB updated their service and it's terrible, and that has really ruined the experience for me. On top of that, for the most part, the system has been terribly boring. And with the pitching in the organization taking such a large step backwards as compared to past seasons, it's less and less interesting to watch a start.
THE STATS IN THIS POST ARE CURRENT AS OF 7-11-2019. SORRY FOR THE DELAY.
i've rambled on long enough. It's countdown time!!! So, without Freddy Adu, Birds On The Black and Prospects after Dark presents....
THE DIRTY THIRTY-FIVE: PROSPECTS 7-1
Prospect #7: OF Randy Arozarena
Memphis Redbirds
Signed in August of 2016
Age 24
The only responsible way to handle this is to post a lot of gif's of Randy within this write-up. It's been a lot of fun to see Cardinals' fans on Twitter call so loudly for his promotion to the majors.
If you'll remember, Randy was one of the better prospects during spring training. Then, right at the end of spring training, he broke his hand. This cost Randy the first month of the minor league season. BUT, unlike with most prospects that would be ticketed to miss significant time, we were actually fine with it. Remember, we thought that Randy needed a little bit of rest from competitive baseball. After all, he had been playing it without a break since before the 2016 season.
I am happy to report that after a down 2018 year, Randy has, indeed, rediscovered his 2017 form. It's amazing what fatigue can do to a player.
The version of Randy Arozarena that we are seeing right now is a smart hitter. He knows how to handle his swing during specific counts, and he knows how to work a count to get the pitch that he wants. This version of Randy Arozarena is the type of hitter that will take the 0-2 breaking pitch on the outside edge from a right-hander to the opposite field. He's a hitter that will work the count to 2-1 with the intent of driving the ball. He's the hitter that will drive the ball in a 2-1 count, as well.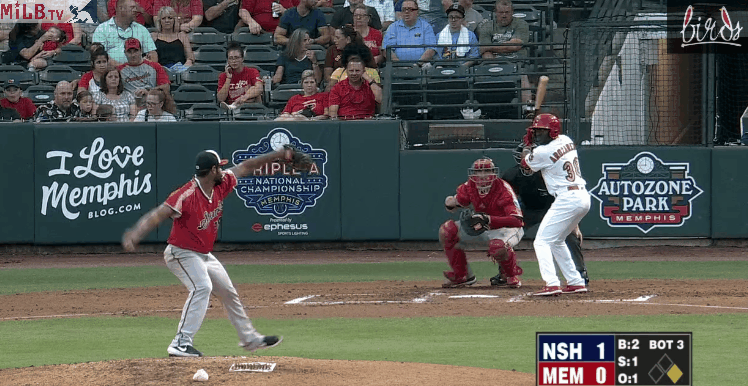 Randy is back to being the hitter with no wasted motion in his swing, and a bat-path meant for the gaps and surprise power. It's a direct little swing and his head doesn't move, and it's quick and adaptive enough to adjust on the fly. Just like we mentioned in his preseason write-up, Randy is still murdering left-handed pitching. This is a skill that will never go away, for him. Also worth mentioning, is that, right now, Randy has his all-fields swing working in full throttle. This is how you know that he's zoned in.
The good news is, Randy's damage isn't limited to lefties like it largely was during 2018. In 178 plate appearances against right-handed pitchers, Randy has hit 335/421/503 with four home runs and 12 additional extra-base hits. Randy is also striking out less than he ever has against righties, checking in right around the 19% mark between AA and AAA.
All of this is to say that Randy has taken the next step in his development. I have to believe that the rest that he received at the beginning of this season is helping to drive the developmental steps that he's taken.This is a young man who has to play during the offseason to support his family. It's hard to support a family, let-alone yourself, when you are making what minor leaguers make. It's nice to see him put it back together, while stepping forward, at the plate. He finally seems to have settled on a batting stance, as well.
In the field, not much has changed, really. He can still handle center field. A lot has been made about the amount of time that he is getting in center, currently. Mr. Mozeliak says that this is by designed, in an effort to see how he handles the position on a daily basis before potentially getting the call to the majors.
Other than that, it's business as usual. He still has a very good arm. He's still best suited for a corner outfield spot. He sometimes gets spun around out in the outfield, regardless of where he's playing. He still has a flare for finding and making the tough play. No surprise, all of these things apply on the base paths, as well. Every so often, Randy will make a dumb base-running blunder like sliding past a bag or rounding too aggressively, only to have the ball be thrown behind for the out. Then, he'll do something amazing like turn a single into a double on a little outfield blooper. Randy is a well above-average runner, and this is clear on the bases. He's gonna motor from first to third or from first to home, and we are all going to be talking about his wheels. It's just, every once and a while it's also going to get weird.
Randy is on the cusp of the majors. He could help the big league club right now, and I have no doubt about that. This Gerardo Parra-type outfielder can flat make things happen.
Prospect #6: UTIL Tommy Edman
St. Louis Cardinals
Drafted in the 6th round of the 2016 draft
Age 24
It's worth repeating over and over again, but if the spring competition for the utility role on the Cardinals would have truly been an open competition then it would have been Tommy Edman over all of the other options. He was clearly head and shoulders above the other performers during spring. Of course spring training is just spring training, but the spirit of an open competition over any time period is that the best player wins the job.
Anyway, regardless if he was ready or not, Tommy Edman was kept off of the opening day roster because the Cardinals' had a full 40-man roster and he wasn't already on it. There is no argument that can be made that this wasn't the primary reason that the Cardinals kept him in the minors. Do with that what you will.
So, here we are in July, finally seeing just how valuable Tommy Edman can be when used. I, for one, am glad that Cardinals' manager Mike Shildt is actually using him. One of the things that Shildt has done a poor job of, is getting the rookies and young/inexperienced players playing time. Of course, the question is "would Edman be getting this playing time if Matt Carpenter was healthy?" I have my guess (LOL), but, luckily, we'll never know that answer. However, I can't wait to see what happens with Carp comes off of the IL (he's off of the IL now, and Edman got the start at second for Kolten Wong against the tough lefty, Robbie Ray).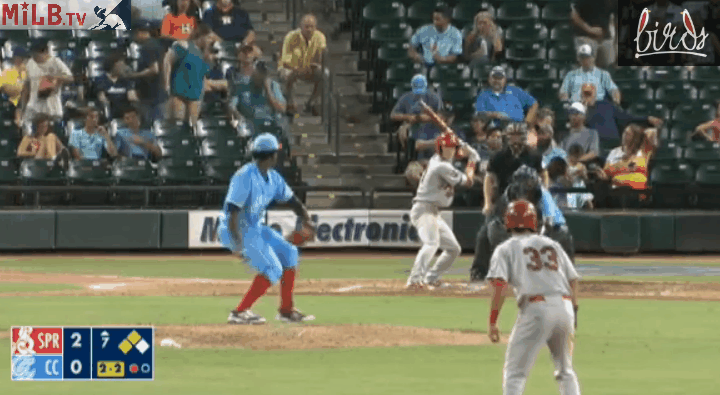 So, what does Tommy Edman do? Well, if you haven't been paying attention, the answer is "Everything, at least at an average level, and some things above average", He supplies average power for a utility infielder. He's an above-average infielder at short and second, and average at third. He has an above-average arm. He's an average-ish hitter left-handed and an average-to-above hitter right-handed. He has above-average speed, and plus plus plus plus plus plus "Baseball IQ" and instincts. Edman is also one cool cat, as demonstrated during the Memphis playoffs last season. This part of who he is has also been on display during his brief tenure so far with the Cardinals, one that has seen him come through in the clutch a couple of different times already.
I'll maintain, even now while he's raking, that Tommy Edman is going to be a seven to ten year vet that ends his career with a wRC+ between 95-110. During most of those seasons, Edman is going to live in that range. He fits the utility role so well that, if deployed properly like Tony LaRussa used to use the utility player, he's going to have a 115+ wRC+ season somewhere along the line. There's also going to be a sub-100 wRC+, as well. Why? Because baseball, that's why.
To bring TLR back into this, Edman is the type of player that TLR would have gotten the best out of because he'd be used in the proper match-ups, while getting near-daily playing time all around the diamond. Edman is a good player and a daily contributor, when given the chance. I'm anxious to see how often he's given the chance once the lineup gets healthy. Edman is the ultimate utility player.
Prospect #5: 3B Elehuris Montero
Springfield Cardinals IL
Signed as an International Free Agent in August of 2014
Age 20
So far, 2019 has been a waste for Montero. He got off to a tough start at Springfield before getting hurt. Then, once he got off of the IL for the wrist injury, he basically went right back on it with a broken hamate.
Instead of gushing about my former #1 on the Dirty Thirty-Five, I'll sit here and pout about not being able to watch him adjust to, then destroy, the Texas League.
Montero was just starting to figure it out before his first IL stint, too. SUCH A SHAME.
NOW, Montero did get off to a brutal start at Springfield. That start had a lot of people worried. In his first six games, Montero went four for twenty-six with eleven strikeouts and no walks. If you expand the parameters an additional game, Montero struck out in 14 of his first 31 at-bats. And this was about the time that Montero really started to put it back together. The stats aren't over-whelming, but they show a positive direction. Over his last 12 games leading into the IL stint, Montero hit 255/327/447 with two home runs and three doubles over 52 plate appearances. He also only struck out 12 times in 52 plate appearances. He did this while taking five walks.
Sure, those numbers aren't great, and they're definitely a small sample size, but for a 20-year-old in the Texas League with some helium concerns, it was nice to see things headed in the correct direction. Trust me when I tell you that the at-bats were better. The contact was better. The approach was better.
Then came a 25-day IL stint. When Montero came off of the IL, he got off to a hot start, going 5-16 with two doubles and two home runs in four games. In his next three games, he went 0-8 with four strikeouts.
The the diagnosis of a broken hamate, and a potential eight week recovery time period that started at the end of May. Hopefully, Montero will get the final month of the minor league season to show what he can do. I'll go ahead and call it right here: Montero will be in the Arizona Fall League. The Cardinals' will have a 40-man roster decision to make about him this off-season, too. So, he's definitely headed to the AFL.
Now, one of the concerns with Montero is his defense. As I've said in the past, he reminds me of what we saw out of Albert Pujols when Pujols made his major league debut at third. That's to say, he's going to make nearly all of the plays that are right to him, and he's going to come up with some stuff that you might not expect him to (especially coming in on the ball), but it's not going to be an above average third base at any point. Montero does have a strong arm, and that helps him make up for deficiencies elsewhere. I will say, that he look better at third during 2019 than he did during 2018.
Montero is a big boy with a big bat and big skills. If he had been healthy, I probably would have left him as the #1 prospect in the organization. However, I do have extra concerns with the nature of the two injuries that he's sustained, and I worry about how it might impact his future. I'm obviously being dramatic and over-reactionary/worried , too. Hopefully he gets healthy and reclaims that spot.
Prospect #4: RHP Ryan Helsley
Memphis Redbirds
Drafted in the 5th round of the 2015 draft
Age 25 (On July 18th)
It's been documented that Helsley missed the last half of his 2018 season because of a shoulder fatigue issue. I don't know how that is effecting him now. We know for a fact that he needed a short little IL stint of two weeks, from the middle of June until the end of June. Obviously, that's a concern.
We also know that the Cardinals have done a poor job dispatching Helsley this season. He's been up and down between the Majors and AAA a few different times. He started the season in a hybrid starter/reliever role that was designed to piggyback starts. Then, the Cardinals bullpen needed reinforcements, so the Cardinals turned to Helsley. He was called up, but hardly used. So, he was sent back down to Memphis. This time, he was sent to the Memphis bullpen to be used in a multi-inning capacity as the Cardinals' began their search for a multi-inning bullpen stopper. He kicked-ass in that role, and was called upon by the major league team again. After being used once over a week, he was sent back down to Memphis with the intent of being stretched back out as a starter.
This is a lot to follow. I know. Let's take a quick break. OK. Break time is over. Let's get to the really fun part...
Helsley, who, at this point, has been jerked around over and over again the season after shoulder fatigue issues last season, is called back up to the major league bullpen. This time, after being stretched out as a starter at Memphis. After going a week without pitching, Helsley is asked to pitch on back to back days for the first time in his career. He had one more relief appearance, and that's what led into the IL stint.
So what I'm saying more than anything, and what I've been saying more than anything, is that Helsley has been terribly mismanaged by this organization since the start of this season. IF HE IS HEALTHY ENOUGH THEN HE SHOULD BE STARTING. PERIOD. If he isn't healthy enough, then he should be pitching out of relief. PERIOD. But going back and forth between the two, and doing it while sitting for a week at a time, is poor form and bad for a pitcher. It's not a coincidence at all that Helsley hasn't looked the same since coming off of the IL.
Helsley is one of the truly electric arms in the organization, and it appears, as of right now, that the Cardinals have misused the hell out of it. It's a damn shame, and it should cause them to rethink some of the practices that they are employing throughout the organization. Unfortunately, that's an article for a different day...
Even with the struggle and the misuse and the arm issues and the IL stint, Helsley has still been very good in 2019, especially out of the Cardinals bullpen. We've said it countless times at this point, but Helsley possesses three pitches that are above average in a curve and change, and fastball that can reach just under triple digits (and triple digits on the rarest occasion). His cutter gets a little flat sometimes, but it's mean when it's moving. This is the type of arm that should be nurtured and used properly, not kicked around like a can down the road.
We are just going to have to wait and see what is in store for Helsley for the rest of the 2019 season. I'll be sitting here, hoping for health and proper usage.
Prospect #3: 3B Nolan Gorman
Palm Beach Cardinals
Drafted 19th overall in the 2018 draft
Age 19
RESIST THE URGE TO FREAK OUT ABOUT GORMAN'S STRUGGLES AT PEORIA AND HIS ASSIGNMENT TO PALM BEACH. IT'LL BE OK.
ALSO, RESIST THE URGE TO ASSUME THAT GORMAN IS A STEP AWAY FROM THE MAJORS OR THAT HE'S GOING TO BE THE SAVIOR OF THE LINEUP.
After getting off to a blistering-hot start for Peoria that saw him hit 325/389/650 with six home runs, six doubles, and a triple in 90 April plate appearances, things really calmed down for the elite teenager. From May 1st until his promotion to Palm Beach on June 17th, Gorman slashed 199/323/348 with four home runs, eight doubles, and two triples in 192 plate appearances.
This was, in large part, due to how he was attacked. When Gorman was surging in April, pitchers were feeding him a steady diet of breaking pitches on the outside half/quarter of the zone. This allowed Gorman to sit on, and drive, the pitches that crept over the middle of the plate. It was right at about the beginning of May that the attack philosophy changed towards Gorman. Instead of getting the junk on the outside half, pitchers were starting Gorman out with fastball away, and following that with breaking pitches (and change-ups) low and in. Often times, Gorman would be swinging at pitches in the dirt. Over small stretches, Gorman would start to bust out of his slump, but it never maintained.
NONE OF THIS IS ALARMING. So, don't worry too much about it. All that it tells us is what we already knew. We knew that the Midwest League would be a tough assignment for an 18-year-old. We knew that Gorman was going to struggle against left-handed pitchers. We knew that he struggled against advanced pitchers. It's actually encouraging that he was taking as many walks as he was, even if he was striking out too much. We knew all of this was coming, even if we hoped it wouldn't. It's truly fine!! Gorman was still in the 99 percentile when it comes to the success rate of teenagers in the Midwest League! If anything, this is just another example of why you should never invest too heavily in thestats that are right in front of you.
Then, at the mid-point of the Peoria season, right after the Midwest League All-Star Game, Gorman received the promotion to Palm Beach in what is now clearly a scheduled and predetermined decision.
So far, Gorman has been fine in the Florida State League. He's striking out more and walking less, and he's doing it without displaying very little slug. Don't worry, it will come. As you know, the Florida State League is THE pitcher's haven of the minor leagues. On top of that, this is the level in the minors when the pitching-cream usually starts to rise to the top. Back in the day, a prospect like Gorman would skip this level. These days, with so many different ways to measure success from a StatCast/TrackMan/Rapsodo etc. standpoint, it's not as detrimental for a position player to spend time at Palm Beach. Just one year ago, 19-year-old Dylan Carlson handled the league well-enough. Plus, with Palm Beach/Jupiter being the Cardinals' head quarters, Gorman will get all of the instruction at third base that he can handle, and from the beloved Jose Oquendo, at that!
When Gorman is on, this is how pitchers throw to him. That's to say, they don't.
Speaking of his defense, there are times when Gorman looks like a surefire, well above-average third baseman. There are also times (and this seemed to coincide with his offensive struggles) when you worry that he is going to have to find a corner outfield position to man in the long term. I think what that tells us, above anything else, is just how difficult it is to be as young and inexperienced as he is at these advanced levels. I have faith that the times that he flashes above-average will become more normal than the times of struggle, with more reps. That's the perfect segue to the next point, and it's that Gorman is an incredible hard work and "baseball rat". I have all of the faith in the world that this young man will max-out all of his skills. He's too smart and dedicated and skill to fall short.
While his 2019 might seem like a mixed bag, I view it as a strong success. Gorman isn't putting up the gaudy numbers that we were all drooling over in 2018, but he is showing that he is capable of holding his own in leagues that are sharper and more refined than his current game is. I do worry that his power has dried up since May 1st, but I do expect it to blow back up when he catches up to the speed of the A+ level.
Prospect #2: Catcher Andrew Knizner
Memphis Redbirds
Drafted in the 7th round of the 2016 draft
Age 24
I feel like I've been writing about Knizner for forever. What I know for sure is, I was wrong to put some other prospects ahead of him on the preseason D35. I also know that I love the strides he's made behind the plate in 2018. He still gets a little stabby and sideways while trying to frame the outside pitch, especially to lefties, and maybe even a little more-so on pitches down in the zone, but every start it gets better and better.
And here I go bitching about the organization again....
I love that Knizner was added to the 40-man and brought to the big leagues while Yadier Molina was on the DL. I love that he got a start right away. What I didn't like is that he only played twice over a ten game period with the big club. Then, upon being sent to the minors, Kiz only played eight of the teams next thirteen games. I don't think it's a great idea to have your star catching prospect only play ten out of a possible twenty-three games. As a matter of fact, it seems counter-productive. Knizner is back with the big league club with Yadi back on the DL. It'd be stupid to use him as sparingly as the Cardinals used him the first time around.
When Knizner does play and is getting the majority of the reps at catcher, he's an impressive baseball player. He doesn't strikeout a lot, and he walks plenty. He has a great swing that is short and direct, and he gets terrific plate coverage with it. He uses his quick and compact swing to drive the ball to the gaps, especially the right-center field gap. He never tries to do too much with the ball and, aside from those elite heaters up in the zone that basically no one can hit, Kiz doesn't appear to have a "cold zone", per se.
In the past, I've asked to see more power for Knizner. That's because I believe that there's more power to be drawn from both his swing and his body. The 2019 season has been a positive step towards that. He's out-pacing his doubles total, and he's hitting more home runs, all without compromising his approach. Also of note, Kiz is hitting some absolute BOMBS at Memphis, not just the balls the sneak over the wall. It all appears to be coming together for this young man.
I don't have the slightest idea what the future holds for the Cardinals catching situation moving forward. Yadier Molina has expressed that he wants to play beyond his current contract, and that he expects to play his normal-majority if/when he is playing beyond that contract. What I do know is, Andrew Knizner will be able to handle whatever role that is thrust upon him. He has the brain and baseball IQ for it. He has the skill and the talent for it. Now, you just hope that we get to see it in a Cardinals uniform and not the uniform of, oh, say, the Arizona Diamondbacks as Yadi runs rough-shot on the catching position...
Prospect #1: OF Dylan Carlson
Springfield Cardinals
Drafted in the 1st round of the 2016 draft
Age 20
Truth be told, Dylan Carlson is everything. Everything that you'd want in a young man AND a prospect.
He's a switch hitting Stephen Piscotty, but with a higher ceiling.
He's a great corner outfielder that's turned himself into an IMPRESSIVE center fielder.
He's a great base-runner.
He's an unmatched worker.
He has elite baseball smarts or instincts or IQ or all of those things depending on how you define all of those things. He just understanding the game. And he comes from a great family, too.
Maybe more importantly than any of this, he appears to be getting better and better every day.
The Cardinals have challenged Carlson at every level, and he's answered those challenges admirably. The fun thing about Carlson is, we all knew that this 2019 breakout was coming, yet he manages to be more and more impressive each day.
And how did we know? There's a lot of talk about all of the stuff that I mentioned above. Couple that with what his peripheral stats were saying leading into the 2019 season. Add that to his natural abilities. Blah blah blah, yada yada yada. What I'm saying is, it just made sense that he was going to bust out.
The truth is, we knew it was coming because Carlson is just a special young man and a special baseball player. He's gotten better at every level, even though he's been substantially out-seasoned at those levels. He's constantly learning and adjusting and working and getting better.
Now, this isn't to say that his development is done, and that he should be inserted into the Cardinals lineup after the all-star break. He still could use time to refine and develop in the minors. There just might be a September call-up in his 2019-future (although doubtful), but there is reason to believe that a then 21-year-old Carlson will have every chance to break spring training 2020 with the Cardinals.
If he stays on his current developmental track, I have no doubt that he'll be ready for the task.
THANK YOU FOR READING AND COMING ALONG WITH US ON THIS TERRIBLE TERRIBLE AND POORLY WRITTEN JOURNEY!!!!!
FanGraphs is the hero that we both need and deserve, and their stats fuel these articles. Subscribe to their service, if you are able to. @Cardinalsgifs is my Knight In Shining Armour that came through with the gif's of Helsley and Knizner.
Thanks For Reading!!