Mid-Season Dirty Thirty-Five: Prospect #32
Since this is the mid-season write-up, it's just a quick overview of the player. When we get to the preseason re ranking in the offseason, they'll be a lot more involved.
All stats are current as of 8/4/2019.
All write-ups were published during all-star week.
Prospect #32: 1B/OF Leandro Cedeno
Peoria Chiefs
Signed as an International Free Agent in August of 2014
Age 21 (On August 22nd)


Entering the 2019 season, I had Cedeno as the 21st prospect in the organization. This was because of the tape measure-type power that he possesses and has displayed. I thought that he'd struggle to hit for average, and that he'd strikeout a little too much, but there wasn't a world in which I could imagine Cedeno's power evaporating. It was raw and loud and boisterous, and it was in the top-tier of the organization.
SO, of course, here we are four months later, and Cedeno has struggled to hit for power. The Midwest League assignment with Peoria is always a tough one for this type of player, but Cedeno's four home runs over 228 plate appearances is a huge let down. Even more of a let down, his walk rate has been cut in half as compared to 2018, from 8.5% to 4.8%. His strikeout rate in 2019 is 28.5%, which isn't too far off from what we expected. And, truthfully, it'd be a "fine" total if it was coming with matching power production.
During the preseason rankings, we also expressed our hope that Cedeno would play first base as often as possible. Because of his lack of range, speed, and reads, he's not ever going to stick in the outfield. Of course, Cedeno has primarily played in the outfield for Peoria in 2019. Personally, while he isn't a great first baseman either, I think that his offense would come a long way if he stayed at first, primarily. What I know for sure is, he's not going to stick in the outfield long term, and every rep out there is a virtual waste.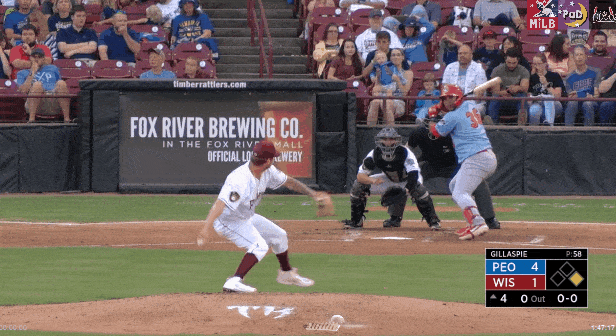 You'll also notice in the gif above that Cedeno uses a lot of his forearms to sort of "flick" the ball. He has somewhat of an unconventional bat-path because of this mechanic. Moving forward, I 'd love to see Cedeno incorporate more of his arms and upper-body into his swing.
With a big second half, Cedeno could easily creep back into the top 25. However, on his current track, even with the tough and aggressive promotion to Peoria to start the season, and with his power profile, 2019 is definitely a setback in the progression of Leandro Cedeno. Even with the offensive struggles, he's still a slightly above average run producer for Peoria. That should give you some indication of how good Cedeno can be when he's on. But one more time, Cedeno is just a terrible outfielder.
Thanks to Fangraph for the stats!
Thanks For Reading!!