The inevitability of a universal Designated Hitter has been creeping into the minds of many over the last few years. Now, the time has come — and, unsurprisingly, it's already ruffling feathers within the baseball community. This addition to the National League will undoubtedly be the biggest change the MLB has undergone in quite some time, and with change comes resistance. That's human nature. However, the time for debating is over; now, it's time for teams to adapt to the new normal.
Just in case you've missed the big news, it's been widely reported that, during the upcoming 60-game season, the National League will be required (or allowed, depending on your viewpoint) to use a Designated Hitter. What's more is that, with the upcoming CBA after the 2021 season, the likelihood of a permanent universal Designated Hitter is a near guarantee. Like it or not, the majority of fans right now desire more offense and less predictable at-bats that end with pitchers swinging at balls three feet off the plate. Fans are generally more pro-DH now than ever before. On the other hand, players also favor the Designated Hitter for a variety of reasons — namely, longevity for offensive players and safety for pitchers.
With all that being said, this leaves an open question for every single National League team: Who will be our DH?
Obviously, some teams are more prepared for this change than others. For example, the powerhouse Los Angeles Dodgers will likely have no issue figuring this one out. Of course, not every team is as stacked as the Dodgers are, and will be forced to get a bit more creative. The St. Louis Cardinals are one of those teams. Truthfully, with the departure of Marcell Ozuna and the trading of Jose Martinez, the Cardinals currently have no glaringly obvious options for this newly-implemented role, and will likely be forced to experiment a little in-season. However, that doesn't mean that we can't have a little fun here and see what we come up with.
So, where do we start? I've compiled a short-list of options that I like the most based on offensive and defensive numbers over the last few seasons. I'll be making my case for each option, and we'll reflect on which option makes the most sense at the end. Sound cool? Cool. Let's get started.
Dexter Fowler
The thing about Dex is that he's actually pretty decent offensively. Casting aside his admittedly-brutal 2018 campaign, his offense with the Cardinals has ranged from All-Star level to league average. For a team that'll be desperate to plug someone into the DH role while also giving Dexter some playing time, this could potentially make sense. Let's take a look at his most recent numbers from 2019 and see if using him as the designated hitter could be beneficial or not.
.238/.346/.409 slash line

103 wRC+

.326 wOBA

12.9 BB%

24.7 K%

19 HR
Not fantastic or anything, but serviceable. The thing I really like about Dexter is his BB%. In his 11-year career, it's never dipped below 11.3%, which is above average. There is some precedence for putting a guy like him near the top of the order (as Shildt did many times in 2019) to take advantage of his on-base skills. Another interesting thing about Dexter is his new-found power potential since arriving in St. Louis. In 2017 he set a personal best with 18 round-trippers. He then bested himself again in 2019 with 19 homers. That clearly isn't a tremendous amount or anything, but it's a fair amount for someone who doesn't sell out for power. Now, if he were given an entire season to exclusively hit, it would be interesting to see if that home run total might jump up a bit.
Also, Dexter isn't exactly a Gold Glove candidate in right field either. He's certainly better in center, but when you have guys like Bader, O'Neill and Thomas, there's really no need in using him there. In right field last year, he put up -5 DRS and -2.9 UZR/150. It might be worth using him as a DH just to improve the outfield defense. But beyond that, I do believe that Dexter could prove to be valuable with the bat in that role. Unconventional? Perhaps. But isn't that what makes Cardinals baseball special? They're not unfamiliar with doings things a bit differently and finding a way to make it work. Maybe it's time to test out some of that decades-old devil magic on the DH.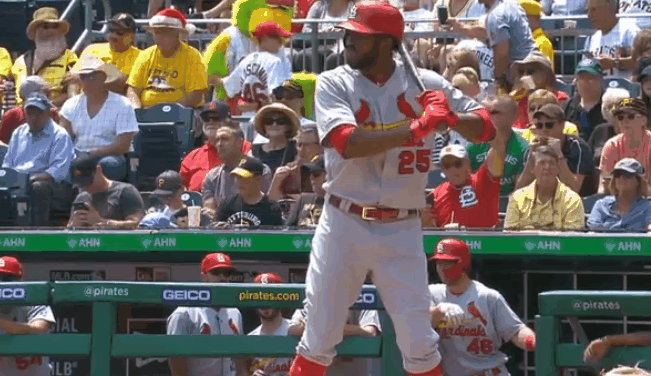 Brad Miller
I love this signing. Miller was on my short-list of players I really wanted the Cardinals to snatch from the free agent market, and I was elated when the news broke that they did just that. At the time, I saw him as the perfect guy to give players like DeJong, Wong or Carpenter days off here and there, as well as pinch hit in big spots. However, now that the entire landscape of the National League has shifted, it isn't a stretch to suggest that he may have found himself a loophole into the everyday lineup.
Once again, Miller is not exactly your prototypical DH, but on paper it does make a lot of sense. You see, Miller is left-handed, and if the last few off-seasons have taught us anything, it's that the Cardinals front office really, really wants another lefty in their lineup. Miller also had an impressive offensive run with the Phillies last year, posting a .263/.331/.610 slash line, along with a .383 wOBA and 137 wRC+. Put simply, he mashed.
Lastly, doesn't this just seem like the kind of odd move that the Cardinals would favor? Between guys like Tyler Greene, Pete Kozma, Jeremy Hazelbaker and Yairo Munoz, it's far from uncommon for them to play guys in unconventional roles and, on occasion and to everyone's collective surprise, reap the rewards. And hey, Brad Miller is actually pretty good! Even without the aforementioned devil magic, I could definitely see this working out in the long run, so long as Miller keeps a reasonably high SLG%. If he doesn't have that, then... well, onto the next one!
Rangel Ravelo
Knock me down? Hellooooo, good-bye!
In case you haven't seen the video, Ravelo decided to show off his power last year in Colorado with a ridiculous 487-foot bomb. That was the longest Cardinal home run since Statcast began tracking in 2015, and the second-longest home run of the entire 2019 season.
The guy has some pop.
But hey, it was one home run and it was at Coors Field. Is that really a reason to suggest he be assigned the role of Designated Hitter? Well, no. But his numbers in AAA heavily suggest that this wasn't exactly an outlier. He hasn't exactly been a power hitter in the minors, but he has been knocking the cover off the ball for quite some time now. Let's take a look at his numbers over his last three seasons in Memphis:
2017 (345 PA):
.314/.383/.480 slash line
.378 wOBA
125 wRC+
9.0 BB%
16.2 K%
2018 (399 PA):
.308/.392/.487 slash line
.389 wOBA
133 wRC+
10.5 BB%
12.3 K%
2019 (381 PA):
.299/.383/.473 slash line
.369 wOBA
111 wRC+
9.7 BB%
16.0 K%
As you can see, Ravelo's bat has been remarkably consistent since joining the Cardinals organization, even with a very slight dip in his 2019 production. Of course, there's never a guarantee that his offense will translate from AAA to the big leagues, but those numbers are certainly more potent than the ones put up by Fowler or Miller. Something else that intrigues me about Ravelo is his average Exit Velocity and Hard Hit% during his time on the MLB roster. Admittedly, it's an extremely small sample size (just 28 batted balls), but a 93.8 MPH average Exit Velocity and 50% Hard Hit% are both eye-popping. In a larger sample size, it'd be interesting to see if these two particular stats would even come close to reaching such highs.
It's also worth noting that Ravelo had a deal in place to leave the Cardinals organization in order to join a Korean ball club, but once the news broke that Jose Martinez had been traded, the Cardinals quickly made it clear to Ravelo that he very much had an opportunity to earn a spot on the big club. The Cardinals saw value in his bat off the bench, just as they did in Jose Martinez. Now, that value has an entirely new and more important role in the DH. It would not surprise me in the slightest if Ravelo was their choice. It'd be a great decision if they went that route.
We're not done yet, though. There's still one more name left on our board.
Matt Carpenter
Carpenter, in my eyes, is the option that makes the most sense. He checks all of the boxes. First off, he's a great hitter. Not "good". Great. One season does not define a player, and prior to 2019 he was legitimately one of the most underrated players in all of MLB. Second, he isn't the greatest defender at third base. He isn't bad by any means, and actually had above average numbers last year, but Tommy Edman is definitely more suited for the hot corner defensively. So, what's the catch? Well, unfortunately, it's his reputation.
Somehow, the Cardinals fan base — along with certain media members — seem to have a strange, skewed view of how Matt Carpenter has performed over his career. Depending on who you have the misfortune of talking to, the arguments range from, "He's never been good!" to "His only good year was 2013!" and everything in-between. Trust me, those aren't exaggerations, they're real things that real people have said. Honestly, I'm not sure why fans continue to disregard Carpenter as a legitimate threat at the plate, especially considering his extensive resumé as a Cardinal. Let's peruse that resumé, shall we?
Let's start with his 2019 season, since that's where a lot of this unwarranted hatred stems from. Yes, obviously he was bad last year. Not as bad as many might think, but definitely not great. Below average would be the best way to describe it. The following are some of his 2019 offensive numbers:
.226/.334/.392 slash line

.315 wOBA

.332 xwOBA

95 wRC+

12.8 BB%

26.1 K%
Clearly, the worst season season of his career by far. He struck out the most he ever has and overall just didn't perform to expectations. However, although he was indeed below average, he was not 2018 Dexter Fowler. Not by a long shot.
You may have noticed that his wRC+ was 95 (just 5% below average), or that his BB% was 12.8 (top 10% in the league), or that he had a .334 OBP (6th on the team). What's more is that Baseball-Reference and FanGraphs both placed Carpenter's 2019 Wins Above Replacement (WAR) at 1.2. That's a positive 1.2, not negative, which means that contrary to popular belief, he did not negatively impact the 2019 Cardinals. So, was his 2019 season bad? Sure. But, was it horrible? Absolutely not. More importantly, does it seem productive to use one below average year as a crutch to define the career of a player who has been well above average every single other season of his life? This is the point where I get to show you just how good Carpenter has been all these years, and why if you think he hasn't been, you're flat out wrong.
I'm a big proponent of using two or more seasons rather than one to dictate a trend in a player's overall production, so instead of focusing on an obvious outlier like 2019, let's look over Carp's combined numbers from 2017-2018.
2017-2018 (1,299 PA):
.250/.379/.489 slash line

.368 wOBA

.388 xwOBA

132 wRC+

16.2 BB%

21.8 K%

8.2 fWAR
He was arguably a top-20 hitter in MLB during that span, and definitely top-25. Why should one season ruin anyone's perception of what is clearly an elite hitter? It shouldn't, and to argue otherwise would be foolish. The simple fact is that Matt Carpenter has been a fantastic hitter over his entire career, and he should absolutely get a real opportunity at a starting job. Whether that's as a DH or a third baseman, it doesn't matter. He's earned it. Now, if he continues to slip down into a hole offensively, then you obviously have to adapt on the fly and change things up, but to completely ignore him as an option altogether would be mismanagement. I trust that he'll indeed get an opportunity, and I also trust that he won't squander it. He's been too good for too long to assume that he would be anything less than above average.
The Verdict:
Those are all the legitimate, best-case options we have on our current roster. Some may have expected Tyler O'Neill to be a part of the list, but his defense is far too valuable to waste in a DH-role in my opinion. Another name that comes to mind is Yadier Molina. I could see Yadi taking a day off from catching here and there to fill in at DH, but that's just too small of a sample size to discuss in depth. Yadi will spend at least 90% of his games catching, no doubt about it. Other names like Dylan Carlson, Lane Thomas and Edmundo Sosa might get thrown around a bit, but I would venture to guess that none of them will get an opportunity at the job. Not due to lack of talent obviously, but instead due to their defensive prowess. If Carlson or Thomas are playing, it's going to be in the outfield. If Sosa is playing, it's going to be at shortstop. That only leaves staples such as Wong, DeJong, Goldschmidt and Edman, all of which will ideally be fielding their respective positions (with the exception of Edman, who will presumably be fielding all positions at once).
As stated above, my clear-cut preference for the DH is Carpenter. While Ravelo is a fantastic option and will most certainly get a long look for the spot, Carpenter already has the experience and proof that he can hit at an elite level. Ravelo doesn't have that under his belt just yet, and allowing him extensive time to try and prove it in-season could backfire if he isn't up to task, especially in a 60-game season. Just like every other season, every game matters, only this time that saying is actually true. There will be 102 fewer games this year, and wasting time just isn't an option.
My point is, go with the devil you know, not the one you don't. Carpenter has been that guy for a long, long time now. Ravelo will get his chance down the line, as he should, but right now, your best shot at having a DH that will positively contribute to yet another playoff run is Matt Carpenter.
As always, thanks to FanGraphs, Baseball-Reference and Savant for providing access to all stats used in this piece and shoutout to @veryonlinejoel for editing it, and a huge thanks to @cardinalsgifs for the great cover photo.