Game 9 Recap - Padres vs Cardinals
Updated: Apr 9, 2019
Waino dials in vintage form, strikes out nine, Cards salvage sweep 4-1
Adam Wainwright was insane today. He looked like he had something to prove, and he proved it through 6 innings of 1 run ball vs Manny Machado and the Friars.
Waino was dialed in with his ole Uncle Charlie, changing velocities on his curveball in an unbelievable fashion. In fact, with the help of @stlfanbc7, Waino ranged from 72-79.2mph on the curveball today, with only TWO put in play. And that wasn't it. He was locating his cutter and sinker pretty darn well, too. Waino even touched 93mph, all in all, this Waino could be a nice piece for the Cardinals.
The Cardinals would fall behind early in this one, as Hosmer delivered a two out, two strike, RBI single into the outfield on a full count. Manuel Margot scored on the play, after doubling to Bader in RCF to kickoff the inning, making it 1-0 Padres. Margot would eventually move up to 3B on an error on a pickoff attempt from Yadi, as the throw would get away, tipping off DeJong's glove into the outfield.
Outside of that, and I won't even hold it against him, Waino was brilliant thru his 6 innings of work this afternoon. Uncle Charlie would strikeout NINE Padres, while walking NONE. It brought a tear to my eyes, not gonna lie. My favorite strikeout had to the his sixth of the game, facing Machado, getting him to whiff at a curveball low and outside. Okay I lied. My favorite strikeout was his final one, getting Renfroe on a full-count offering, swinging at a curveball out of the zone on the outer part of the plate.
Waino's final line: (6IP, 5 hits, 1r/1er, 0 bb, 9 k's, 100 pitches)
This is how I feel about Waino being GOOD
So, let's get to the runs.
Matt Strahm faced the minimum through the first three innings, only recording one strikeout, the final out of the bottom of the 3rd on Waino. Harrrrry Bader was the only Cardinal to collect a base hit through those first three frames, ripping a leadoff double down the LF line to start the bottom of the 3rd. Unfortunately, Bader would get thrown out, caught stealing 3B for the second out of the inning, with Waino at the dish.
But Harrrrrry would make up for that little blunder, playing some magnificent defense in the 4th inning, holding Renfroe at second base after a leadoff double. Reyes would fly a ball to RCF and Harry would get behind it perfectly, throwing it back in quickly, keeping Renfroe put. But with Tatis flying out to Bader next, Renfroe clearly didn't learn a lesson, testing the arm of Bader. Harry delivered a strike to Carp at 3B, who put down the tag on Renfroe to end the inning on the conventional, 8-5 double play.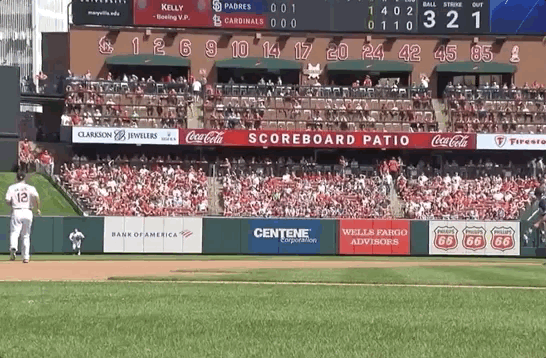 Bader with pinpoint precision
But the Cardinals would make up for not cashing in next inning, as leadoff guy started the inning drawing that free pass to bring in Goldy. Goldy would have some luck on his side, as he would reach base, advancing to 2B on a missed catch error by the LF Hunter Renfroe, putting runners on the corner for Pauly Deez. Deez would deliver, yanking a 2-run double into LCF, driving in Carp and Goldy to make it a 2-1 Cardinals advantage vs Matt Strahm.
It feels good when it isn't us
The Cardinals bullpen would work three scoreless innings to secure the first win at Busch Stadium in 2019. John Brebbia (1.1IP, 1 hit, 1 bb, 1st hold), Andrew Miller* (.1IP, 2nd hold), and Jordan Hicks (1.1IP, 1 bb, 3 k's).
Before Hicks came in for his 1st save of the new campaign, the Cards would add two more insurance runs to the board, extending the lead to 4-1. KoWo and Cafecíto (first at bat replacing Fowler during a double switch) would knock back-to-back singles on Adam Warren to flip things to the top of the order, and Carp. Left-hander, Aaron Loup*, would get the pleasures of pitching to Carp, as Carp would line a sac-fly to Renfroe in LF to make it a 3-1 game.
KoWo brought some more satisfaction late in this ballgame, with a dazzling play going back on the outfield grass to take away a blooper from Tatis Jr, and his marvelous bunt with two outs in the 8th vs Erlin* to score Yadi to make it 4-1 Cardinals.
Kowo is feeling himself
Jordan Hicks came in throwing darts, earning his 1st save of the season, tossing a scoreless 1.1 innings, walking one, striking out three. And my, oh my, was the slider sliding all sorts of nasty today. Hicks recorded all three of his strikeouts on the improved slider, or maybe it's just he's throwing it at a higher clip and it was always this good (though, I don't think that's the case). Hicks got the final out of the 8th vs Machado, having him reaching, looking silly on an outside slider. What was cool about this, Machado gave Mr. Hicks a little tip of the cap with his batting helmet, letting him know, "you got me."
a tip of the cap to ya
After surrendering a leadoff walk to Renfroe to start the 9th, Hicks would go shutdown mode, retiring the next three. Getting Reyes swinging at a slider and Tatis Jr. looking at a high and tight slider offering. Hedges would ground out to DeJong for the final out, as the Cardinals would hold on to win their first game at Busch, 4-1.
Top 3 Plays
3.) Harry's defense in the 4th inning
2.) Pauly Deez and KoWo providing the offense to put the Cards on top
1.) Waino dazzling, delivering a quality start for his first win of 2019
The Cardinals (4-5) welcome the Dodgers (8-2) to town next, matching up for a four-game set starting tomorrow evening. The Lizard King (0-1, 7.20), freshly shaved to my disapproval, will get the ball for the third time, facing off against a tough lefty, Hyun-Jin Ryu* (2-0, 2.08). First pitch at 6:45pm c/t.
Cheers, Stew