Mikolas Goes Seven Strong Fourth Time In a Row, Pham's Three Run Shot Powers Cards Past Cubs 3-2 In Series Opener
Game 30 Recap vs Cubs
Mikolas continued his lights-out efficiency tonight, throwing 95 pitches (67 strikes 71%) through 7 shutout innings.
Mikolas, paint me as shocked, walked zero batters, keeping his season total at two.
Mikolas' evening started with a leadoff single to RF from Ben Zobrist.
Kris Bryant would come up next, battling with Mikolas for a seven pitch at bat, eventually striking out on a slider up in the zone.
Mikolas then forced Anthony Rizzo to ground into a fielder's choice, 3-6, with a throwing error on Paul DeJong on the return to Mikolas covering at first base.
Rizzo advanced to second on the play.
Mikolas would strand Rizzo, forcing Cubs cleanup hitter, Contreras to ground out 1-4-3 on the play.
The Cardinals would put (5/9) on base their first time through the lineup vs Quintana.
Falling short in the 1st, stranding Cafecíto and Ozuna on base.
After walking, Matt Carpenter would be thrown out at home plate on a Swags Ozuna single to LF.
Carpenter would be thrown out by Kyle Schwarber on the play.
Tommy Pham wouldn't let a big opportunity pass him up in the bottom of the 2nd inning.
Fowler and Gyorko would lead the inning off, both getting on base. Fowler would reach on an error by Javier Báez and Gyorko would reach on an infield single.
Quintana would bounce back, getting DeJong and Mikolas out in back-to-back at bats, bringing up Pham.
Wham. Bamn. 3 Run Bomb. Tommy Pham
On a 2-0 pitch, Pham would get a fastball middle-in and drive it (105mph) to deep LF (412 feet), over the Cubs bullpen in fact for a 3-run HR, giving the Redbirds the early 3-0 lead.
That was all Mikolas needed to secure the victory (bag) for the Cardinals.
Mikolas kept the Cubs off-balance all night long, mixing in his repertoire well.
Mikolas wasn't afraid to attack batters inside tonight with his fastballs, no matter if it was a lefty or righty.
Mikolas would throw (27) 4-seam fastballs and (19) 2-seam fastballs, while mixing in (29) curveballs and (18) sliders.
Mikolas would go on a stretch of retiring (9/10) of the next Cubs batters he faced.
The only batter getting on base being Schwarber, on a Cafecíto fielding error.
With one out in the top of the 5th, Mikolas would give up back-to-back hits. Javier Báez would hit a single to RF and pinch-hitter, Ian Happ, would lace a double down the RF line.
Mikolas would buckle down, striking out Cubs leadoff hitter, Ben Zobrist, looking on a 96 mph fastball on the inside corner.
With the always dangerous Kris Bryant, Mikolas would force him to ground out 5-3, stranding runners in scoring position.
Some offensive positives, since the offense decided to take the night off after Pham's bomb:
Swags Ozuna (3-3) with a walk, he seemed smooth at the dish tonight, really relaxed and through the zone with his swing.
Dexter Fowler, although he would strikeout in his last at bat, would reach base three times tonight, scoring a run.
Fowler walked two times.
Cafecíto (2-4) hit the ball hard all night, what's new? Martínez would hit singles his first two at bats, getting robbed by Cubs CF, Almora in the 7th inning.
Mikolas would start the 6th inning giving up an infield single to Rizzo.
He would follow that retiring the next five batters he would face, striking out Almora for his fourth strikeout of his appearance to end the 6th.
After recording two quick outs to start the 7th, Mikolas would give up a pinch-hit single up the middle to Caratini.
Caratini would be stranded on a Zobrist fly ball to Ozuna.
The Cardinals would threaten to add on to their 3-0 lead in the bottom of the 7th inning.
After reliever, Justin Wilson, got Carpenter and Martínez out, he would give up back-to-back singles to Swags and Yadi.
Fowler would come up with runners on the corners and be Wilson's second causality via the strikeout, standing two.
Mikolas found himself back out on the mound to start the 8th inning against Kris Bryant.
Bryant would take an 0-2 double to RF, drawing the end of the line for Mikolas.
Lizard King's Line: (7 IP, 7 hits, 0 runs, 0 bb, 4 k's, 72 game score)
Tyler Lyons would be called in to face the lefty, Rizzo.
Lyons would win the battle getting a fly out to RF.
Matheny would go back to his 'pen with Contreras coming up, going with Dominic Leone.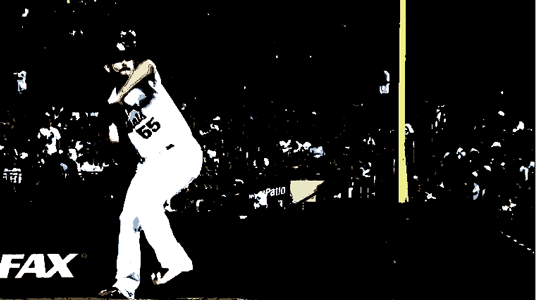 Leone leaves after 2 warm up pitches. On May the 4th be with you night. Which isn't star wars night, I know, but still.
While throwing his warm up pitches on the mound, Leone would suffer cramping in his right bicep, taking him out of the game before he could even throw a pitch.
This made things interesting.
Luke Gregerson would get the call.
Gregerson would get Contreras to strikeout on the sixth pitch of the at bat, a slider down and away.
Gregerson would stay in to face the lefty, Anthony Schwarber, getting an inning ending groundout to the new first baseman, Matt Carpenter.
Bud Norris' 7th save wouldn't come easy tonight.
After giving up singles to Almora and Báez, Norris would face the third Cubs pinch-hitter of the game, Tommy La Stella.
La Stella would hit an RBI single to CF, bringing in Almora.
The Cubs were (3-3) pinch-hitting on the night, with an RBI and a double.
Following the RBI single, the top of the order was due up, bringing in Zobrist.
Zobrist would ground into an RBI 6-4 fielder's choice, scoring Báez.
With two outs, Kris Bryant would be coming up representing the go ahead run.
On an 0-2 pitch, Norris would jam Bryant with a 2-seam fastball in on the hands, getting him to ground out 5-4 to Gyorko on the fielder's choice.
Yeah Buddy!
The Cardinals would skate by, holding on to win game one against the Cubbies 3-2. Their third straight win of 3-2 against a team from Chicago.
Luke Weaver (2-2, 5.17) will look to rebound his recent struggles as he faces off against Tyler Chatwood (2-3, 2.83).
First pitch at 1:15 c/t.
Thanks for reading, cheers!
Game 30 is "in the books" by Stew Stilez