Weaver's Early Struggles Doom Cards, Late Comeback Falls Short, Split Series 1-1
Harrison Bader journeyed quickly around the bases to score the first run of the game in the 1st inning, giving the Cardinals an early 1-0 lead. Bader reached base after being plunked by a Lester pitch and stole second base in no time. Bader advanced to third base on the steal, after Contreras throw would hit him and go into CF. Matt Carpenter smoked a line drive to second baseman, Javy Báez, catching Bader in no man's land, between third and home. Báez rushed his throw to third on the lineout, throwing it past Bryant for an error, Bader would not advance. With "Swags" Ozuna at the plate, Lester would throw a wild pitch, scoring Bader. Lester then struck out Ozuna looking to end the inning, giving up a run on no hits, classic Cardinals.
Luke Weaver would struggle, given the early lead. After retiring Almora to leadoff the game, Báez would hit a triple to RF. Kris Bryant proceeded with an RBI-single to tie the game at 1-1. Anthony Rizzo smoked a single into CF, the third Cubs hit in a row. Weaver snagged his first strikeout of the game, facing Contreras next. But Schwarber would keep the inning rolling, lacing an RBI-single into RF, giving the Cubs the lead back at 2-1.
The Cardinals bats wouldn't collect their first hit of the game until the 5th inning, a single from Jedd Gyorko.
Luke Weaver's struggles escalated his second inning of work. Weaver would allow: 4 runs, 5 hits, and a HBP in the inning. Jason Heyward started the inning off with an opposite field single to LF. Lester would move him to second base with a sac-bunt. Leadoff hitter, Albert Almora, would drive in Heyward on an RBI-single to RF. Javy Báez continued the trend, hitting a single to RF for Kris Bryant. Bryant would come through, delivering a sac-fly to deep CF, scoring Almora. Anthony Rizzo would keep his bat hot, drilling a single through the infield for an RBI-single. Weaver then hit Contreras with a pitch, bringing in Kyle Schwarber. Schwarber would take a pitch to the opposite field for an RBI-single, scoring Rizzo. The nightmare inning for Weaver would finally come to an end after a Russell groundout, stranding two runners.
The Cardinals bats would hit the ball hard over the next couple of innings, to no avail. Luke Weaver would also settle in over his last two innings, to no avail.
Matt Bowman would come in to throw the 5th inning, making his 9th appearance of the season. Bowman lacked command, essentially, his entire 1.1 innings pitched. Bowman got a quick, hard, groundball out of Schwarber to start his inning. After allowing an infield single to Russell, Heyward world tag Bowman, sending a 2-run bomb to RF for the the 8-1 Cubs lead.
So, let's talk about some positives from this point of the game forward. Number one being, Luke Gregerson. Gregerson would make his season debut today, finding himself in a tough situation. With the bases loaded and only one out, Gregerson would force Addison Russell to ground into a 6-4-3 double play. Number two, although he allowed another walk(La Stella), Greg Holland. Holland pitched a clean 7th inning today, collecting a strikeout(Almora) along the way.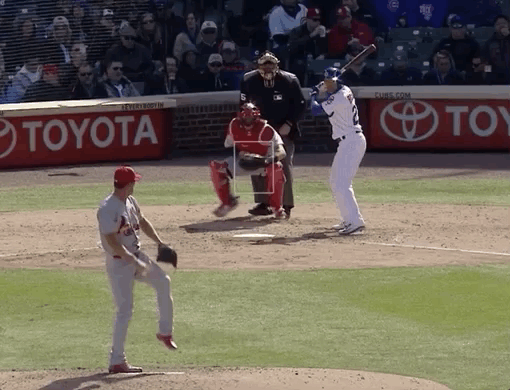 Before Holland was called upon to make his fifth Cardinals appearance, the Redbirds would strike for a 4-run 7th inning, making things interesting at Wrigley, still trailing 8-5.
Joe Maddon went with Eddie Butler to open the inning, bringing Lester's day to an end. A relief for Cardinals batters, I'm sure. Butler would only face four batters, allowing all four to reach base. Cafecíto got it started with a leadoff walk, bringing up pinch-hitter, Francisco Peña, for Yadier Molina in a seven run game. Peña would single to RF, putting pressure on Butler. Jedd Gyorko would dribble an infield single, his second hit of the afternoon, to load the bases for Paul DeJong. DeJong would deliver an excellent plate appearance, making Butler walk him on ten pitches. Martínez would come in to score on the walk, making it 8-2. Maddon had seen enough, the manager made the move to go with side-winder, Steve Cishek. Cishek would come in facing a bases loaded situation, and a left-handed batting, Kolten Wong at the plate. Cishek would run a pitch too far inside, nicking Wong's jersey for a HBP & an RBI. Dexter Fowler would try and change his luck, hitting a ball deep in the hole between SS and 3B. Russell would make a stellar play getting the force out at second, but Báez would throw the double-play past Rizzo at first, his second error of the game. Two runs (Gyorko & DeJong) would come around to score on the play.
The Cardinals would strand two base runners in the 8th inning, turning the pen over to Dominic Leone. Leone would work trough the heart of the Cubs order efficiently, allowing a single to Rizzo with no further damage.
One final shot came down to Wong, Fowler, & Bader vs Cubs closer, Brandon Morrow. The closer would get two quick outs before sitting Bader down looking to end the game, 8-5.
A few notes: Ozuna is (0-13) with 5 strikeouts, 2 walks, & 2 RBI's his last 13 at bats. Tyler O'Neill made his major league debut today, pinch-hitting for Luke Weaver in the 5th. O'Neill would strikeout on a curveball from Cubs starter, Jon Lester.
The Cardinals (10-8) welcome the Reds (3-15), minus Bryan Price, to Busch Stadium for a three-game, weekend series. Michael Wacha (2-1, 5.52) will battle against lefty, Brandon Finnegan (0-1, 10.38) to get the series started.
Thanks for reading, cheers!


Stew's scorebook