Cardinals Top 30 Prospects: Prospect #13
In conjunction with my friend Colin Garner over at The Redbird Daily, we present to you our combined list of the Top 30 Prospects in the Cardinals organization! Every other day for the next two months, From January 28th until March 29th, we will be presenting you with an exhaustive evaluation on each of the top 30 prospects in the organization starting with prospect #30 and counting down to prospect #1. This is our combined list, not our own individual lists. For additional information on how we came these rankings, CLICK HERE. Without further delay, we present...
Prospect #13, OF Oscar Mercado
Age To Start The 2018 Season: 23
Drafted In The 2nd Round Of The 2013 Draft
2017 wRC+: 114
Kyle Reis (Prospect #14 On Personal List, Prior To Combining Lists With Colin Garner)
There's only one place to start with Mercado and what there is to like, and it's the first half of his 2017 season. Oscar was a member of team Panama during the 2017 World Baseball Classic and I really believe that help to catapult him to early success during the 2017 season. Mercado was downright impressive for the first three months of 2017.
Springfield put Mercado on the DL for shoulder soreness on June 30th. Before that, Mercado was magnificent during the first three months of the season. In 326 plate appearances he hit 321/375/468/844 with 8 HR, 12 Doubles, 4 triples, and 27 stolen bases in 37 attempts. That's a dominant three months of hitting. Even more impressive, he did this while anchoring the top of the lineup.
There's more to like about Mercado than his first half production. The kid has a plus arm and he's the best center fielder in the organization. Mercado is the best all-around outfielder in the organization. Even more-so than Harrison Bader, who many
are high on as a CF (we'll get to that in a few weeks with our Bader write up). That's an incredible feet, too, because he's only been playing center field since August of 2016. The ability to take to a position change so fast and to do it so well is a great sign of athleticism and intelligence.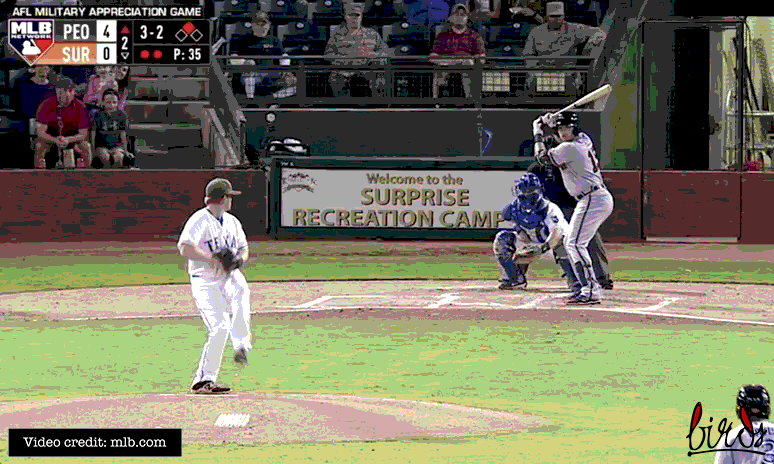 His intelligence was on full display during the Arizona Fall League, too. Mercado entered the Arizona Fall League intent on improving his pitch recognition and plate discipline. The stats say that he succeeded. Mercado was among the league leaders in pitches per at-bat. He did strike out 18 times in 102 plate appearances, but he also walked 14 times. This also goes to illustrate how unreliable winter league stats can be. Mercado didn't do any slugging in the AFL but he wasn't trying to. He was trying to work counts and see pitches. He was trying to take walks. He accomplished that goal and he'll be a better hitter moving forward because of it.
Mercado can also steal a base, which means that he possesses one of the rarest tools in the organization. In 2,002 career minor league plate appearances he's swiped 159 bases. He's also been good for a 69.7% stolen base rate over that period. He even led the Texas League in stolen bases during the 2017 season with 38. That was eight more than second place.
What I don't like about Mercado is that he has four season and two months worth of minor league struggle that make you question if the three months of lights-out hitting were an aberration.
As I mentioned before, Mercado went on the DL for a shoulder issue on June 30th. When he came back on July 12th he was just a shell of his first half self. In 197 plate appearances from July 12 to the end of the season Mercado slashed 230/284/360/644 with 8 doubles, 0 triples, and 5 HR. He did have 19 at-bats in September that yielded him a .368 batting average and a HR, but he just never seemed to settle in once he was taken off of the DL.
Which brings us to our next concern, the shoulder. It's the left shoulder that sent him to the DL, not his throwing shoulder. That's good. However, it'd be ignorant to ignore or write off the statistical drop off after the injury. He had more than a .100 drop off in slugging from the first three months over his last two months. That's troublesome. I'm very happy with what he accomplished in Arizona and I've already addressed the lack of slugging percentage there. But the .322 slug tracks more along the lines with his second half and it does enough to make you question if and how the slugging is going to come back.
What I'm saying more than anything is that I still don't know exactly who Oscar Mercado is. Mercado should start the 2018 season in Memphis. That should help his slugging percentage a little. A hot start at AAA would go a long way to snuff out some of the concerns that I have in regards to Mercado.
If I'm comparing Mercado to anyone it's San Diego Padres outfielder Franchy Cordero. Now, that probably won't do you any good because Cordero only has 92 at-bats at the major league level. But it has to be Cordero because both have been on a similar path. Both have transitioned to the outfield from the infield. Both didn't start hitting until they went through the position change. Both have the chance to be plus defensive outfielders. If Mercado's 2017 first half becomes a trend instead of an outlier, he'll end up David DeJesus-esque.
As always, these articles can't be done without Fangraphs and Baseball Reference. They are equally as reliant on the skills of Cardinalsgif's and NChill17. It's a pleasure to do this list with my friend Colin Garner at The Redbird Daily.
And please remember to check out my colleague Colin Garner's write up of our #13 Prospect (Colin's personal #11 prospect, prior to combining lists) over at The Redbird Daily right HERE!!!
Thanks For Reading!