Cardinals Minor League Rankings: Outfielders
THE LEAD-IN
Welcome to the offseason!!
The offseason means that we have nothing better to do with our time than to make and read both dumb and subjective lists!! Hooray!
And who does dumb and subjective lists (with no bearing in reality) better than anyone? That's right, it's Bleacher Report!! I'm somewhere down on that list, but I'm going to do it anyway because I'm tired of letting Cardinalsgifs down, and I hate being the guy that isn't doing anything for Birds On The Black.
As you might have guessed, I'm going to be doing these rankings my way. There will be some rookie-eligible players that are omitted from the list. I'll talk about those 'GRADUATES" before we get into each individual listing. With some of these, I'll throw extra players into the fray for the hell of it.
Also, the lists are going to be a little different. The Cardinals have gone out of their way to turn individualized infielders into utility infielders. SO, instead of ranking the second basemen and shortstops separately, I'm going to group that unit into one. There might be a 3B or two sprinkled into that mix, as well.
Also, I truthfully didn't know what do with the 300 pitchers that the Cardinals drafted during the 2019 draft. So, instead of including them into the SP or RP pitching rankings, I'm going to break them off into their own category.
"This is my world, my world, and those ancient people are dead."
Remember, these rankings are mine and mine alone. They are very subjective, and they will be brief. The re-ranked Dirty Thirty-Five will be just a few months away. When we get to that, we'll go back to being as objective and in-depth as possible.
Until then, let's have some fun! Discourse is both welcomed and encouraged. And remember, just like with my own opinions, your opinions are worthless!!
A WARNING ON THIS ONE: IT GETS SUPER WEIRD AFTER THE BEGINNING OF THIS LIST. IT'S BECAUSE OF HOW RAW TREJYN FLETCHER IS. HE WILL BE HIGH ON THE DIRTY THIRTY-FIVE EVEN IF I DIDN'T HAVE HIM SO HIGH HERE. HE SHOULD BE 4th ON THIS LIST. THIS LIST IS DEFINITELY A GROUPING IN ORDER OF HOW I LIKE THEM, AND IS OBVIOUSLY BIASED.


LET'S GET TO THE LIST!!!
THE OUTFIELDERS
GRADUATE: Lane Thomas

– Age 24 - Memphis & St. Louis
It's been pretty well documented by this point that I don't do math well. I don't "know" numbers, exactly. What I do know is that Lane Thomas has 38 plate appearances at the major league level, which is at least 14 fewer plate appearances than games he was available to play in with the big club. I'm pretty sure that it was even more PA's than that, but I'm not going to push my luck.
Anyway, Lane Thomas has the potential to better than both Dexter Fowler and Harrison Bader, and he's going to sit on the bench (or down at Memphis) to start the season again because Cardinals finna Cardinals.
Anyway, he's graduated off of the list. I'm getting whiny about this, so that's where I am going to stop in regards to Thomas. I have plenty more to say during the podcast.
HERE IS THE LIST
#1: Dylan Carlson

- Age 21 - Springfield & Memphis
He's excellent, guys and gals. Like, REALLY EXCELLENT.
Here's where I start to feel trapped, though. I really don't know what to say that hasn't already been said about Carlson at this point. He's smart enough for the majors. He's talented enough for the majors. He's dedicated enough for the majors. He's good enough for the majors. He's developed enough for the majors. He's strong enough and conditioned enough for the majors, regardless of whatever in the hell the organization gave as their reasoning for keeping him out of the AFL.
He's the best hitting prospect that the Cardinals have had since J.D Drew. Yes, he's better than Colby Rasmus as a prospect. Oscar Taveras, too. See also; Brett Wallace, Kolten Wong, Stephen Piscotty, etc.
The above statement isn't hyperbole. It's a fact. As most of you know, I'm not one to buy into the hype. The last time that I bought into a player that was getting this kind of hype was Jack Flaherty entering the 2018 season. So, to clarify, what I'm trying to tell you is that Dylan Carlson is the same type of prospect with the same kind of potential major league stardom as Jack Flaherty seemed to promise entering the 2018 season
As we said about Flaherty at that time, Flaherty had a chance to be this generation's Adam Wainwright or Chris Carpenter. Carlson has the chance to be this generation's Ray Lankford (I couldn't help myself) or even Yadier Molina.
Carlson has turned himself into an average-to-above center fielder, even if he does need just a tab bit more work out there. He should be the opening day right fielder for the Cardinals, if we are being honest with ourselves. He's a plus-flashing right fielder, no doubt about it. Still, they're paying Fowler, and Shildt and Mozeliak have a love affair with Fowler (who is deservedly higher on the pecking order), so he'll probably get a less than fair shot to be the opening day left fielder for the Cardinals. He'll be fine in left field if that's where he ends up, but it is the position that he is least comfortable and has the least experience at.
The switch-hitting Carlson is everything that you could want out of a prospect. We are in for a treat when the Cardinals eventually turn an outfield spot over to him. It might take him a minute to adjust before he really flourishes, but he'll be raking before you know it.
#2: Randy Arozarena

- Age 24 - Springfield, Memphis, & St. Louis
Much like with Lane Thomas, I find myself annoyed by how little Randy was used when he was called up to the majors. Not nearly as annoyed as I am by the handling of Lane Thomas, but close. Also, I couldn't decide if I wanted to add Arozarena to the "Graduates" list or keep him on the primary listing. Ultimately, I decided that I wanted to put Randy on the primary list because I love him, and because he's hardly had any major league exposure.
Randy was the best hitting prospect within the Cardinals organization during 2019, this side of Dylan Carlson. I don't think that there's any doubt about it. He's capable of working both counts and the entire field. Arozarena is at his best when he's perched at the top of a lineup, as well. The Cardinals could really use all of these things.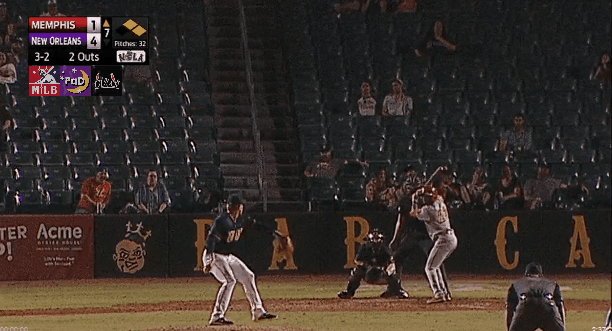 There are some weird moments at the plate for Arozarena. It seems like he gets a little jumpy with right-handed pitchers that throw three quarters. He can get over-aggressive when he wants to do damage, too. However, when he is settled in at the plate, he's really impressive to watch. His power stats were aided by the change to the ball at AAA, and I estimate that about four of his twelve home runs at AAA wouldn't have been home runs if they were using the AA baseball (I watched each and every one of his home runs to come to this conclusion). That being said, those balls still would have gone for extra-base hits, so we can't be too mad or judgmental about it. Between AA and AAA, and this isn't an exact science because it just isn't, Arozarena put up a wRC+ of right around 154. That's incredible. Even with the juiced ball, he was still 38% above league average as a run producer at the AAA level.
Randy can hit, is what I'm saying. Even if it gets a little weird against righties, sometimes.
Arozarena has a ton of speed and a well above-average arm, and these traits allow him to make up for some of the mistakes that he makes in the outfield. He's a good outfielder that is best suited for left because of how he reads the ball off of the bat, but his arm and speed are good enough to play in center or right.
Randy can play the field, is what I'm saying. Even if it gets a little weird sometimes.
Arozarena is a burner, man. He'll dig around the bases and steal a base or two in the process. Sure, sometimes his aggressive nature gets him in trouble on the bases. You bet I've watched him over-slide a base or two and get thrown out trying to take an extra base. I've also watched him take an extra-base or ten in the process. The good far outweighs the bad for Randy on the bases.
Randy can run the bases, is what I'm saying. Even if it gets a little weird at times.
Ultimately, I've always said that I view him as a terrific 3rd/4th outfielder on a good team. I've often compared him to a non-baby shark aided, and right-handed swinging, version of Gerardo Parra over the entire time line. I still think that's the player that best describes what Arozarena is capable of when we eventually look back at the end of his career. But there's no reason to believe that there isn't more than that after the 2019 season that he put up, even if it gets a little weird at times.
#3: Jhon Torres

- Age 20 - Johnson City and Peoria
As I start to put together the next wave of my top three favorite prospects in the organization (the prospects that will replace Andrew Knizner, Randy Arozarena, and Ryan Helsley as my personal favorite), I start that list with Jhon Torres.
Acquired from the Indians as part of the trade that sent Oscar Mercado to Cleveland, Torres just seems to have something special. He struggled a bit with an advanced promotion out of extended spring training with Peoria, but he looked more than comfortable and impressive with Johnson City during the 2019 season. As we talked about in his Dirty Thirty-Five write-up, he was starting to figure it out a bit at Peoria before he was demoted to Johnson City.
I've said it before, but I think that Torres is going to be a top 150 prospect in baseball by the end of the year, and I think that he and Ivan Herrera are the two most likely to make waves nationally as prospects within the Cardinals system. That's not to ignore the already existing amount of hype brewing between the two. Instead, it's to state that they're the two most likely to go from being prospects to being PROSPECTS like Dylan Carlson did in 2019. Or, more conservatively and appropriately, like Elehuris Montero did in 2018.
Torres has an above-average arm in right field, and that's where he is best suited as of this moment. He has good speed, but he isn't a burner. He gets a good jump in the outfield and on the basepaths, and that obviously helps him a great deal in playing quicker than he might appear.
Where Torres will make his money is with his bat. I love his swing, and I've been extra encouraged with the steps that he's taken to minimize an exaggerated leg-kick that gives him power but costs him timing on breaking pitches from right-handers. I love that he hasn't cut it out entirely and that he's just adjusted it to maximizing his timing. As of right now, he seems like the kind of player that is capable of making both short term and long term adjustments at the plate.
One thing that I love about Torres, and that bodes well for his long term power output, is that he gets excellent lower body leverage in his swing. When you couple that leverage with fast hands and a swing that does a tremendous job of staying in the zone, you end up with a hitter that appears to have staying power.
Now, I know I'm doing a lot of gushing, so let's bring this back to Earth. First, Torres really struggled during a small taste of the Midwest League. He started to put it together before he was sent to Johnson City (not right away, but after a quick trip to extended spring training), but it was still a rough run that came with a K rate of 38.7% in 75 plate appearances at the advanced level. Even for a 19-year-old, you'd like for a prized prospect to do better than that (and, again, he started to put it together before he was sent away). I'm hopeful that Torres starts 2020 back in the Midwest League.
Torres also struggled with what is believed to be a bit of a hammy issue during the 2019 season. That issued seemed to have a bit of a negative impact on his stats. He injured it while trying to beat out an infield single, and I take comfort in knowing that he was going all out on the bases to get a hit. His hammy is healthy now, and all you can do is hope that there aren't any flare-ups. The other main issue that I've glossed over so far is that, even though he was productive and powerful in the Appy League to the tune of a wRC+ of 149, he still struck out 27.1% of the time. I love the 14.3% walk rate and the fact that he put the ball in the air a ton, but his desire to crush the ball hurts him. Often times, Torres is more aggressive than he needs to be. When he is in this mode, he is at his worst. It won't matter what pitch he is being thrown, he's going to chase it. Again, none of this is uncommon of a teenage hitting prospect, and his continued growth in the pursuit of plate discipline and the understanding of how he's being attacked is paramount to his continued success.
I am obviously bullish on Torres, and I can't wait to see if he proves me right.
#4: Jose Adolis Garcia (JAG)

- Age 26 - Memphis
Do you mind if I keep this simple? Again, I've probably written about JAG more than five times, and I have it pretty well boiled down. Let's all save ourselves a little bit of time.
JAG has the best outfield arm in the organization. I don't mean the system, I mean the organization. It's better than Bader's, and it might be one of the best in all of baseball.
JAG is a solid defensive corner outfielder. He can play a little center, but he's a prototypical RF. He can get a little weird in right field with his angles and his throws, but he's pretty damn good out there.
JAG has plus power, both raw and in-game type. During the 2019 season, JAG really seemed to sell out for slug. For a player that was 26 years old for the entire 2019 season, I was totally fine with that. Sure, that caused his on-base percentage and batting average to drop significantly, and it also meant a 7% rise in K rate, but it came with 32 home runs, 22 doubles, and 6 triples. If you're going to have a "prospect" sell out for power, this is the type of guy that you'd want to do it.
I put the term "prospect" in quotes because it's hard for me to keep a player that's going to be 27 for the 2020 season that's already made a major league debut in that category. I don't view him as a "Four-A" player just yet, so I feel like I have to keep him as a prospect. I'd suspect that we see some leveling out of his slash line during the 2020 season, whether he's with the Cardinals or not. Personally, I hope that he gets traded to a team that can use him right away (COUGH COUGH WHITE SOX BECAUSE HE HAS PERSONAL TIES TO PLAYERS IN THEIR ORGANIZATION COUGH COUGH) because I'd love to see if that power can play at the major league level, and it doesn't appear like it's going to happen with the Cardinals.
#5: Justin Williams

- Age 24 - Springfield & Memphis