Cardinals Minor League Rankings: Outfielders
THE LEAD-IN
Welcome to the offseason!!
The offseason means that we have nothing better to do with our time than to make and read both dumb and subjective lists!! Hooray!
And who does dumb and subjective lists (with no bearing in reality) better than anyone? That's right, it's Bleacher Report!! I'm somewhere down on that list, but I'm going to do it anyway because I'm tired of letting Cardinalsgifs down, and I hate being the guy that isn't doing anything for Birds On The Black.
As you might have guessed, I'm going to be doing these rankings my way. There will be some rookie-eligible players that are omitted from the list. I'll talk about those 'GRADUATES" before we get into each individual listing. With some of these, I'll throw extra players into the fray for the hell of it.
Also, the lists are going to be a little different. The Cardinals have gone out of their way to turn individualized infielders into utility infielders. SO, instead of ranking the second basemen and shortstops separately, I'm going to group that unit into one. There might be a 3B or two sprinkled into that mix, as well.
Also, I truthfully didn't know what do with the 300 pitchers that the Cardinals drafted during the 2019 draft. So, instead of including them into the SP or RP pitching rankings, I'm going to break them off into their own category.
"This is my world, my world, and those ancient people are dead."
Remember, these rankings are mine and mine alone. They are very subjective, and they will be brief. The re-ranked Dirty Thirty-Five will be just a few months away. When we get to that, we'll go back to being as objective and in-depth as possible.
Until then, let's have some fun! Discourse is both welcomed and encouraged. And remember, just like with my own opinions, your opinions are worthless!!
A WARNING ON THIS ONE: IT GETS SUPER WEIRD AFTER THE BEGINNING OF THIS LIST. IT'S BECAUSE OF HOW RAW TREJYN FLETCHER IS. HE WILL BE HIGH ON THE DIRTY THIRTY-FIVE EVEN IF I DIDN'T HAVE HIM SO HIGH HERE. HE SHOULD BE 4th ON THIS LIST. THIS LIST IS DEFINITELY A GROUPING IN ORDER OF HOW I LIKE THEM, AND IS OBVIOUSLY BIASED.


LET'S GET TO THE LIST!!!
THE OUTFIELDERS
GRADUATE: Lane Thomas

– Age 24 - Memphis & St. Louis
It's been pretty well documented by this point that I don't do math well. I don't "know" numbers, exactly. What I do know is that Lane Thomas has 38 plate appearances at the major league level, which is at least 14 fewer plate appearances than games he was available to play in with the big club. I'm pretty sure that it was even more PA's than that, but I'm not going to push my luck.
Anyway, Lane Thomas has the potential to better than both Dexter Fowler and Harrison Bader, and he's going to sit on the bench (or down at Memphis) to start the season again because Cardinals finna Cardinals.
Anyway, he's graduated off of the list. I'm getting whiny about this, so that's where I am going to stop in regards to Thomas. I have plenty more to say during the podcast.
HERE IS THE LIST
#1: Dylan Carlson

- Age 21 - Springfield & Memphis
He's excellent, guys and gals. Like, REALLY EXCELLENT.
Here's where I start to feel trapped, though. I really don't know what to say that hasn't already been said about Carlson at this point. He's smart enough for the majors. He's talented enough for the majors. He's dedicated enough for the majors. He's good enough for the majors. He's developed enough for the majors. He's strong enough and conditioned enough for the majors, regardless of whatever in the hell the organization gave as their reasoning for keeping him out of the AFL.
He's the best hitting prospect that the Cardinals have had since J.D Drew. Yes, he's better than Colby Rasmus as a prospect. Oscar Taveras, too. See also; Brett Wallace, Kolten Wong, Stephen Piscotty, etc.
The above statement isn't hyperbole. It's a fact. As most of you know, I'm not one to buy into the hype. The last time that I bought into a player that was getting this kind of hype was Jack Flaherty entering the 2018 season. So, to clarify, what I'm trying to tell you is that Dylan Carlson is the same type of prospect with the same kind of potential major league stardom as Jack Flaherty seemed to promise entering the 2018 season
As we said about Flaherty at that time, Flaherty had a chance to be this generation's Adam Wainwright or Chris Carpenter. Carlson has the chance to be this generation's Ray Lankford (I couldn't help myself) or even Yadier Molina.
Carlson has turned himself into an average-to-above center fielder, even if he does need just a tab bit more work out there. He should be the opening day right fielder for the Cardinals, if we are being honest with ourselves. He's a plus-flashing right fielder, no doubt about it. Still, they're paying Fowler, and Shildt and Mozeliak have a love affair with Fowler (who is deservedly higher on the pecking order), so he'll probably get a less than fair shot to be the opening day left fielder for the Cardinals. He'll be fine in left field if that's where he ends up, but it is the position that he is least comfortable and has the least experience at.
The switch-hitting Carlson is everything that you could want out of a prospect. We are in for a treat when the Cardinals eventually turn an outfield spot over to him. It might take him a minute to adjust before he really flourishes, but he'll be raking before you know it.
#2: Randy Arozarena

- Age 24 - Springfield, Memphis, & St. Louis
Much like with Lane Thomas, I find myself annoyed by how little Randy was used when he was called up to the majors. Not nearly as annoyed as I am by the handling of Lane Thomas, but close. Also, I couldn't decide if I wanted to add Arozarena to the "Graduates" list or keep him on the primary listing. Ultimately, I decided that I wanted to put Randy on the primary list because I love him, and because he's hardly had any major league exposure.
Randy was the best hitting prospect within the Cardinals organization during 2019, this side of Dylan Carlson. I don't think that there's any doubt about it. He's capable of working both counts and the entire field. Arozarena is at his best when he's perched at the top of a lineup, as well. The Cardinals could really use all of these things.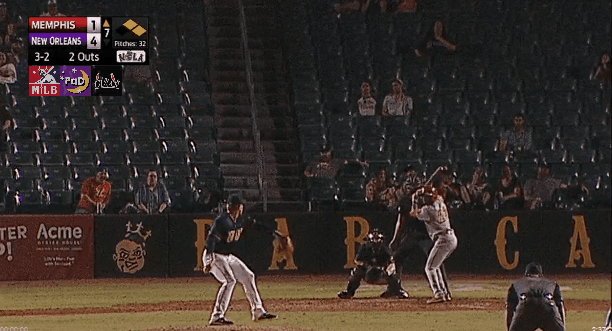 There are some weird moments at the plate for Arozarena. It seems like he gets a little jumpy with right-handed pitchers that throw three quarters. He can get over-aggressive when he wants to do damage, too. However, when he is settled in at the plate, he's really impressive to watch. His power stats were aided by the change to the ball at AAA, and I estimate that about four of his twelve home runs at AAA wouldn't have been home runs if they were using the AA baseball (I watched each and every one of his home runs to come to this conclusion). That being said, those balls still would have gone for extra-base hits, so we can't be too mad or judgmental about it. Between AA and AAA, and this isn't an exact science because it just isn't, Arozarena put up a wRC+ of right around 154. That's incredible. Even with the juiced ball, he was still 38% above league average as a run producer at the AAA level.
Randy can hit, is what I'm saying. Even if it gets a little weird against righties, sometimes.
Arozarena has a ton of speed and a well above-average arm, and these traits allow him to make up for some of the mistakes that he makes in the outfield. He's a good outfielder that is best suited for left because of how he reads the ball off of the bat, but his arm and speed are good enough to play in center or right.
Randy can play the field, is what I'm saying. Even if it gets a little weird sometimes.
Arozarena is a burner, man. He'll dig around the bases and steal a base or two in the process. Sure, sometimes his aggressive nature gets him in trouble on the bases. You bet I've watched him over-slide a base or two and get thrown out trying to take an extra base. I've also watched him take an extra-base or ten in the process. The good far outweighs the bad for Randy on the bases.
Randy can run the bases, is what I'm saying. Even if it gets a little weird at times.
Ultimately, I've always said that I view him as a terrific 3rd/4th outfielder on a good team. I've often compared him to a non-baby shark aided, and right-handed swinging, version of Gerardo Parra over the entire time line. I still think that's the player that best describes what Arozarena is capable of when we eventually look back at the end of his career. But there's no reason to believe that there isn't more than that after the 2019 season that he put up, even if it gets a little weird at times.
#3: Jhon Torres

- Age 20 - Johnson City and Peoria
As I start to put together the next wave of my top three favorite prospects in the organization (the prospects that will replace Andrew Knizner, Randy Arozarena, and Ryan Helsley as my personal favorite), I start that list with Jhon Torres.
Acquired from the Indians as part of the trade that sent Oscar Mercado to Cleveland, Torres just seems to have something special. He struggled a bit with an advanced promotion out of extended spring training with Peoria, but he looked more than comfortable and impressive with Johnson City during the 2019 season. As we talked about in his Dirty Thirty-Five write-up, he was starting to figure it out a bit at Peoria before he was demoted to Johnson City.
I've said it before, but I think that Torres is going to be a top 150 prospect in baseball by the end of the year, and I think that he and Ivan Herrera are the two most likely to make waves nationally as prospects within the Cardinals system. That's not to ignore the already existing amount of hype brewing between the two. Instead, it's to state that they're the two most likely to go from being prospects to being PROSPECTS like Dylan Carlson did in 2019. Or, more conservatively and appropriately, like Elehuris Montero did in 2018.
Torres has an above-average arm in right field, and that's where he is best suited as of this moment. He has good speed, but he isn't a burner. He gets a good jump in the outfield and on the basepaths, and that obviously helps him a great deal in playing quicker than he might appear.
Where Torres will make his money is with his bat. I love his swing, and I've been extra encouraged with the steps that he's taken to minimize an exaggerated leg-kick that gives him power but costs him timing on breaking pitches from right-handers. I love that he hasn't cut it out entirely and that he's just adjusted it to maximizing his timing. As of right now, he seems like the kind of player that is capable of making both short term and long term adjustments at the plate.
One thing that I love about Torres, and that bodes well for his long term power output, is that he gets excellent lower body leverage in his swing. When you couple that leverage with fast hands and a swing that does a tremendous job of staying in the zone, you end up with a hitter that appears to have staying power.
Now, I know I'm doing a lot of gushing, so let's bring this back to Earth. First, Torres really struggled during a small taste of the Midwest League. He started to put it together before he was sent to Johnson City (not right away, but after a quick trip to extended spring training), but it was still a rough run that came with a K rate of 38.7% in 75 plate appearances at the advanced level. Even for a 19-year-old, you'd like for a prized prospect to do better than that (and, again, he started to put it together before he was sent away). I'm hopeful that Torres starts 2020 back in the Midwest League.
Torres also struggled with what is believed to be a bit of a hammy issue during the 2019 season. That issued seemed to have a bit of a negative impact on his stats. He injured it while trying to beat out an infield single, and I take comfort in knowing that he was going all out on the bases to get a hit. His hammy is healthy now, and all you can do is hope that there aren't any flare-ups. The other main issue that I've glossed over so far is that, even though he was productive and powerful in the Appy League to the tune of a wRC+ of 149, he still struck out 27.1% of the time. I love the 14.3% walk rate and the fact that he put the ball in the air a ton, but his desire to crush the ball hurts him. Often times, Torres is more aggressive than he needs to be. When he is in this mode, he is at his worst. It won't matter what pitch he is being thrown, he's going to chase it. Again, none of this is uncommon of a teenage hitting prospect, and his continued growth in the pursuit of plate discipline and the understanding of how he's being attacked is paramount to his continued success.
I am obviously bullish on Torres, and I can't wait to see if he proves me right.
#4: Jose Adolis Garcia (JAG)

- Age 26 - Memphis
Do you mind if I keep this simple? Again, I've probably written about JAG more than five times, and I have it pretty well boiled down. Let's all save ourselves a little bit of time.
JAG has the best outfield arm in the organization. I don't mean the system, I mean the organization. It's better than Bader's, and it might be one of the best in all of baseball.
JAG is a solid defensive corner outfielder. He can play a little center, but he's a prototypical RF. He can get a little weird in right field with his angles and his throws, but he's pretty damn good out there.
JAG has plus power, both raw and in-game type. During the 2019 season, JAG really seemed to sell out for slug. For a player that was 26 years old for the entire 2019 season, I was totally fine with that. Sure, that caused his on-base percentage and batting average to drop significantly, and it also meant a 7% rise in K rate, but it came with 32 home runs, 22 doubles, and 6 triples. If you're going to have a "prospect" sell out for power, this is the type of guy that you'd want to do it.
I put the term "prospect" in quotes because it's hard for me to keep a player that's going to be 27 for the 2020 season that's already made a major league debut in that category. I don't view him as a "Four-A" player just yet, so I feel like I have to keep him as a prospect. I'd suspect that we see some leveling out of his slash line during the 2020 season, whether he's with the Cardinals or not. Personally, I hope that he gets traded to a team that can use him right away (COUGH COUGH WHITE SOX BECAUSE HE HAS PERSONAL TIES TO PLAYERS IN THEIR ORGANIZATION COUGH COUGH) because I'd love to see if that power can play at the major league level, and it doesn't appear like it's going to happen with the Cardinals.
#5: Justin Williams

- Age 24 - Springfield & Memphis
There might not be a prospect in the Cardinals' organization that did more for their value in the second half of the season than Williams did.
Entering the 2018-2019 offseason, I was not high on Williams at all. His swing and mechanics were a mess, and he seemed to have lost a step in the outfield. He looked capable of handling the upper half of both sides of the plate, but the left-handed swinger really struggled with anything on the lower half. This is in part because of how long his swing was, and because he had average-at-best bat speed. He needed a good offseason.
Fast forward to spring training, and Williams can't participate because he broke his hand punching a television. Obviously, this wasn't the offseason that Williams needed.
Fast forward to the beginning of May, and Williams is finally making his season debut. However, instead of starting off at Memphis, he gets sent to Springfield. In the first month of his season, Williams hits 196/255/275 in 55 plate appearances. It's nasty and awful and bad, and he capped the month of May off with another injury.
From there, we are going to fast forward to June 26th. It's at this point that he comes off of the IL again. At first, he gets a three-game stint with Springfield. Then, he was quickly promoted to Memphis out of roster necessity.
It's at this point where things start to turn around for Williams.
As is well documented, I wasn't a big fan of Williams during the pre-2019 season Dirty Thirty-Five. When we did the re-rankings in July (or whenever), I was even less of a fan of his. He had done nothing that I had seen that demonstrated that he was worthy of being called a prospect.
I am now a bit of a believer.
Williams has made a mechanical adjustment at the plate. He's still kind of hard to watch swing, and he keeps his front-side too open, but he has a quicker and more direct path to the ball now. That has been one of the biggest things that fueled his amazing AAA stat-line of 356/441/614 with seven home runs and five doubles in 118 plate appearances starting on July 1st. The easiest thing to notice is that Williams' swing is SO MUCH QUICKER than at any point during both the 2018 season and the early goings of the 2019 season. I've had people ask me why this is, and I firmly believe it's because he's learned to trust himself as a hitter. He's still striking out too much, at a 25.2% AAA clip, but he's doing a better job while working the strike zone. This can be seen in his AAA walk rate of 13.4%. It's undeniable that Williams reached a comfort level at the plate that he hadn't felt since the 2017 season.
The other thing that I saw out of Williams in 2019 that I didn't see during 2018 was speed in the form of outfield range. I have to believe that this was a confidence thing too, because his arm appeared to be better stronger than what was on display during the 2018 season.
What I am trying to say in all of this is that Williams was a different player over the last two months of the minor league season than he was at any point during the prior season and a half. Williams looked like he was going to be a nice little corner outfield prospect while in the Rays organization, and it's nice to see him play with the type of confidence that brings out the best in his talents. The Cardinals have a crowd of outfielders, and I don't know what that means for Williams in the long run. What I do know is that the left-handed hitter that I saw at the end of the 2019 season definitely has a place on a major league roster. Especially because he's always been the type of left-handed hitter to do well against left-handed pitching.
#6: Patrick Romeri

- Age 18 - GCL Cardinals
I'm higher on Romeri than most. As you'll find out in a few paragraphs, I'm higher on Romeri than I am on one of the most coveted prospects within the organization.
That's because, while he is still raw and in need of work, he's a smart baseball player with a great swing and a tremendous ability to find the barrel. Especially for a potential power-hitting prospect that is just 18 years old.
The other thing that gives Romeri a bit of a leg up on the next prospect is that Romeri was drafted out of the IMG Academy. For those of you that don't know, the IMG Academy is a school in Florida that has basically turned into a baseball farm/factory for high school players. I've had it described to me as the closest thing that the States has to a Caribbean baseball academy. The kids that go there are groomed to play baseball and understand the game. It's like taking AP baseball classes but at the high school level, from what I've been told.
But beyond his education in baseball, I just really like Romeri as an athlete. He strikes out too much, but he has a surprisingly smart approach for a player that strikes out more than 25% of the time. It doesn't always work out for him, but you can tell that he'll shorten up a bit with two strikes. He'll also get a little more defensive and chop to the opposite field when needed. He kind of reminds me of the 18-year-old version of Brady Whalen in this regard.
The thing that really sticks out about Romeri, and this is a sad cliché that I'm sorry about using, is the sound off of the bat. Because he has such a consistent feel for the barrel, you'll hear that beautiful crack when he makes contact. In 162 plate appearances in the GCL, Romeri hit six doubles, three triples, and six home runs. There is real in-game power in his swing, and it even appears that there's more to be had.
I'm anxious to see if the Cardinals give Romeri some time in center field during the 2020 season. I firmly believe that he can handle it, but we are going to have to wait and see. I've been told that he has a solid arm that profiles well in RF. That's where he's spent most of his time so far in the system. However, the Cardinals haven't been afraid to test this type of player with the center field assignment. I hope that Romeri is greeted with this type of challenge.
Because he's still so raw, there is a lot of work for him to do. As compared to other 18-year-olds within the organization, and other high school draftees over the years, there appears to be something different about Romeri (Carlson withstanding). Whether he'll be a version of Bryce Denton, Brady Whalen, or something more dynamic than either of those two remains to be seen. I really like Romeri, and that's all that I know right now.
#7: Trejyn Fletcher

- Age 18 - GCL & Johnson City
REMEMBER, these lists are more about my personal favorites than anything else. So, in being subjective, I have 12th round pick Patrick Romeri ahead of the 2nd round pick (and a highly touted draft pick) Trejyn Fletcher. Even with Fletcher playing at a higher level during 2019, I still went with Romeri higher. However, when we get to the pre-season Dirty Thirty-Five, and I put my objectivity shoes back on, Fletcher will be higher on the list than Romeri.
Both prospects are raw, but Fletcher is RAW. His success thus far has come because of how superior of an athlete he is as compared to his competition. I don't think that you could make an argument that there is a more athletic player in the organization, whatever that means. It's a great foundation to build upon, and it's the reason why some thought that Fletcher might have gone first overall in the 2020 draft had he not reclassified for the 2019 draft (he wouldn't have).
Fletcher also has some of the quickest hands in the Cardinals' minor league system. He gets' the bat through the zone with the speed of lightning, and there's no denying that it's the type of bat speed that bodes well for projecting a player long term.
The issue for me is just how raw of a baseball player Fletcher is. I'm not saying that he can't overcome it, or that he won't overcome it, just that there's a LONG way to go to get to that point. Fletcher also has one of the strongest outfield arms in the organization. This is where we'll start, as a matter of fact:
Fletcher has one of the strongest outfield arms in the system, but it's sporadic and inaccurate and raw.
Fletcher is one of the fastest players in the system, but he doesn't know how to use his speed on the bases yet.
Fletcher has some of the quickest hands at the plate in the system. Unfortunately, he doesn't have the approach or understanding yet to take advantage of his hands. He's also too much of a free swinger. Throw this young man three straight breaking pitches near the zone and he's swinging.
Fletcher just might have some of the best raw power in the system, but he doesn't have an understanding of how to use it yet, exactly.
You can truly see all of the tools with this young man, it's just that it's going to take some time to get him to the point where he's maximized those tools. Because of this, there is a large margin for error in his development. That's a cause for additional caution, and I've always been more conservative with this type of player because of that large margin of error. You don't need to look any further than the combined 43.4% strikeout rate that he put up between Johnson City and the GCL to see that. In addition to substantially cutting down the strikeouts, Fletcher is going to have to trim his enormous leg kick and learn to use the opposite field a little more than 10% of the time. I know that this was part of his offseason curriculum as it was during his time at Johnson City, and I'm anxious to see how he continues taking to it. Like we said at the time of his mid-season write-up, it's hard to find two clips of Fletcher with the same batting stance before he was drafted. I hope that he can find his comfort level soon.
Fletcher is something that the Cardinals haven't had in their system in some time. He's a true all-ceiling player with a genuine chance to reach that ceiling. There's just a lot of work needed to get there.
#8: Justin Toerner

- Age 23 - Palm Beach & Springfield
As I start to write about Justin Toerner, I begin to realize that he is one of three players that I am going to have to eat a bit of crow in regards to. The first one was Justin Williams, and the last one will be the guy that follows Toerner on the list.
When I watched Toerner during the 2018 season after he was drafted, it was clear that he had a terrific contact tool. He was easily the most statistically impressive player drafted in 2018.
It also seemed clear that he didn't possess much in the way of slug, and that he was probably going to be relegated to a corner outfield spot. Corner outfielders without power usually don't last long in baseball. Because of this, I did a little writing-off of what appeared to be the slap hitting Toerner.
Justin Toerner is not a slap hitter.
Even more, Toerner isn't a corner outfielder. He's a damn impressive center fielder that plays with reckless abandon. Even more, he has a cannon of an outfield arm that is easily the most underrated in the organization.
What I'm getting at is, Justin Toerner has every right to be considered a potential top 355 prospect in the organization with a major league debut potentially in his future. Ultimately, there's a lot about Justin Toerner that reminds me of the minor league version of Skip Schumaker. Both Toerner and Schumaker are scrappy guys who get the most out of their skills. Both play fast and work extremely hard to reach their potential. Schumaker had quick hands and little power, but was an excellent defensive center fielder with a strong arm. Toerner has more power potential than Skip had, but Skip did a better job of fighting pitches off to not strikeout. He could also end up being the outfielder version of Evan Mendoza: a player that was just too good for the lower levels that is going to need time to adjust at the higher levels.
Toerner's last game of the season came on August 14th because he went head-first into the outfield wall making a dazzling catch. That's the way that this young man plays. For my money, this is the OF catch of the season in the system (Toerner was also the guy that went over the RF wall in Tulsa twice in two games to make an acrobatic catch):
You might look at his Double-A stats and be less than impressed. I get it, for sure. At times, the league was just too much for him. His strikeout rate at the level is definitely a cause for alarm, but I'm telling you that Toerner was a more impressive hitter than his stats are showing for the level. It kind of reminds me of the 2017 version of Tommy Edman at the level. He handled his own and took care of business, even if the results presented a lackluster appearance.
Also, like Edman, Toerner is the kind of player that Cardinals' fans are going to love. I hope that he is fully recovered following that violent collision with the wall. If he is, he's going to have a productive 2020 season.
#9: Conner Capel

- Age 22 - Springfield & Memphis
And finally, Capel is the third player that I have to eat a little crow in regards to.
I'm still not as sold on Capel as others appear to be, but he is definitely better than I was giving him credit for one year ago.
First, and most obviously, Capel is a SUBSTANTIALLY better fielder than I gave him credit for. I have to tell you, watching him play center field is a ton of fun. Like, he's a terrific center fielder. He covers a ton of ground, and his arm is better than I realized. At this point, I'd probably put it as "above average," but sometimes it's more than that. The one area that seems to get him a little is the deep gap. He just gets a little gun shy, as anyone with half of a brain running 20+ MPH would, while, at the same time, another guy running 20+ MPH approaches them. Somehow, this doesn't stop Capel from diving all of the place to make whatever play needs to be made. I don't know what other people are saying about his ability to play center, but I view him as a potential plus defender out there.
With that said, I'm still not remotely sold on Capel as a hitter. It's sloppy, and his swing is still a work in progress. He'd do well to go through whatever program Justin Williams went through to get his left-handed swing together. His swing has good bat speed, but it's a mess. Often times, his hips are wide open before his hands get a chance to get through the zone. I give him credit in that he uses all fields, but a lot of those "all-fields" hits come in the form of a nubber to left field off of the end of the bat. While he had nearly identical splits against both righties and lefties during the 2019 season, it's abundantly clear that lefties are going to give him fits because of how quick he is to open up in his swing. That he sees anything on the inner half of the plate from LHP is beyond me.
The other concern with Capel is that the calm approach that he showed in past seasons seemed to go away nearly entirely during the 2019 season. Don't get me wrong, I love a free swinger, but I hate to see this kind of step back for only a modest return in power. Capel went from a walk rate of 11% in 2018 to a walk rate of 6% in 2019.
Now, Capel is still young for the level, and you can see moments where he looks like he's going to bust out. We definitely shouldn't write him off yet. As I mentioned a paragraph ago, if Justin Williams can streamline a similar type hitting mechanic then there's no reason to believe that Capel can't either. With a good offseason following a relatively promising turn in the Arizona Fall League, Capel could quickly become a name on the move on The Dirty Thirty-Five.
#10: Lars Nootbaar

- Age 22 - Peoria, Palm Beach, & Springfield
NOOOOOOOOOOOOOOOOOOOOOOOOOOOOOOOOOOOOOOOOOOTBAAAAAAAAAAAAAAAAAAAAAAR!!!!!!!
If you say his name five times in a row, he burst through the wall like the Kool-Aid man. You know him. You love him. His last name is basically it's own carnival act.
Beyond being a fun name to say, Lars Nootbaar had a surprisingly positive 2019 season. He didn't put up bombastic numbers, but he showed that he has the type of approach that leads to minor league success and prospect intrigue.
Truth be told, Nootbaar's approach at the plate was better than I could have imagined. I knew that he had somewhat of an advanced method, but I didn't realize how refined it is. The more I watch him and study him, the more he reminds me of Jeremy Martinez at the plate, the former Cardinals' catching prospect that also came from USC. The 14.2% K rate on the season paired with an 11.6% walk rate is super robust. He is not cheated of an at-bat. He's short and direct through the zone, and he is prone to, and confident in his ability to, punch the ball to the left side of the field as a left-handed batter.
The issue with Nootbaar becomes what kind of power is he capable of hitting for. Double-A is a helluva test for a prospect that was drafted just a season before, and I'm sure that helped to suppress some of the power that he might have otherwise displayed, but 18 total XBH over 387 plate appearances is nothing to brag about. It's Delvin Perez-level slugging. His swing has gotten way more defensive since entering the Cardinals' organization. In the gif above, you'll notice that it's king of an "inside-out" cut. When he was at USC, his swing was more direct with a stable base. This allowed him to do more damage. I'd like to see Nootbaar revert back to those mechanics.
The good news is, Nootbaar is a big boy with a quick swing. I genuinely believe that there is a lot more power in his body and his swing if he's capable of letting it manifest. I imagine that he'll be at Springfield for the entire 2020 season. That's even more of a reason to expect that he is going to display more power as he gets more acclimated to the level.
I'm anxious to spend a little more time watching Lars in the outfield, too. He definitely seems like a corner outfielder, but I still don't feel like I know what kind of outfielder he is going to be. He's 6'3" and at least 210 pounds, and he sure seems clunky in the outfield. He definitely has below-average speed, and his arm seems less accurate than I would have expected.
One way or the other, we are going to have a lot of fun following Lars Nootbaar during the 2020 season. He just might become a "leGit" hitting prospect during the 2020 season if he is capable of getting the ball in the air more. If not, well, we'll always have Nootbaar.
HONORABLE MENTIONS (In No Particular Order)
Scott Hurst

- Age 23 - Springfield & Palm Beach
I still believe in Scott Hurst, even if 2019 was basically a wasted season for him.
I've said it a bunch in the past, but Hurst is the prospect most like Jon Jay within the Cardinals organization, but with a better outfield arm. If you were to ask me what derailed his 2019 season, I could definitively say that his swing, which can be beautifully compact and explosives, was hurt by the fact that Hurst started to swing a little harder, thus making him off-balance A LOT.
Quite simply, Hurst is going to need to rediscover his balance if he's to rediscover his stock as a prospect. Much like with LHP Evan Kruczynski, he's too good of a player to have struggled the way that he struggled during the 2019 season. I wouldn't give up on him just yet.
Terry Fuller

- Age 21, Basically - Johnson City & State College
Don't let anyone fool you, we still don't know enough about Terry Fuller to have a feeling one way or the other about him as a leGit prospect.
I do know that I'm impressed with his approach at the plate. He takes far more walks while displaying a terrific amount of patience at the plate. More so than you'd expect from a monster of a human being that was a hotshot linebacker just a few years ago. The issue with Fuller is that his swing is engineered to pull the ball. This isn't as big of a deal for a player of his strength at a short season affiliate. However, because he's long through the zone with his swing, he's going to be hurt at the upper levels of the minors. Fuller is going to need to make a mechanical adjustment to be more direct through the zone.
The good news right now is, because he's such a hulking and monstrous human being, he's able to punish the baseball to center and left-center field as a left-handed hitter. This is especially true for high heat that he has no business being able to do anything with.
In the field, Fuller is still very raw. His arm strength is above-average to plus, as is the amount of ground that this corner outfielder can cover. Fullere really seems to struggle both tracking the ball and coming in on the baseball. He could be a special-type corner outfielder, but he has a lot of work to do to get there.
I've been impressed with the strides that Fuller has made in a short period since dedicating himself fully to baseball. 2019 was an excellent season for him specifically, especially because he missed nearly all of the 2018 season. Here's to hoping that he lights the Midwest League on fire in 2020.
Tyler Reichenborn

- Age 21 - GCL & Palm Beach
I'm not even going to pretend like I know much about this young man. What I do know is that he really impressed me when I got to watch him for Palm Beach at Bradenton near the end of the season.
For sure, I know that Reichenborn is athletic. I also feel confident when I proclaim that he has a quick swing with a direct swing-path through the baseball. With the little bit that I've watched, I also feel confident that he's a borderline plus /above-average outfielder with an arm that is on a similar spectrum.
So, instead of going on and on with speculation and faulty reports of this undrafted signee, I'm just going to post another gif and say "hopefully there's plenty more to come from this young man."
Jonatan Machado

- Age 21 - Sate College & Peoria
Machado is just another version of Mags Sierra, so I'm not going to talk about him or write about him or include him on the primary list. He's a better hitter than Mags was/is, but he's not nearly the fielder. Hopefully, the Cardinals can use him in a trade package or something. I've never been a fan of his, and I've been outspoken about it, so now that I've written it down this clearly and this bluntly, it's time for him to make me look like the dumbass that I am.
If undersized OF prospect are your jam, I'd recommend Andres Luna. Luna is a better fielder and a better hitter than Machado, but without all of the pomp and circumstance. He's also stronger and better built than Machado. The hype machine is a funny thing...
Diowill Burgos

- Age 18 - DSL & GCL
Burgos had an eyecatching 2019 season, and it definitely deserves a little extra attention. He isn't William Jimenez, either. That's to say, he's younger, and his success seems more sustainable and real than Jimenez does.
His numbers in the DSL were expectedly inflated as he was repeating a league that he was, believe it or not, a little old for at 18 years old. Still, as demonstrated by his brief turn at Johnson City, there is some real pop in his bat. The reports that I've received indicated that his bat speed is for real, as is his path through the zone. I've also been told that he gets pull-happy and over-aggressive against breaking pitch. Neither of those remarks is uncommon criticisms for any 18 years old with the type of bat speed that Burgos apparently possesses.
The primary knock that I've heard about Burgos is that he's clunky. He has good size (listed at 6'1" 190, but apparently still growing), but apparently, he isn't the most athletic outfielder that you'll find. I've actually heard a wide range of reports about his abilities in the outfield. I've heard everything from "I don't know what position this guy is going to play" to "I think he'll be an above-average corner outfielder once he stops growing." This wide range of evaluations can be said of his arm, as well. What is not up for debate is that Burgos is a really raw prospect and faulty in the outfield.
Of all of the prospects at the lowest levels of the minors that the Cardinals signed during the various International signing periods, Burgos just might be the most intriguing. I like him quite a bit more than I liked Joerlin De Los Santos last season when Joerlin was the talked about International signee among over-zealous evaluators. Still, there's a lot of work to be done before I consider Burgos to be a leGit prospect.
Andrew Warner

- Age 24, Basically - State College
Sometimes, there isn't a lot to say about a player. Sometimes, it's the lead-up to the profile that takes the most words.
The truth is that there isn't much to this 40th round selection. He's not a particularly good outfielder. He isn't exactly athletic. He takes a lot of walks because the pitchers at the lower levels fear him, but he strikes out because he's a free-swinger that struggles late in counts.
I do love his power potential, though. I love his ability to slug the ball and to drive the ball early in counts. And his ability to barrel the ball? Well, when he's guessing correctly, it's a thing of beauty. And speaking of things of beauty, that mustache that he was rocking at the beginning of the 2019 season is worth a mention on this list by itself.
Warner was old for the State College level, he's probably a DH, and there isn't a world in which a 35.7% K rate will work. But that power, slug, and ability to get on base is lovely, and I hope that he gets every chance to rake at the upper levels. Gotta root for the 40th round selection!!!
One final shout out to Chase Pinder and Bryce Denton. I was especially high on Chase Pinder one year ago, but 2019 was brutal on this young man. Heres' to hoping that his 2020 is the 2019 that I was so certain was coming (I'm soooo dumb). In regards to Denton, I can't begin to understand why I won't give up on this young man. Somehow, I haven't just yet.
THANK YOU SO MUCH FOR BEING A PART OF THIS JOURNEY THROUGH THE SYSTEM WITH US!!! YOU MAKE IT WORTH THE INVESTMENT OF FREE TIME AND PATIENCE!!!
@Cardinalsgifs does the lovely pictures and FanGraphs does the stats!
I can't begin to express my deepest respects for Cardinalsgifs. He truly is the best, and our community is truly graced by his presence.
Thanks For Reading!!