Cardinals Minor League Rankings: 2019 Drafted Pitchers
THE LEAD-IN
Welcome to the offseason!!
The offseason means that we have nothing better to do with our time than to make and read both dumb and subjective lists!! Hooray!
And who does dumb and subjective lists (with no bearing in reality) better than anyone? That's right, it's Bleacher Report!! I'm somewhere down on that list, but I'm going to do it anyway because I'm tired of letting Cardinalsgifs down, and I hate being the guy that isn't doing anything for Birds On The Black.
As you might have guessed, I'm going to be doing these rankings my way. There will be some rookie-eligible players that are omitted from the list. I'll talk about those "GRADUATES" before we get into each individual listing. With some of these, I'll throw a couple of extra players into the fray for the hell of it.
Also, these lists are going to be a little different. The Cardinals have gone out of their way to turn individualized infielders into utility infielders. SO, instead of ranking the second basemen and shortstops separately, I'm going to group that unit into one. There might be a 3B or two sprinkled into that mix, as well.
Also, I truthfully don't know what do with the 300 pitchers that the Cardinals drafted during the 2019 draft. So, instead of including them into the SP or RP pitching rankings, I'm going to break them off into their own category.
"It's my world, my world, and those ancient people are dead."
Remember, these rankings are mine and mine alone. They are very subjective, and they will be brief. The re-ranked Dirty Thirty-Five will be just a few months away. When we do that, we'll go back to being as objective and in-depth as possible.
Until then, let's have some fun! Discourse is both welcomed and encouraged. And remember, just like with my own opinions, your opinions are worthless!!
LET'S GET TO THE LIST!!!
THE 2019 DRAFTED PITCHERS
FIRST, A QUICK ASIDE:


I've decided just to highlight the guys that I like here. That's not to diminish some of the pitchers that pitched well during their 2019 organizational debut, or to deprive you of pitchers that should be on your radar. Instead, I'm being selfish and just talking about the guys that I like.
Anyway, the Cardinals went heavy after collegiate pitchers during the 2019 draft. I've decided to highlight them separately from the starting pitchers for a couple of reasons.
First, I honestly don't know where to put most of them on the D35 just yet.
Second, I wanted to highlight more than I otherwise would have been able to if I had included them in the standard SP or RP lists.
And finally, the reason that I decided to isolate them is that I'm not sure how many of these guys are going to be starters moving forward.
THE LIST, FOR-REALSIES
#1: LHP ZacK Thompson

– Age 22 - 1st Round - GCL & Palm Beach
Remember, we uppercase the "K" in his first name to honor the amount of strikeouts that he's capable of racking up.
Look, I'm gonna be honest with you. I'm dealing with a miserable little case of writer's block. So, instead of going on and on about Thompson, his high RPM curve (about 3000 RPM), his mid-90's fastball, and a slider and change that need a little work, I AM JUST GOING TO LINK TO HIS D35 PAGE INSTEAD. CLICK ON ANY OF THIS YOU COWARD AND BLOW YOUR OWN MIND *EXPLOSION NOISES*.
The gist is, he's good. Pretty damn good, at that. He comes with a history of various arm injuries and a junior year that was too goddamn good to ignore, and that's why he should be on the fast track to the majors. That is, as fast of a track as he is capable of laying for himself. I imagine that the Cardinals will start him off at Springfield, and I'm pretty damn excited about that. Regardless of the league that he starts in, that league is going to be graced with the best curveball in the organization.
For the second straight season, the Cardinals spent a top 50 pick in the draft to acquire one of the best pitches in that draft (Griffin Roberts' slider in 2018). For two straight seasons, pundits declared on draft night that the Cardinals had drafted someone that could help the team in that year. THIS IS CRAZY TALK. It won't take Thompson long if he can maintain his health, but that's as unrealistic of an expectation as you can throw on a draftee. He's good, he'll get to St. Louis soon, and let's not freak out if it takes a year.
#2: RHP Tony Locey

- Age 21 - 3rd Round - GCL & Peoria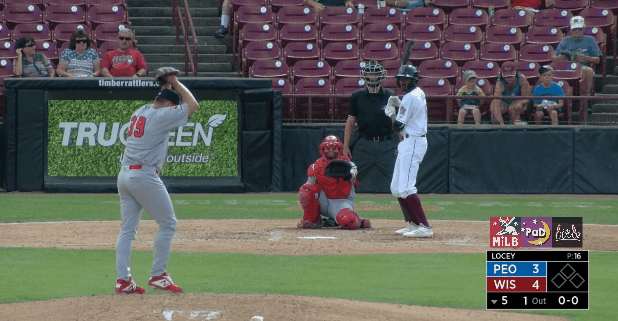 There are so many reasons to like Locey. First, his nickname is "Tone Loc." As a fan of old school hip-hop, this plays upon a weakness.
Second, he's a big boy. Standing 6'3" and right around 240 pounds, Locey has the body and mechanics to get you wet. I'm wet just thinking about him.
Third, Locey has a high-velocity fastball. This draft class was one of the weaker since I've been following the draft, and Locey's high 90's fastball is in the upper-tier, velocity-wise, of the entire draft. Locey throws a slider that shows promise when he's commanding it. He also throws a changeup and a curveball that have a lot of work needed to become viable pitches moving forward. Personally, I see Locey as a workhorse-type starter in the future. Someone that can give you 175+ innings in a 4th or 5th man in the rotation capacity, if that role still exists by the time that Locey is ML ready. His ceiling is higher than that, but that's what I'd wager is most likely. If not, depending on how he continues to smooth out his delivery and command all of his pitches, at the very least he'll profile as a multi-inning reliever-type that the Cardinals appear to be trying so hard to develop these days.
I'd wager that Locey finds his way into the top 20 of the D35 come preseason re-ranking time. If he can continue to develop his secondary offering and his command, then that would go a long way into ending my concerns that he just might be another version of Conner Greene.
#3: RHP Andre Pallante

– Age 21 - 4th Round - State College
While Pallante doesn't throw nearly as hard as Locey does, he does command his entire arsenal better than Locey, and he has that "pitchability" factor that I feel like I understand, but I really don't because I'm stupid. If Pallante were left-handed, we'd be calling him crafty, if that makes sense.
Pallante's two-seamer seems to have this fantastic ability of breaking to the arm-side at just the right moment to avoid the barrel of the bat. Rumor has it that he can get that sinker into the mid to high 90's in relief, but it's more sustainable in the low 90's when starting. There appears to be some argument about which one of his secondary offerings is the cream of his crop. When you watch the video of him, it really seems like his slider is a strikeout pitch, so I'd hedge that way. However, I really love what he does with his changeup when he's using it early in counts. It won't get the swing and miss of the slider, but it works so well with the sinker that I have to believe that it's part of the reason why that sinker misses the barrel so often.
I am definitely excited to see more of Pallante moving forward. What I know is, watching the highlights alone will show you a pitcher with a starter's upside. If he can keep that velocity in the mid-low 90's throughout a start, while continuing to mix in a couple of solid secondary offerings, then he just might have more than a bullpen role in his long-term future. I actually feel more bullish on Pallante than I do on Locey right now.
#4: RHP Jack Ralston

– Age 22 - 7th Round - State College
If you had to pick one word to describe Ralston as a pitcher, it'd be "quirky."
The second word that you would pick would be "deceptive."
The third word that you would pick would be, "It's like one of those villages with the windmills, but as a person throwing right-handed. Wait, was I only supposed to use one word?" (Look, I can't help myself. If I have to write this stuff, then you have to deal with my stream of consciousness as I pretend like I'm funnier than I am really am.)
As you might suspect from someone that throws the ball from his windmill arm-angle, his command is going to be the thing to watch. Personally, this was one of my favorite picks in the draft. I love both his fastball and his curveball, and he's going to be a bear if he continues to develop the changeup. When you watch video of Ralston, you end up finding a lot of terrible swings on both the curve and fastball. This might not continue against more developed hitters at the upper levels of the minors, but he got a ton of these types of swings pitching out of the State College bullpen.
The other thing that you'll find when you go searching for video of Ralston is that he manages to keep his 91-93 MPH velocity throughout an entire start. I REALLY like that, and it might be one of the more underrated aspects of this pitching prospects. We often get caught up in how hard a pitcher throws, when, in reality, we should probably pay more attention to how hard he's throwing in the 5th or 6th inning. Ralston appears to be the type of pitcher that doesn't drop velocity throughout a start.
Of course, the other issue right now is that he is a two-pitch pitcher. His long-term success all comes down to how he continues to repeat that unique and max-effort delivery, how the change continues to develop, and what kind of role he'll be able to carve out for himself