2018 Draft Series: Potential 19th Overall Pick; The Other Hitters
It's almost June 4th, and that means that the first round, compensitory round, and competitive balance round-A of the 2018 MLB Amateur Draft is just days away! You'll be able to watch the first 43 selections live on The MLB Network.
The St. Louis Cardinals will be selecting 19th overall and 43rd overall. There are seemingly thousands and thousands of names that are draft eligible. It's exhausting. What I've decided to do is comb through the countless mock drafts, as well as some of the names that I've heard through the very limited connections I've made. We will go over these names one by one over the next week. These evaluations will be the "brass tacks" (credit to C70) type. Very concise. Very much to the "bottom line."
I'm only going to touch on the potential targets for the 19th overall pick with this primer. Later on, I'll give you some of the players that I'd like to see the Cardinals target at 43rd overall and beyond in the draft.
This comes with a caution: THE MAJOR LEAGUE BASEBALL DRAFT IS THE CLOSEST THING THAT YOU'LL FIND IN SPORTS TO A FERAL ANIMAL. I believe that it's the most unpredictable draft in all of professional sports. Hell, it's probably the most unpredictable and malleable "thing" in all of sports. Because of the draft pool, teams often jockey their allotted cash so that they can afford to give larger bonuses to players later in the draft. Sometimes that means not drafting the best available player with their pick. Sometimes that means having to draft over slot. What I'm saying is, the MLB draft is a game of roulette, and one in which the
wheel never stops spinning and the ball never stops rolling until all 40 rounds are complete.
We've spent some time going over individual players that the Cardinals might take with their first pick. You can get caught up on the two hitters that we've already gone over by clicking on Brice Turang HERE and Jordyn Adams HERE. Now, let's go over a small group of hitters that could also be selected at 19th overall but are less likely than those that have already been highlighted. FOR THE RECORD, I do not think that the Cardinals are in on any of these players with the exception of Meadows.However, these are the hitters that I've seen most frequently in the 18-30 range and they're my favorite in the group. The first of our group of hitters is:
Seth Beer
First Baseman/Outfielder. Clemson University. Age on draft day: 21
What Beer does well: Beer hits rockets. A lot of the time, those rockets go over the wall. When they don't go over the wall, they are still blistered. He also hits those rockets to all of the parts on the field. What follows is what I'm referring to as "Beer Porn" (proudest moment of my life):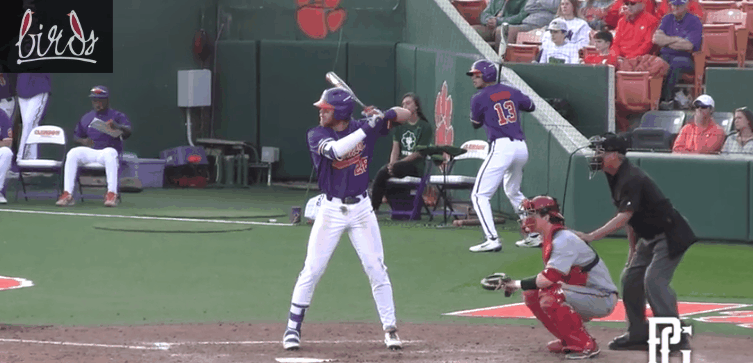 Beer was the best freshman in the world and has slowly watched his stock creep down since that electric season. He's had a great Junior season for Clemson and you can tell that he's worked a great deal on pitch recognition and plate discipline, even if the stats look similar to what they have in the past.
The other thing to remember about Beer is that teams/pitchers do not mess around with him. Rarely does he ever get a pitch to really drive during an at bat. However, he's so damn good and so damn strong that he still does a lot with what he's seeing. I've also read that he's a video-maniac and that he studies more tape than nearly anyone else in the draft. His dedication to getting the most out of himself is Harrison Bader-esque.
If you had to pick one player in the draft to be the next Joey Gallo it's Beer.
What Beer struggles with: Beer takes weird swings sometimes. You'll see him take a two-handed chop at a breaking pitch that will make you wince. He's also a lot skinnier than he should be for the type of power that he's capable of producing. I'd love to see him the 6'3", 195 lbs Beer add on about 20 pounds. His legs appear to be rail thin.
I wasn't planning on talking about this because I don't want to give it the attention that it gets because it's total B.S in my book, but there's this thing that people bring up with Beer and wooden bats. IGNORE THIS NONSENSICAL CRITICISM. Wait until he hits with them regularly before you jump to any conclusion. God, I hate that I even had to say it.
The other thing is, Beer is not an outfielder. He's a first baseman. Actually, he might be a DH but he'll definitely be able to play first for the first handful of years. I'm sure he'll play the outfield, at first, for whichever organization that drafts him. However, his future is only as a hard-hitting first baseman. Obviously, that's not a big deal for the Cardinals who have a surplus of promising outfielders and could use a little depth at first.
Noah Naylor
Catcher. St. Joan of Arc Catholic Secondary in Ontario. Age on draft day: 18
What Noah does well: Naylor has big offensive upside, but what sets him apart from the pack can only be summed up by this gif here:
Not only does he do a tremendous job of block that junk in the dirt, not only does he go all out to make the play, not only does he never give up on the ball, not only does he not hesitate to chuck the ball, but he also throws the ball like he hates it down the line and gets the runner by nine steps. Naylor will stay at catcher and that's what separates him from the pack. That is, unless the raw power that he possesses (much like his brother and San Diego Padres' prospect Josh Naylor) forces the team that drafts him to move him to first to get his bat to the majors quicker than his defense can progress. Naylor has also played third, so that is always a potential eventuality. For real, though. Look at this arm:
Speaking of his raw power, Noah appears to have it in spades. He's participated in a couple of different home run derby's and the only high school aged hitter that I've seen hit the ball further than him during that circuit was Terry Fuller. As you'll remember, the Cardinals selected fuller in the 15th round of the 2017 draft.
Beyond that, I can honestly say that I do not have a strong feel for how his hit tool is going to progress. I've fallen so in love with his raw power and catching potential that I'm sold on him. I've read everything from power-only to power that won't play to great contact tool to questionable bat. It seems like people are split on what to expect from Naylor. What I know is that he is a smart kid from an athletic family. He's also a team leader that has a presence about him that's rare for a teenager.
What Noah struggles with: There will always be detractors for any catcher in the draft, They'll say "he'll have to move off of the position." Some are saying this about Naylor and while I don't agree with it just yet, I get why they might say that. Again, his bat will likely develop faster than his catching can and that'll probably force a position change in the long run. It's also an easy and lazy scouting device to say that at 6'0" 200lbs (He's bigger than 200lbs) is just too big-framed to stick behind the plate. That makes me laugh because Naylor looks like a younger version of Bengie Molina behind the plate, to me.
Other than that, it's the typical complains to be lodged about a teenage hitter. He struggles against advanced breaking pitches. He takes some defensive swings sometimes. Other times, he's hacking-heavy for the fences. Again, the same complaints that you'd hear about 99% of teenagers. I have to tell you, I'd absolutely love for the Cardinals to draft Naylor at 19.
Parker Meadows
Outfielder/RHP. Grayson High School in Georgia. Age on draft day: 18
What Parker does well: Parker Meadows, the younger brother of Pirates outfielder Austin Meadows, is a big boy with a frame that is meant to take on more. It's easy to see how this young man would eventually turn into a five tool player. He's a helluva lot faster than I realized, that's for sure. When he is zoned in, his swing looks absolutely beautiful, too:
Gotta love that left-handed cut!.
Speaking of that beautiful left-handed swing, Meadows also has some decent raw power. I don't believe that it's on the same level as Naylor's, but it's pretty good. You can't tell where this pitch lands because the camera doesn't follow the ball, but you can tell by the swing and the reaction from the on-lookers that Parker absolutely mashed this pitch:
With a strong arm, good speed, and raw hitting tools, Parker Meadows would be a very intriguing and exciting selection at 19th overall.
What Parker struggles with: I'm very cold on Mr. Meadows. At least, as compared to all of the other names that I've written about this week. I see the raw talent, sure. But I don't see much strength in his game. He seems like a totally blank canvas with limitless athleticism but limited abilities. That 's not to say that he won't be a good pro or that he won't eventually possesses average-to-plus tools, it's just that I believe he has the furthest to go with the most work to do to get there.
Along with that, Meadows just never seems all that comfortable in the box. It seems like he has constantly adjusted his hands and I haven't been able to find another potential draftee that has done the same thing. I also worry that he hits with his weight on his front foot a little too much. Sure, you can still generate power and make solid contact swinging that way, but it makes Meadows employ a defensive swing when he does it. That doesn't play well, usually.
Parker is just a little too raw for me at pick 19. The Cardinals have a bit of a hole in the organization and I believe that using the first pick on a player that might be five or six years away isn't the correct move. They are going to need more immediate help, in the two to three year range. That certainly isn't Meadows.